All of my patients consume a plentiful amount of carbohydrates, some more or less depending on their lifestyle needs. As a diabetic educator, I am particularly sensitive to the wide variety of my patient's needs based on their medical needs. I always provide low carbohydrate swaps to accommodate a balanced plate and nutritional needs.
Without a good educational baseline of nutrition (provided to every new patient I see!), you may be surprised at the necessary prevalence they have in your diet. Americans consume more carbohydrates, and often ones lacking in nutrients, at mealtimes than needed in comparison to the other critical nutrients; fiber, protein and fat. Yes, consuming carbohydrates is essential to a healthy diet, but it is important to know their role.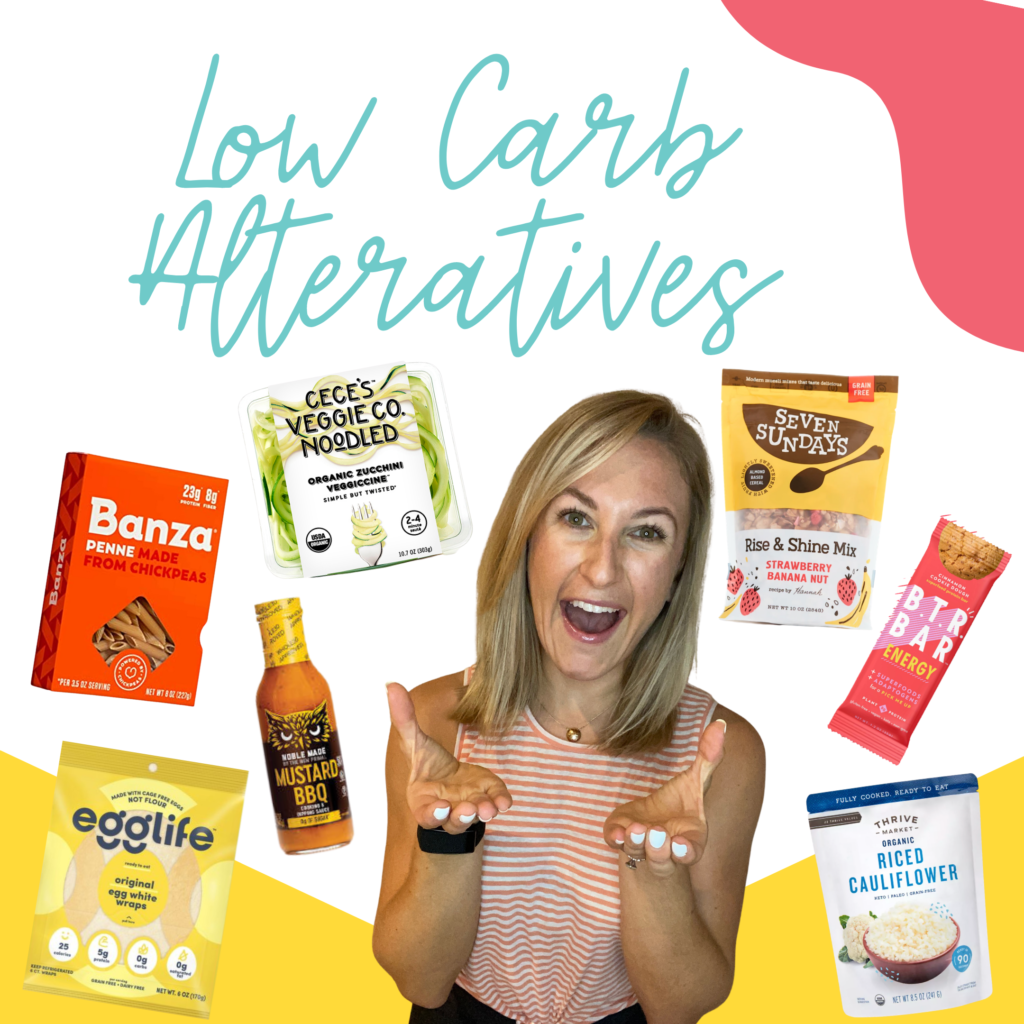 But, in the midst of crazy diet trends and restriction it is important that I stress the following: a balanced and healthy diet contains carbohydrates. A healthy diet can contain both nutrient-filled low glycemic carbohydrates and less nutrient carbohydrates.
Carbohydrates are energy. They fuel your brain and your body. 
I recommend choosing high quality sources of carbohydrates that provide the necessary energy to get you through your day.
A wise choice? Look to choose carbs that provide fiber; whole grains, fruit and starchy vegetables, beans and lentils. Carbohydrates that have a variety of vitamins and minerals is super important for a well rounded diet and I recommend choosing the most natural sources for your greatest nutrient boost.
New to balancing your plate, aiming to reduce insulin needs, or just trying to reduce your usual excessive carbohydrate intake? I have rounded up some of my favorite alternative swaps without any lack of flavor, they're all personal pantry products I vouch for.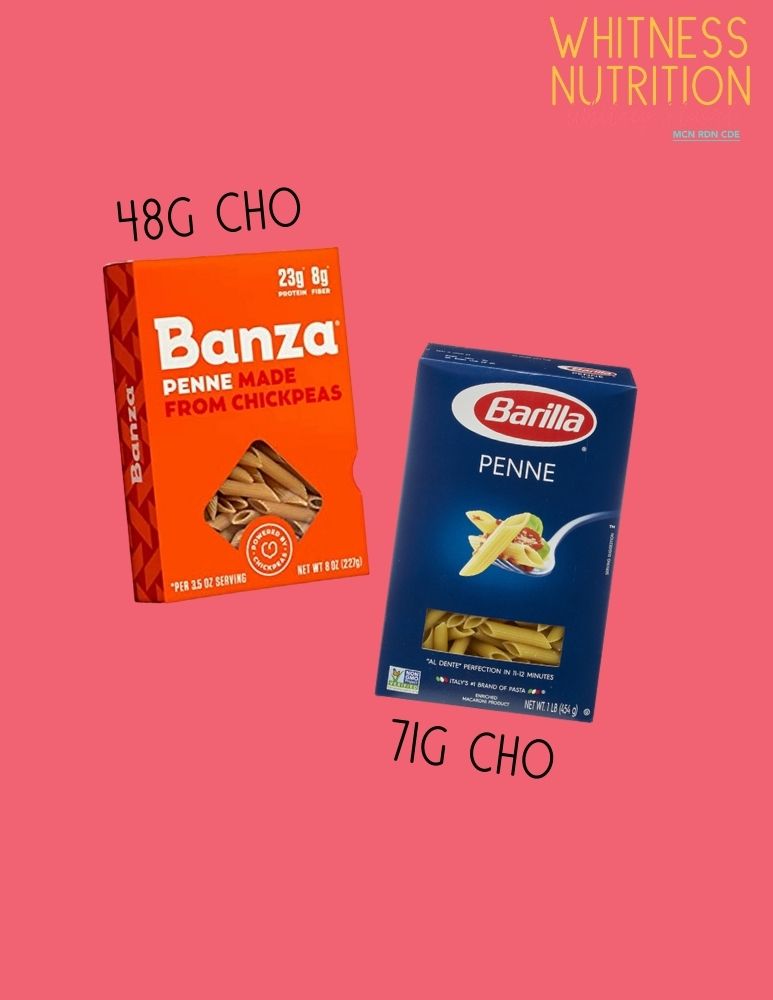 Pasta is a traditional and necessary part of every diet, but the post-meal blood sugar crash isn't. Most pastas are made from semolina or white flour, a high-glycemic ingredient that processes through the body very quickly. Usually, pastas have little to no protein or fiber content.
Now, meet your ne pasta-problem solver: Banza, the pasta made from chickpeas. Banza is packed with protein, high in fiber and best of all, lower in carbohydrates. With 30% less carbs  than a traditional serving of pasta and more than 30% fiber, Banza is a low glycemic food (*diabetes educators and dietitians cheer!*). Banza comes in a delicious variety of shapes and sizes, and I love to get creative making classic dishes like beef lasagna or chicken noodle soup. 
*Use Code: SUPERSWAP15 for a discount! 
Rice is a pantry staple for many cultures, but it is a simple starchy food that breaks down into sugar quickly. When I make rice heavy dishes, I incorporate cauliflower rice as a low-carb and tasty alternative. Cauliflower rice is carried at almost all grocery stores, both in the freezer and fresh section. A serving of cauliflower rice has around 4-5g of carbs per cup, compared to the 45-50g per cup found in traditional white rice. When prepared correctly, cauliflower rice can make for a delicious swap for rice. Or, you can even do a 50/50 ratio of rice to cauliflower rice. Pro tip: Roasting your frozen cauliflower rice on a sheet pan gives it the perfect crisp for fried rice.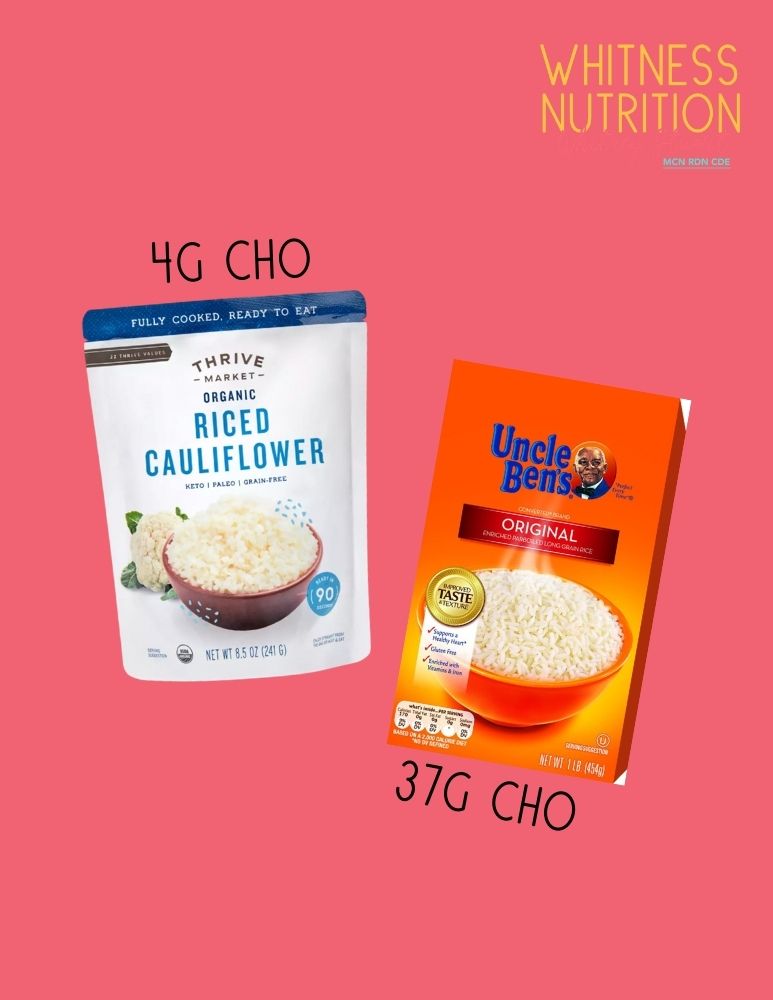 Grab my favorite pre-riced cauliflower at 

Thrive Market

, using this link for 25% off your 1st order.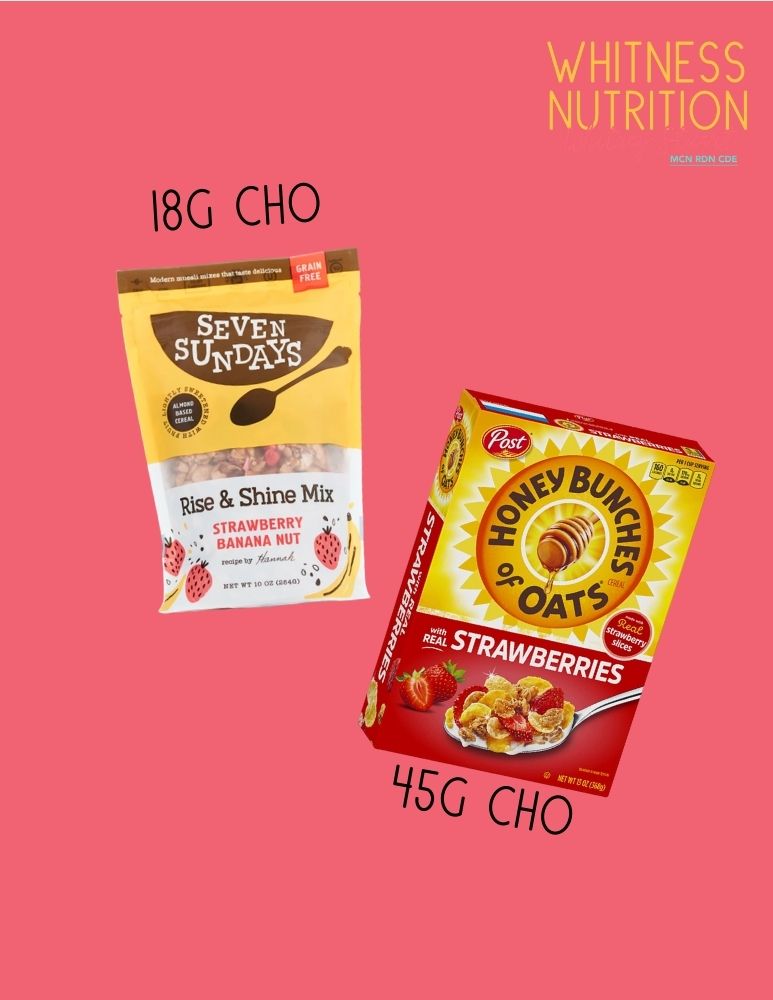 Cereal is not a health food. Neither is granola. This statement makes me very unpopular during initial consults. But, it's not your fault! Almost every box of cereal has a sneaky slogan covertly trying to hide the fact it's mostly made of sugar. A serving of cereal can range anywhere from 20-40g of carbohydrates and that's without milk or yogurt! A great alternative? A nut and seed filled grainless granola based in heart healthy fats. Grainless granola still provides a crunchy texture and tasty flavor with less than 50% of the carbohydrates and a bit more satiety from the plant-based addition of nuts and seeds. I like to snack on mine all by itself or make breakfast power bowls for an easy meal on the go.
Our practice is based in Texas and I love me some Tex-Mex. That includes all the tortillas- think breakfast tacos, burritos, enchiladas… is your mouth watering too? But, most of these dishes revolve around a tortilla. Tortillas, whether they're made from white flour or corn masa, pack a heavy dose of carbohydrates per serving. One white flour tortilla contains around 25-30g of carbohydrates. As a propionate of delicious, nutritious and similar alternatives, I found Egg Life Tortillas to be a tasty swap for tortillas. Made from egg whites, each Egg Life tortilla contains less than 1g of carbohydrates and 5g of protein, making it way better for you than a plain ole tortilla. With a variety of flavors, Egg Life can be used in different types of cuisines, as well as appeal to different diets. I like to wrap up my meal-prepped breakfast casseroles and fresh veggies for an easy meal. Yum!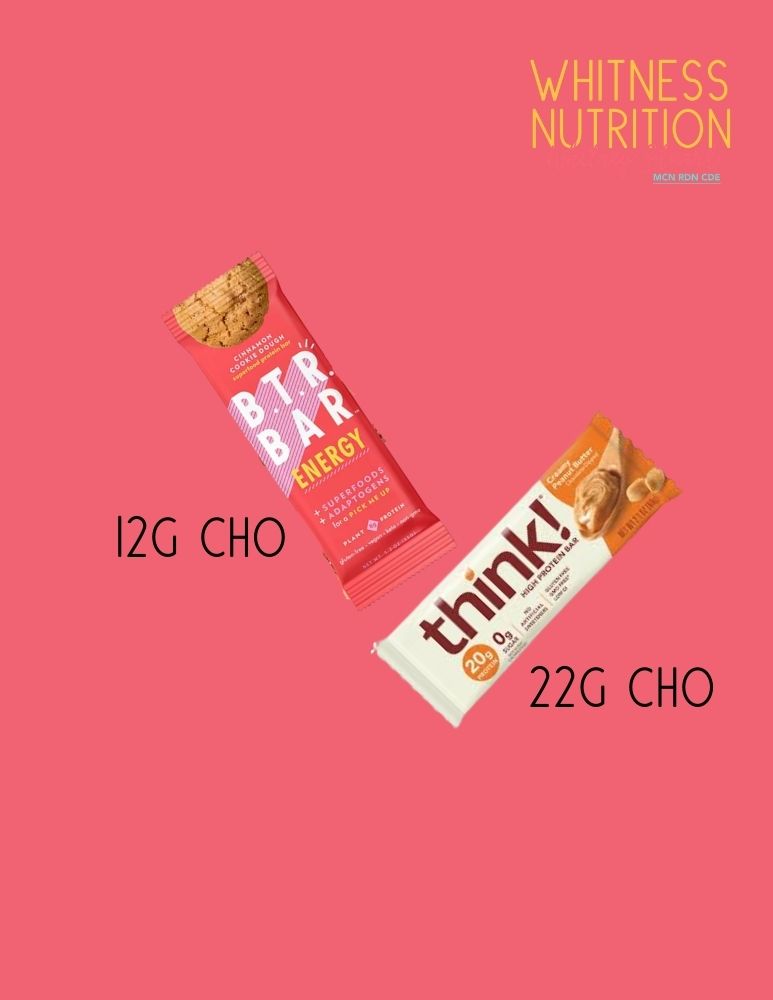 BTR Bars
Vs. Traditional Protein Bars
Now, the protein bar industry is one of the most deceptive and disappointing among food products. Most options are sugar-laden, low in high-quality protein! In fact, to keep you satisfied, it should be quite the opposite. The first few ingredients shouldn't be oats, cane syrup or palm oil. Switch up your options with BTR Bars! BTR Bars are made with a variety of plant-based proteins that provide 12g of protein per bar, and only contain 11g of carbohydrates. BTR bars give you the prolonged energy you look for in a protein bar without all the high-carb aftermath. Check out their super fun website, and make sure to use code, whitness, to snag a discount!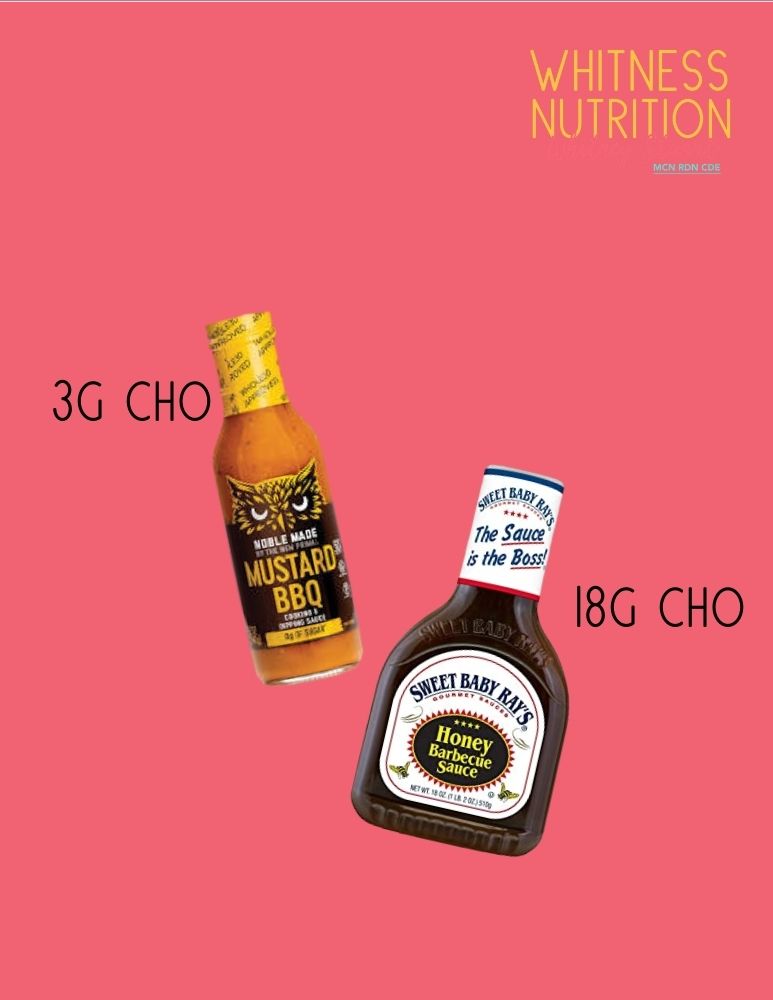 Sauce, whether that's BBQ sauce or ranch, is probably one of the least suspected culprits of your next carb load. The reason most sauces have such a high carbohydrate to serving size ratio is all of the added sugars (the first ingredient in Heinz in high fructose corn syrup). Plus, a serving size is easy to overdo. Who measures their ketchup? But, 2 tbsp contains 10g of carbs! The marinade and sauce market has had some major upgrades thanks to The New Primal, the Whole30 approved high-quality sauce and dressings company. Their sauces are gluten and dairy free, as well as low in carbs with a vinegar base. Each serving size being only 3g of CHO. My personal favorites are the Mustard BBQ and Buffalo sauce, both of which barely impact my "carb intake" for the day. Grab a couple different sauces through their website, and use code whitnessnutrition for 15% off your purchase!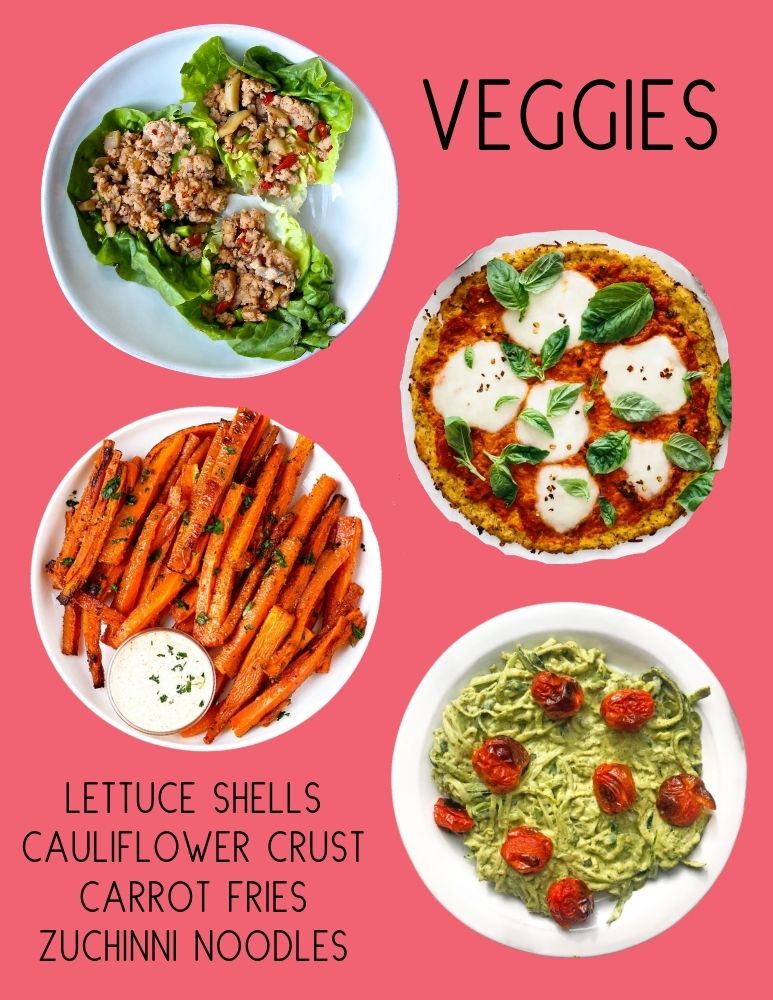 Last but not least… veggies!  
Now, remember: the most simple, affordable, and tasty alternative is already in your pantry or fridge. You don't need a fancy spiralizer or specific pan, all you need is the willingness to open the fridge and get creative with, *drum roll*, veggies! Zucchinis, asparagus, eggplant; these delicious vegetables are waiting to be turned into low-carb alternatives in the kitchen. I enjoy making traditional dishes with vegetables for an extra dose of fiber for my gut health and sustained fuel. Veggies can easily be swapped for your typical high-carb meal! Incorporating more veggies into your diet will not only lower your carb intake, but will up your daily dose of vitamins and minerals.
Next time you reach for your phone to order Asian takeout, whip up some low carb chicken lettuce wraps!

When your weekly pizza craving hits, opt for a simple cauliflower crust pizza  (cauliflower as the first ingredients!) with all the toppings!
There are so many creative ways to decrease your carb intake while also enjoying delicious and nutritious foods. How will you beat the carbohydrate-crash?