I've been training for quarantine cooking my whole life.
I am a substitution expert. A history of food allergies, a limited student budget,  and a few Whole30 resets have prepared me for this moment. I can make dinner out of anything. Now, you can too!
My Basil Meat Lasagna features shelf-stable pantry items and stockpiled freezer goods that I've been itching to use up. Fortunately, you'll find this recipe to be very flexible. Substitute as needed, most of the ingredients work just as well as their recommended alternates.
Work with what you have (in the kitchen & on the dance floor). That's right, a good recipe needs a good beat; use this epic kitchen-dancing playlist while you create!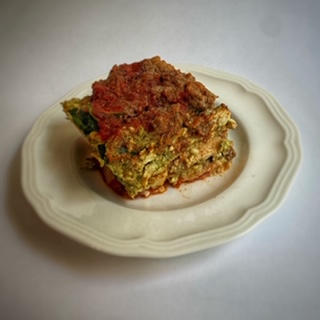 Basil & Beef Lasagna
quality comfort food featuring Eat Pre's grass-fed & finished ground beef
1 lb Eat Pre ground beef  (thawed)
9 oz Banza Pasta Lasagna noodles (any noodle works, white, wheat, brown rice, lentil)
8 oz shredded mozzarella cheese (or, a non-dairy version like Daiya & Violife)
3 cups tomato sauce (or marinara sauce, or tomato paste)
2 medium zucchini squash (or summer squash)
12 oz fresh spinach (or frozen but thawed )
Vegan Ricotta (or sub 14 oz ricotta)
1 cup garlic hummus
1/2 cup nutritional yeast & extra to sprinkle (or grated parmesan)
14 oz extra firm organic tofu
1/4 cup vegan pesto (any pesto will do, here! or, chopped basil )
2 TB minced garlic (or garlic powder)
If you're using dairy-based ricotta, do this instead: Combine ricotta & basil, you're set
Preheat oven to 350F. Bring a large pot of salted water to a boil. Add noodles and cook just until al dente. Drain and rinse with cold water.

Drain the tofu of all water, Then press between two plates with a paper towel on top to remove all excess water. Let sit until meat is browned.

Meanwhile, add 1 TB water to a large skillet, heat over medium heat. Once hot, add beef. Cook until browned. Remove and add zucchini and a pinch of salt or garlic&herb spice. Sauté for 5 minutes or until softened. Add spinach and sauté for another 5 minutes. Remove pan from heat.
Vegan Ricotta
Place drained tofu in a large bowl. Crumble with hands. Add hummus, nutritional yeast, basil pesto and spices. Stir until texture resembles ricotta.
Lasagna layers
Place about 1/2 cup of marinara in the bottom of a 9×9 (~2QT pyrex glass dish) inch baking dish. Top with 3 noodles. Next add 1/3 of the ricotta mixture, a sprinkle of mozzarella, 1/3 of vegetable mixture & 1/3 of the ground beef.

Top with a heaping 1/2 cups or more of sauce.

Repeat: noods, tofu, cheese, veggies, beef.

Add one last layer of noodles and another 1 1/2 cups or more of sauce; sprinkle top with nutritional yeast.

Cover with foil and bake for 30 minutes. Pro Tip: Place a baking sheet covered in foil on the shelf below to prevent a mess from possible overflows. I fill my dishes deep, too.
You can bake this in any size dish you'd like. I'm not going to judge any circulaar lasagnas. You can call that a meat pie! 
The key components of this lasagna are plenty of spices and quality meat. Eat Pre grass-fed and finished beef has an obvious difference in taste and quality (I notice in the way it cooks, but my husband endorses the flavor, too).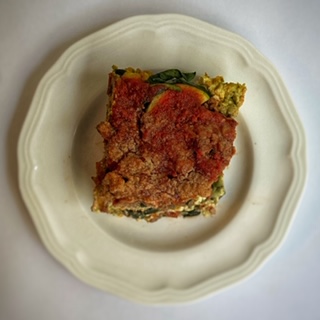 Team Stuart's 2018 New Year's resolution was to only purchase grass-fed and wild-caught proteins; to this day, we're still prioritizing them and EatPre is a regular pick-up when my husband wants to grill out! This resolution isn't for everyone, but it's been an awesome standard to uphold in our household. Last year, we eliminated all plastic Tupperware and are using glass & stainless steel only.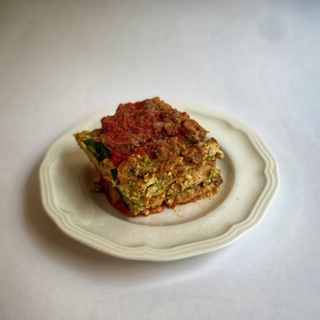 I hope you enjoy my classic comfort dish. Don't forget to tag me in your nood dishes. I had to, y'all. #dadjokes
---
FTC Disclaimer: The ingredients for this recipe were reimbursed by Eat Pre LLC. The recipe itself, the flavor, the fun dance moves & all of the opinions are my own.