Serving up a powerful bowl of nutrients without that impending sugar crash. 
I don't have time for "just fruit" as my breakfast option. And, I believe you need a sustainable option, too!
Oh hey acai bowls, I see you!
Plant-based protein & fat sources? We both have time for that kind of strong focus and heart-healthy during this quarantine routine that requires long days and big smiles. As a dietitian, working with patients at a higher risk for COVID-19 required me to put even more of my best self forward daily! But, I can't pour from an empty cup. This is how I'm filling it up.
Although this is a great breakfast option, I've actually been using it as a midday boost. Have you tried walking an Aussie 5 miles each day on an empty stomach? Quality fueling is a requirement.
The Seven Sundays muesli is a healthy remix to the usual granola rolled in sugar and coated with oil to bake.
Ick, not here. The main ingredients of this grain-free mix include wholesome nuts, seeds, and freeze-dried (not dried with extra sugar) fruit. This gives you greater freedom to add your own sweetener (I prefer monk fruit!), fruit, berries or additional toppings.
Friends, granola is not a superfood. It is also 2020.
Seven Sundays can be found at Whole Foods, Sprouts, Central Market, Kroger, as well as Amazon. Currently, you can use code DALLASITES101 for 30% off your entire order through the end of May on their website.
Now for a small world back story! This husband and wife team discovered muesli on their honeymoon in NZ. My husband and I also did our honeymoon in New Zealand and were served muesli on the reg.  Seven Sundays was named with the intention to live every day like a Sunday; living with more intention. Or, perhaps like a citizen of New Zealand? Their population is incredibly healthy and active!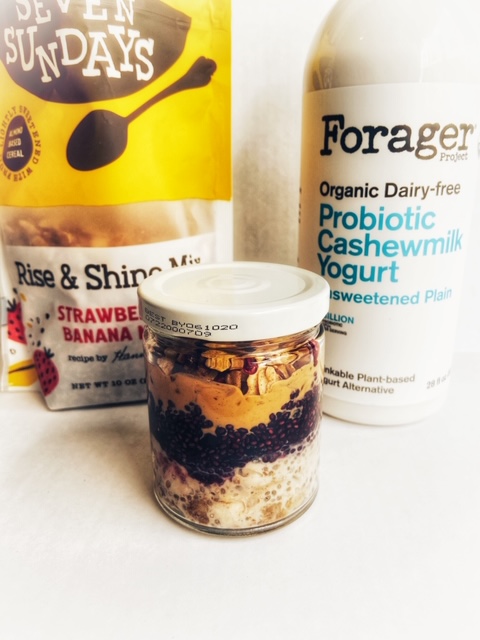 The addition of The Forager Project low-sugar cashew yogurt provides a fiber and fat combo sure to keep me satisfied through our new five-mile daily dog walks and straight into dinnertime.
Anyone else increasing their daily steps and dog spoiling during this quarantine?
Forager Project's rich and creamy yogurts made from cashews will change how you think about dairy-free products.  The organic and plant-based line tastes amazing. They are better than the yogurts I had after school as a kiddo. I do believe that contained corn-syrup too… so thankful we have expanded options now! You can find Forager Project in Whole Foods, Sprouts, Tom Thumb, Natural Grocers, Central Markets, select HEB stores, and in United Markets.
I've been strategically grocery shopping, and their plain yogurt option is a versatile staple because it works in both sweet and savory recipes. I've used it in breakfast bowls and to make a savory garlic tzatziki sauce at dinner. 
PBJ power bowl
naturally vegan, grain free, high fiber. Featuring Seven Sundays + Forager Project
2 TB Seven Sundays Muesli (I used the strawberry banana!)
1/4 cup Seven Sundays Muesli (any of their flavors work!)
1/4 cup Forager Project Yogurt ( (I used plain, but the protein option would kick it up a notch!) )
2 TB frozen, thawed blueberries (any frozen chopped fruit works)
1 TB chia seeds
3 TB water
1 TB de-fatted peanut flour (Trader Joe's brand of PB2 works well)
2 TB Forager Project cashew or oat milk 
There are four layers to this recipe.

Prepare 1TB Chia seeds with 2TB frozen blueberries (thawed) and 3TB water. Mix and let sit for 4 hours (overnight is optimal though).

Mix 2TB Muesli with cashew yogurt. Add to the base of your jar as the 1st layer.

When the blueberry "gel" is ready, scoop over the muesli layer. It should hold together well like…gel.

Mix 1TB de-fatted peanut butter + 2TB Forager cashew or oat milk. Mix until smooth like a paste. Add as your third layer on top of the berry gel.

Top with 1/4 cup muesli

Devour!
This recipe is so easy to substitute for what you have on hand! You can use granola or oats in place of the muesli and any type of milk or yogurt works, too.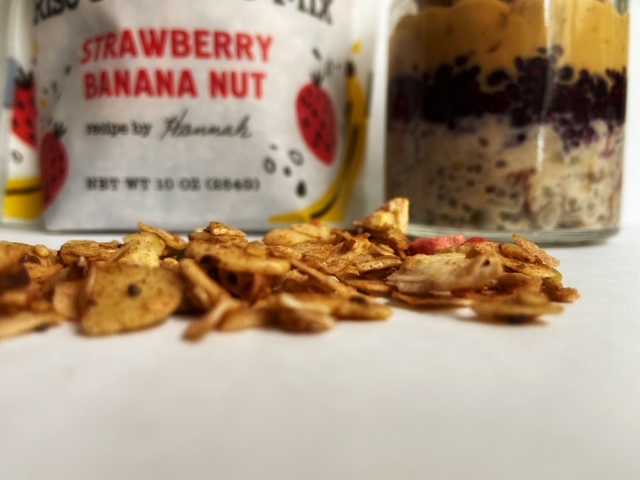 This blog post was created in paid partnership with Seven Sundays and Forager Project. Although the recipe, photos and opinions are exclusive and unbiased to Whitney Stuart MS RDN CDE & Whitness Nutrition LLC. This site is to inspire and educate; the information shared is always clear and concise to prevent confusion. We believe in facts, not fads, and most of all, transparency.
---