Gut health was the health word of 2020, right? And by now, I think you know the importance of gut health! But, how are you actually acting to improve your own? Do you eat probiotic-rich foods or take a daily probiotic?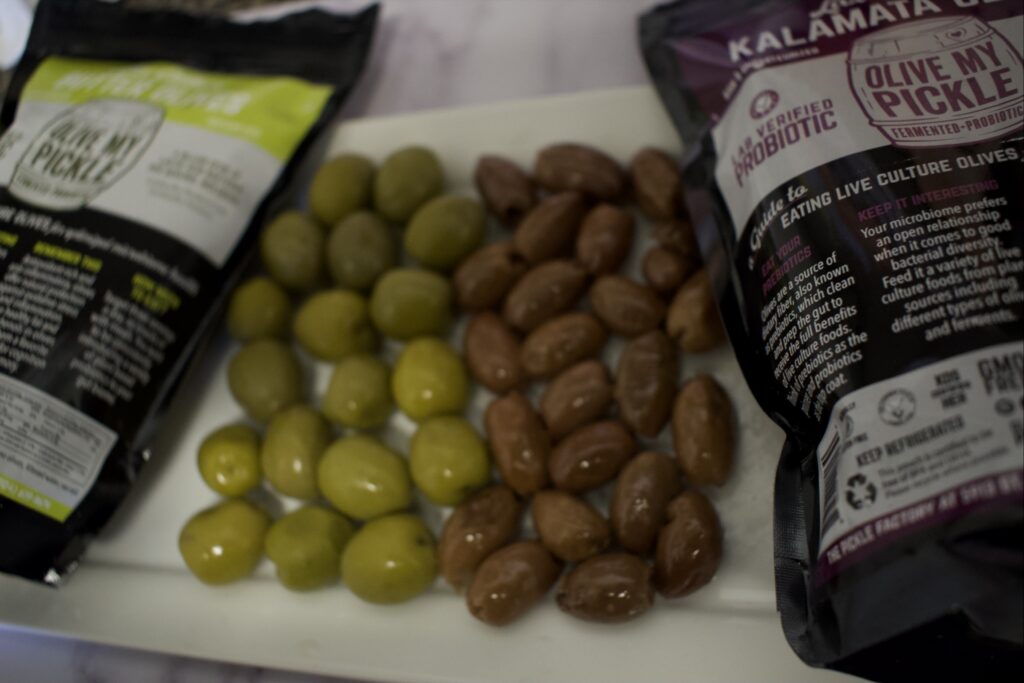 The gastrointestinal (GI) tract is where we absorb and utilize the nutrients from food. Our gut functions best when there is a healthy balance of bacteria. But, what kind of fuel does it thrive on? A mix of prebiotic and probiotic sources is key! With so many bottled containers of these two at the store and the headlines on "gut-friendly!" on naturally occurring foods, it gets confusing.
Let's review the difference between a probiotic and prebiotic.
Prebiotic
Prebiotics consist of high-fiber foods that move through the gut and feed the naturally-occurring and good bacteria in the gut. As they arrive in the colon and start to ferment, they great short-chain fatty acids. This is food for the gut. Primarily, prebiotics help to improve the GI health through strengthening it's tract. Foods that are high in prebiotics include onions, flax seeds, and apples. 
Prioritizing good bacteria in your diet is important.
Probiotic
Secondly, there are probiotics. These are living microorganisms (think of them as happy gut critters) that live in our GI tract. They live primarily in the intestines. These living bacteria help to aid the absorption of nutrients in our GI tract and keep a healthy digestive system moving! Consuming an adequate amount of probiotics is important for strong immunity. Foods that are high in probiotics are items such as yogurt, kombucha, and miso. If you see the word "fermented" or "aged' on the food, it's likely to have a good amount of probiotics. 
There are targeted supplement versions, but there is also a great need for the consumption of  prebiotics and probiotics from whole foods in our diet! Fermented foods are one of my favorite easy ways to get some live bacteria into my diet. I  top my burger with pickles or toss extra kimchi onto my poke bowl. The salty, umami flavor from fermented foods is so satiating to taste buds, too. 
Every pickle isn't a probiotic-rich pickle.
Now, not all pickles are the same! Olive My Pickle (OMP) is a family-owned fermented food company that specializes in fermented foods. They make it easy to incorporate gut-friendly bacteria into your diet with a wide variety of fermented and probiotic products! Because, let's face it, many leading pickles on the grocery store shelves contain dyes, sugar and excessive salt. Olive My Pickle uses the age-old, traditional method of lactic-acid fermentation to create their line of probiotic foods. Lactic-acid fermentation preserves the variety of veggies with a salt water brine that results in raw products that are alive and full of good bacteria. This good bacteria fuels the gut and allows our body to function properly.
With over 30 types of fermented goodies, OMP creates delicious foods that increase the good gut bacteria we all need. OMP products are naturally gluten free and vegan, but are also non-GMO and recently Whole30 compatible! OMP makes a super tasty variety of fermented foods! I love to incorporate these into my lunches and dinners, since they all make a great garnish for a dish. Here are three easy ways to incorporate fermented foods into your dishes. When the good bacteria comes knocking, let them in! 

Now, try our easy ways to incorporate Fermented Foods using Olive My Pickle!
Kimchi: Korean style fermented Napa cabbage with a spicy kick. 

Stir into fried rice

Top a tofu or salmon grain bowl 

Fold into an omelette 

Olives: Green, black and stuffed – all offer a different flavor profile. 

Pickles: Cucumbers fermented to crispy, crunchy perfection. 

Dipped in creamy hummus

Sliced on a grass-fed or veggie burger

On top of tuna or chicken salad

Sauerkraut: German style, finely chopped fermented cabbage 

Top avocado toast

Pair with a leafy green salad

Mix into potato salad 

Vegetables: a variety of fermented veggies packed with nutrients and flavor

Sprinkle onto tacos

Top a power bowl

Incorporate into wraps
Remember, you can use code whitness for 10% off on the Olive My Pickle website! This blog post was sponsored by Olive My Pickle through the creation of a thoughtful partnership with the intention of educating the masses on wholesome health concepts. Whitness Nutrition takes every partnership seriously and Whitney upholds her role of #honestinfluencer to a high standard. Never hesitate to reach out with comments, questions, or concerns.