Jump to recipe
Happy Humpday! Elena, the intern, is back with a grain-free granola recipe chock-full of antioxidants and prevention for cancer and heart disease.
Have you heard the hype?
Matcha, a ground green tea leaf, serving as a great alternative to coffee. Matcha is almost always found in a powder form making it an easy addition to beverages, baked goods or blended into your smoothies. But, what is matcha?
Matcha, or green tea leaves in general, contain powerful antioxidants that have shown to help prevent cancer and heart disease.

A nutritious recipe
We partnered with Seven Sunday's to create this delicious grain-free granola recipe using their Lucky Day Mix. This delicious muesli mix is chock-full of nutritious ingredients, one of them being matcha powder! You'll find healthy fats and fiber from the pistachios, almonds, and a variety of seeds that provide crunch and texture. The organic honey, golden raisins, and coconut compliment the matcha making for a naturally sweeter combination without added refined sugar.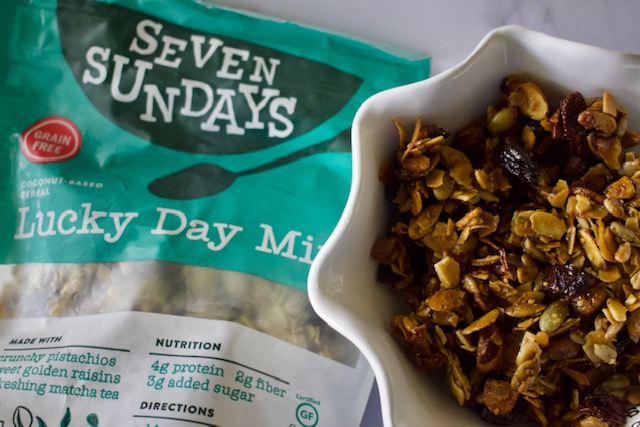 Incorporating matcha into your diet can help increase your intake of phytonutrients, vitamins and minerals. 
More than muesli!
This muesli is great in its traditional form; soaked overnight in yogurt or milk. But, we've also made a crunchy and chewy afternoon snack alternative to have on hand! Try these matcha grain-free granola clusters; a delicious and nutritious addition to your morning yogurt or smoothie bowls. It could be served on top of mixed fruit, Greek yogurt, chia seed pudding, but we're partial to sprinkling it on top of one of the many delicious smoothie recipes found in our Smoothie E-Book or combined with your favorite yogurt or Elena's omega-3 raspberry jam recipe! Breakfast has never been so easy, tasty and nutritious!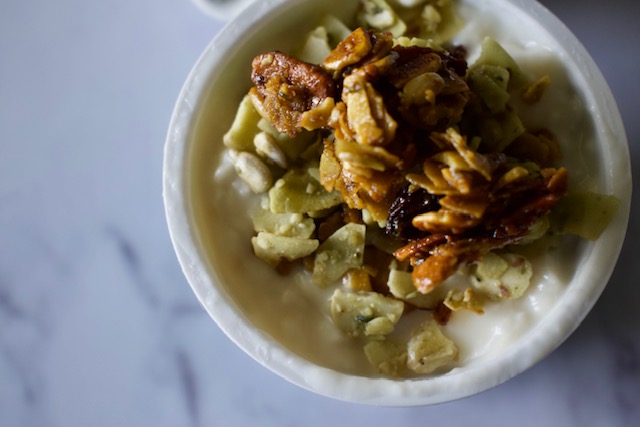 NEW RECIPE: Coconut Matcha Grain-Free Granola

Ingredients
2 Cups Seven Sunday's Lucky Day Matcha Honey Pistachio Grain Free Muesli Mix
1 tbsp shredded coconut
½ tsp salt
2 tbsp liquid coconut oil
1 tbsp honey
1 tbsp water
Instructions
1. Preheat the oven to 300 F. Line baking sheet with aluminum foil or parchment paper
Combine muesli mix, shredded coconut and salt.
Combine liquid coconut oil, honey and water. Briefly warm in the microwave (10-15 seconds), and stir to combine well.
Combine liquid ingredients with dry ingredients, thoroughly mixing all ingredients.
Press ingredients onto the baking sheet, make the mix as tightly packed as possible to get clumps of granola.
Bake for 15 minutes, rotate the baking sheet, bake an additional 10 minutes.
Let granola cool then break into chunks or crumbles. Store in the fridge for up to 1 week. Serve over yogurt or smoothie bowls, drizzle with nut butter or eat on its own!