Jump to recipe
Skimping on a nutritious breakfast?
A nutritious breakfast is the most important meal of the day – but never convenient, is it? A crazy morning requires a nutritious but easy access breakfast. The key to creating a nutritious breakfast; a well rounded amount of fats, carbohydrates and protein to keep you full and energized for your day.
Oatmeal is a great way to get creative with these components!
Elena is back with creative ways for you to switch up boring breakfast with a boost of nutrients! Easily add in fats and protein to this quality source of whole-grains. While oatmeal is delicious and hearty, it isn't always the most convenient breakfast to whip up. Pre-packaged individual oatmeals are affordable, accessible and tasty. But they are often loaded with hidden sugar and sodium. The last package I reviewed had enough sugar to be a soda, dang!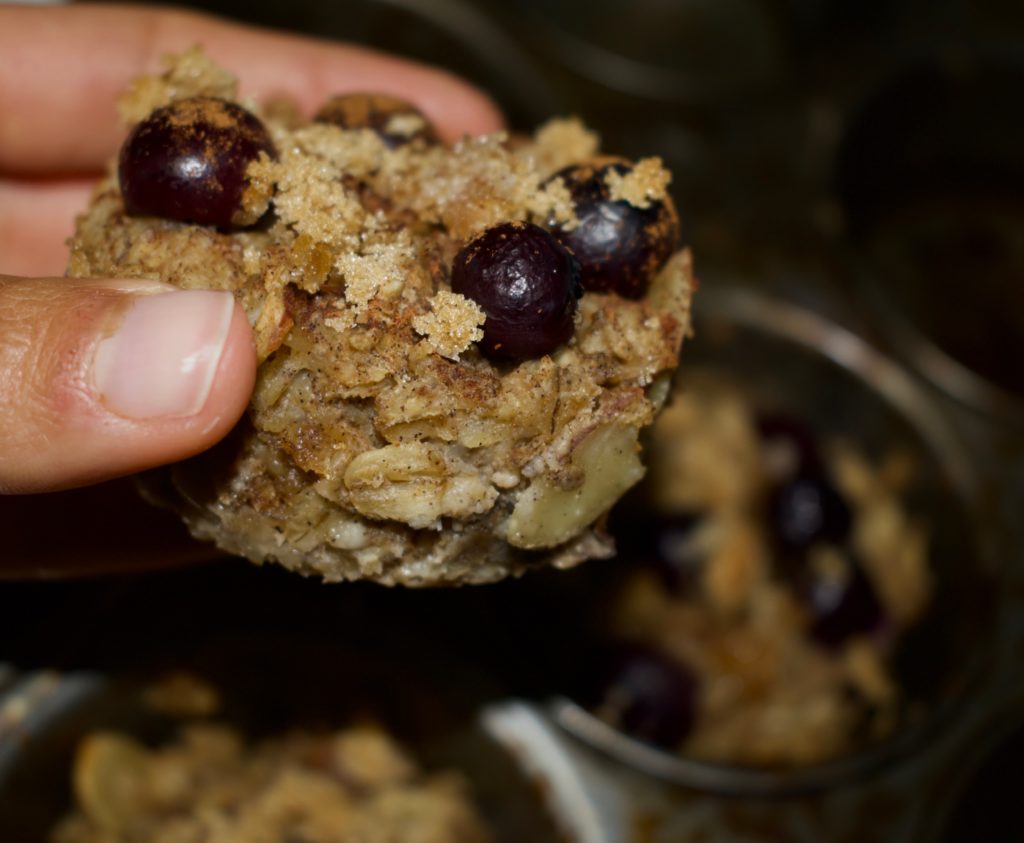 RXBar has created a major upgrade in the oatmeal market.
The RXBar individual oatmeal cups are made with more than just oatmeal for a balanced bowl! Each carton contains simple ingredients; gluten-free oats, real egg whites and naturally sweet dates. We used the Vanilla Oatmeal Cup that is made with real vanilla bean and sliced almonds to create these mini oatmeal muffins for on-the-go mornings. One container makes three muffins that are chock-full of protein, fiber and healthy fats. We also added creamy peanut butter and blueberries for an extra boost of flavor and nutrients.
Vanilla Almond RXBar Protein Muffins

Notes
*Almond and Cashew butter works as well (we love Georgia Grinders, use code whitnessnutrition for savings!)
**2 %, Almond or Soy Milk works as well.

Ingredients
1 cup of RX Oats, Almond Vanilla flavor
½ tbsp butter or coconut oil
1 tbsp peanut butter*
2 tbsp non-dairy milk**
5-10 blueberries
1 tsp brown sugar (optional)
Instructions
Preheat the oven to 350 F. Grease 3 muffin tins and fill remaining empty spots with water to prevent burning.
Cook oatmeal according to the container. Mix in peanut butter and non-dairy milk.
Evenly fill the three greased tins with oatmeal. Place blueberries on top.
Bake for 15-20 minutes. Remove, sprinkle with brown sugar, and bake for an additional 5 minutes.
Enjoy with yogurt, fruit preserves, or with a drizzle of honey!
Get creative!
Add your favorite flavor profiles with items such as fresh berries, nut butter and even a sprinkle of protein powder! Fuel your day with these muffins by adding the ingredients to your grocery list and preparing them for the week. That's right, planning ahead leads to a successful and healthy week. And, don't forget to tag us in your nutritious breakfast creations with #whitnessnutritionapproved We're here to inspire easy, healthy and attainable recipes to keep your health a top priority.