Jump to recipe
Are you ready to decrease your grocery shopping expenses? And, get creative in the kitchen with quality ingredients at a low price? Then, look no further because words cannot HUMMUS how delicious this recipe is!  
Creamy, dreamy, delicious!
Get ready to create the most delicious, creamy and authentic tasting hummus. It will knock the store-bought hummus sitting in your fridge right off the shelf. Made with high protein garbanzo beans, healthy fat-filled tahini and refreshing lemon juice, this hummus is all types of good for you.
Hummus makes for a quick, nutritious snack. It can be accompanied with sliced veggies, combined with whole-grain crackers or spread on a piece of toast. Tahini, which is ground sesame seeds, is the other main ingredient but can be optional. Tahini will give your hummus that creamy, thick texture that most people love about hummus, but feel free to go for a chunkier dip. The rest of the ingredients; lemon, olive oil, garlic and seasonings, are super easy grocery store finds.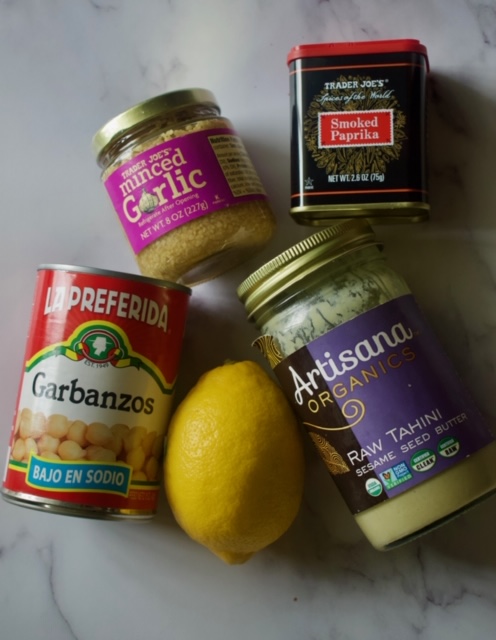 More protein!
Garbanzo beans, or chickpeas, are an awesome choice for those looking to incorporate more protein into their diet but not break the bank. One can of garbanzo beans has 25-30 grams of protein! They are also a great source of fiber (important for digestive health)! One cup has 13g; almost half of your daily needs. Additionally, garbanzo beans are very affordable, have a long shelf life and can be incorporated into different cuisines. You can try doing Mexican stews, Mediterranean Tabbouleh, or just crisp them up in the oven to replace the croutons on your salad!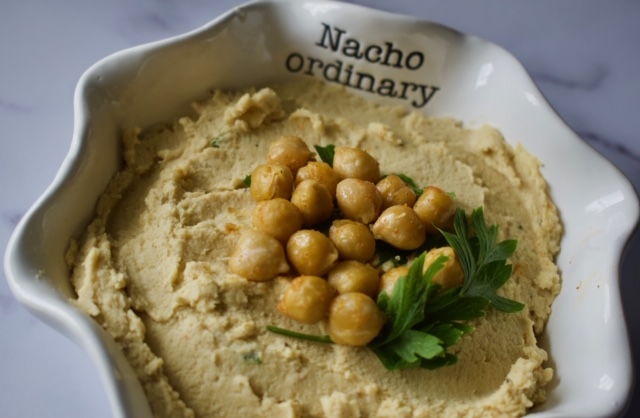 La Preferida Garbanzo Beans were used here because, frankly, their top notch! There are twoo ingredients; garbanzo beans and filtered water- no added salt, preservatives or other junk! Grab a can of these delicious legumes next time you're at the store and make this authentic, easy and nutritious hummus.
We are showcasing the versatility of this powerful plant protein by transforming them into a dish that is both healthy and delicious! 
Slice up your veggies, break open your favorite box of crackers and whip up this delicious, protein-packed hummus. Again, this recipe is nacho ordinary store-bought hummus… it's better!
Not Your Store Bought Hummus

Serving Size
4-6 servings
Notes
Feel free to add in other spices such as cumin and chili powder or yumminess like roasted beets, avocado, or spinach!

Ingredients
1 15 oz. La Preferida Garbanzo Beans
2 tbsp tahini
1 tsp minced garlic or 1 clove of garlic
½ of a large lemon, juiced
2 tsp smoked paprika
¼ tsp salt
¼ tsp black pepper
3 tbsp olive oil
*optional - diced fresh parsley
Instructions
Drain chickpeas and add to a food processor or blender. Grind/combine until chickpeas start to appear creamy with bits of chunk in it.
Add in tahini, garlic, and lemon juice. Combine until smooth.
Add in paprika, salt, and black pepper. Combine everything and taste. Add in extra lemon or salt if flavor seems to be lacking.
Add olive oil one tbsp at a time till texture is as creamy, or chunky, as you like.
Serve with extra roasted chickpeas sprinkled, fresh diced parsley or extra olive oil across the top.
Pasta craving side note
If you crave a big hearty bowl of pasta look to Banza for your key ingredient. Banza pasta and rice are created with chickpeas to give consumers a naturally gluten free, high fiber, and protein packed pasta alternative. One serving of Banza pasta alone has 13-15g of protein, which is about a third of your daily protein intake… can you say "serve me a bowl please"?