Dallas is a hot spot for barbecue, brisket, and tex-mex fajitas making it an excellent choice for those eating out on a paleo lifestyle, keto diet, or Whole30 reset. As a celiac with a dairy intolerance, I have found the Dallas restaurant scene to be very accommodating. Especially, the smaller, locally owned businesses. Through the different Dallas Duo events, I've gotten to try so many delicious, convenient and healthy meals that fit into a paleo-type diet. But, as I was cooking my own meatless Monday dish last week, I realized that although patients ask for plant-based recommendations, I hadn't created a public resource. Ta Da! The WWWO Plant-Based edition for the Dallas restaurant scene! 
These are just a few establishments to offer nutritious plant-based options. Remember, it's okay to ask for help. I recommend asking, or really – calling ahead! It's ok to have a small amount of vegetable oil or honey, but you'll want to stay aware of the heavy hitters; sugar, dairy, and gluten. Check out these delicious, plant-based friendly options in Dallas for the plant-based community.
Interested in learning more about how to properly follow a plant-based diet? Want to be better equipped for eating out and figuring out what's best on the menu? Straight up scared of tofu? Book a discovery call with Elena, our in-house Health Coach and Plant-Based expert! 
The ultimate plant-based brunch spot, Tribal's menu is chock-full of delicious options like black bean bowls and vegan caesar salad. They also sell their cashew queso, walnut-mushroom "sausage" and my personal favorite, spicy jalapeno cashew cream "cheese" in their pantry, so if you didn't get enough on your plate, you can buy more! Bonus, they offer breakfast all day so if you are craving a plant-based Migas for dinner, you can get it. 
Bella Green is a true Texas gem and has so many delicious options, both plant-based and not! Their menu is carefully noted as gluten-free, vegetarian, and dairy-free, which is super helpful. But be aware, that some options may be vegetarian and/or dairy-free but have eggs, which are not plant-based Whole30 compliant (but definitely okay for my ovo-vegetarians!). Start with the hummus (ask for veggies) and order either the Oh Kale Yeah salad with tofu (sub dressing for EVOO) or the veggie wrap on a bed of leafy greens, no tortilla.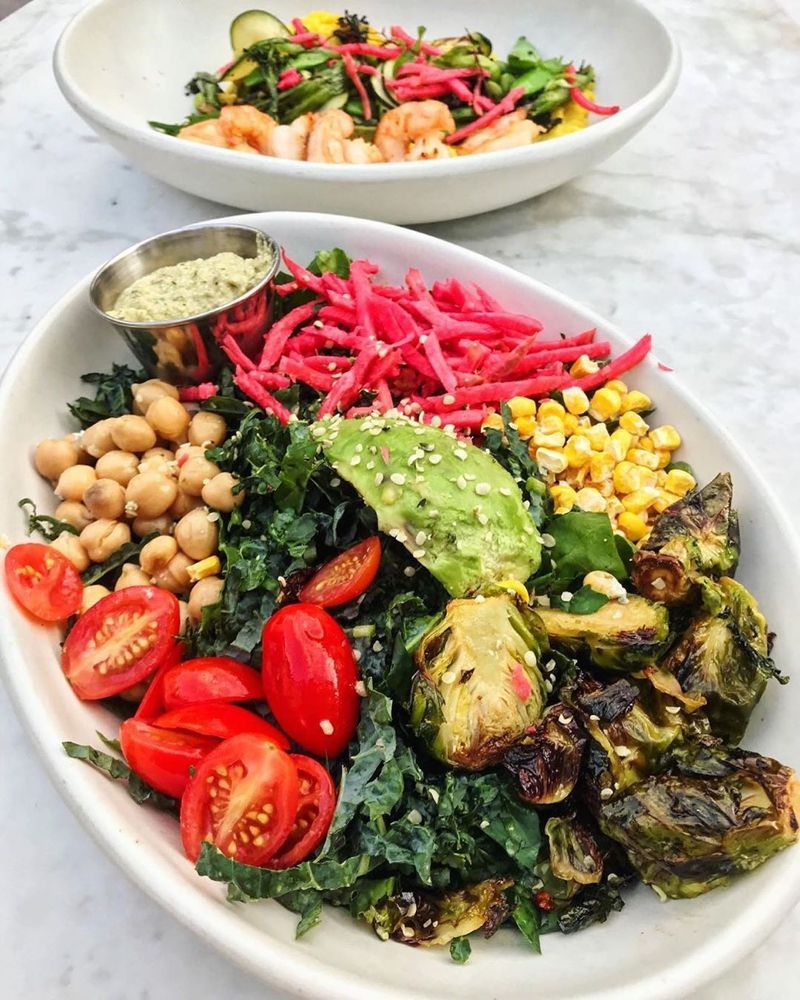 Health foodie's favorite, True Foods Kitchen is a safe choice for just about anyone! True Foods was actually founded by Dr. Andrew Weil and their menu is based on Dr.Weil's anti-inflammatory food pyramid. This means that everything on the menu has a nutritional benefit beyond the plate. I recommend the edamame guacamole with fresh veggies or cauliflower to start. For your meal, the kale cobb (sub the ranch for EVOO!), and a glass of unsweetened green iced tea make for a perfectly balanced meal. 
Despite being primarily paleo, Origin Kitchen is an excellent option for those looking for a clean, plant-based meal. But how? Because their food is made with only the cleanest of ingredients, and they use very minimal dairy and gluten in their kitchen. You can guarantee your meal will leave you feeling nourished, satisfied and good from the inside out. Go for the paleo hummus or cashew queso with fresh veggies to start. Then order either warm Brussel salad with avocado or a tasting of sides (the poblano cauliflower rice is amazing). 
One of my favorite places for drinks and eats in DFW is HG Sply. It is also one of the only non-franchise Whole30-approved restaurants in Texas. If you haven't gotten to enjoy their patio on a warm summer night I highly recommend you go! Their menu is noted with Whole30 approved options, but this does not cover the new Plant-based Whole30 reset compatibility. The smoky carrot hummus with crudites is to die for, as is their cashew queso. For your main course, build your Gather bowl and choose from cauliflower mash, sweet potato hash, chili-garlic broccoli, and their braised black beans. All of their sauces, except the ranch and mayo, are Whole30 approved, so you can trust your drizzling or dipping in clean-ingredients (without inflammatory oils!). I recommend doubling up on the avocado and aioli, healthy fats for the win!
One of my favorite fast casuals in Dallas, Unleavened Fresh Kitchen offers so many fresh and tasty options! They were a partner for our OG September Whole30, and it was so fun to try their different snacks, meals and breakfast options. While my go-to is usually an egg-based hash, I do love their house guac and eggplant dip with fresh veggies for a plant-based starter! For your meal, I suggest their Farmstand salad, no feta, sub dressing for guac or salsa, or one of the warm bowls with guac.  
Nothing is better than a smoothie on the go, especially during the warmer months in Dallas. Clean Juice is my favorite juice bar in Dallas because they offer so much more than just green juice. I prefer and recommend to my patient they opt for a smoothie to get as much fiber and nutrients as possible. Order "The Double One" with hemp protein or "The Recovery One", no honey and add greens. I highly recommend coming back after your reset to try their gluten-free wraps and toast, they're delicious! 
The runner-ups in the smoothie category go to both Juiceland and The Gem Juice Bar. All three are amazing, I just have a personal affinity for Clean Juice. What would Whitney order at The Gem? WWWO the Cameo, add chia seeds and almond butter. Their lattes made with cashew milk are also amazing, especially with their blueberry chia pudding or mushroom soup! If I am going to Juiceland, I opt for The Wild Child or The Bam Bam (add spinach). 
Other places to consider when looking for a Plant-Based meal in Dallas!
If you are reading this for Plant-Based Whole30 insight, please be advised; take the time to research the restaurant ahead of time!  This way, you're sure you have options, and to ensure there is no cross-contamination (some places cook beans in lard, some places don't mention cooking with butter, etc…). There is no shame in being your own advocate (and if you're interested in the newly launched Plant-Based Whole30 reset coaching, reach out to Elena. I am not a Plant-Based Whole30 coach)!