Dallas Whole30 reset compatible meals
Where I eat in Dallas on a Whole30. This is not an inclusive list, or with consideration to Whole30 Approved. But, this list is MY expertise of 7 years. This is the list that has helped me get through four resets, my own food allergies & an all too long phase of orthorexia. Either way, this list is here to help you succeed, along with my many patients who need Gluten-free/Dairy-Free/Soy-free/legume-free options.
Tip: Any grilled/baked protein + steamed veggies and plain baked potato are always a go-to. Ask for a meal to be cooked in oil, not butter. Avoid dressings, replace them with vinegar, guac or salsa. 
Whole30 Approved options
UP Inspired Kitchen: see the Whole30 menu & try the salmon fritt. 

Chipotle: chicken or carnitas, lettuce bowl with extra lettuce or super greens, salsa & guacamole. 
Date Night 
Pie Tap: starter simple salad with vinegar, rotisserie half chicken for an entree. 

Burgers: Dugg/Liberty/HopDoddy/Mooyah/In N Out: Protein Style (lettuce wrapped) Beef or bison Hamburger on a salad, add onions, mustard, avocado. 

HG Sply: Ask for a specific menu. Bowls, lots of options here! NOT the queso SWYPO. Cold brew or Kombucha to drink.
Brunch so hard
Snooze: omelet with all the veg, avocado, green chile & chicken sausage (made in house) 

Sundown at Granada: bunless burger with onion & avocado, side of roasted vegetables & kombucha. 

Origin Cafe: lots of options here! Ask for a specific menu. Thai Salmon or Warm Brussel Salad with a protein. Kombucha to drink.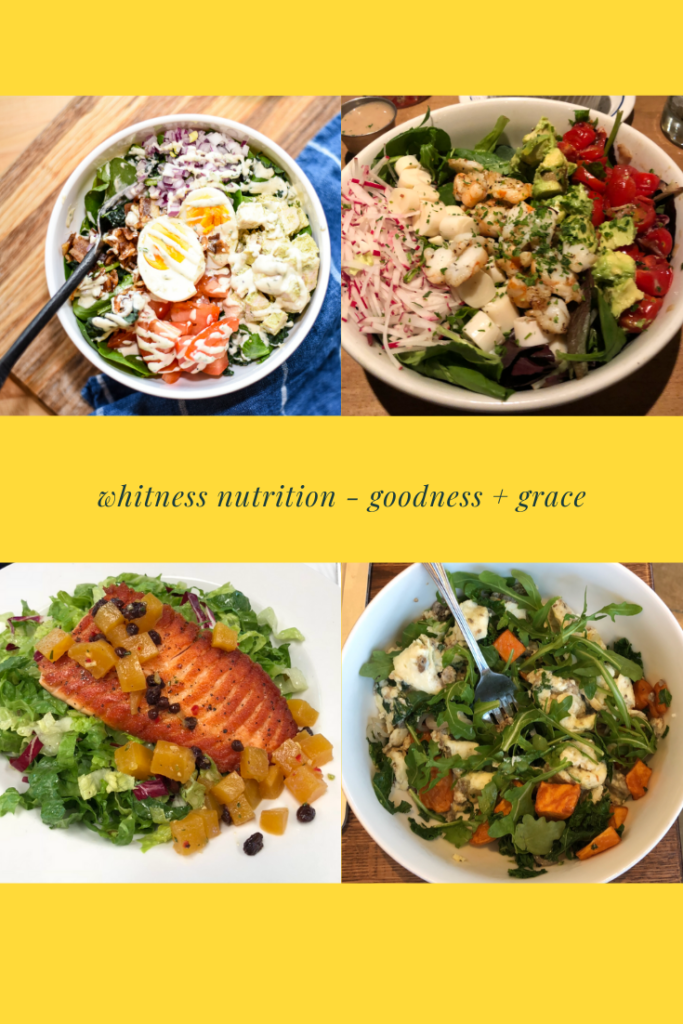 Tex/Mex 101
Taco Deli: ask for menu – Ensalada without corn or queso, open-faced tacos – Al Pastor, Mojo Fish, Carne Asada. 

El Bolero, Mi Cocina, Meso Mayo- Ceviche to start. Ask for cucumbers for dipping guac or ceviche. Fajita dishes easy. Consider a garden salad with shrimp and side of guac, salsa or lime juice as a dressing.

Mesero: salad options but – the roasted chicken with vegetables is phenomenal. Call ahead to order. 
Need help with Food Freedom, after your reset? Reach out! Whitney is a registered dietitian-nutritionist and Certified Diabetes Care and Education Specialist (CDCES) focused on real food for real joy, for the real busy. Her virtual practice, Whitness Nutrition, provides functional nutritional counseling for individuals ready to radically improve their health through empowered education and implementation of holistic health measures. Whitney has been voted best Dallas Dietitian since 2019. 
Part two, later this week! 
Happy+Healthy, Whit.