A Better Queso for Your Health // Un Mejor Queso Para Tu Salud
May 5th is right around the corner and you know what that means – Cinco De Mayo celebrations across the country. Cinco De Mayo is a Mexican National Holiday, but how often do you use this opportunity as an excuse for entering sugary margarita oblivion and having a whole lot of chips and dips? There's room for margaritas and queso in every diet; balance and variety is the key to health! But, when I'm making the fiesta, I build the framework for something satisfying and balanced. Delicious, but also purposeful! 
And inflammatory ingredients, along with lonely carbs lurk in sneaky spots. The margarita prior to your meal, the handful upon handful of chips without guacamole, the queso – is that even made of cheese – dip.
Wait – lonely carbs?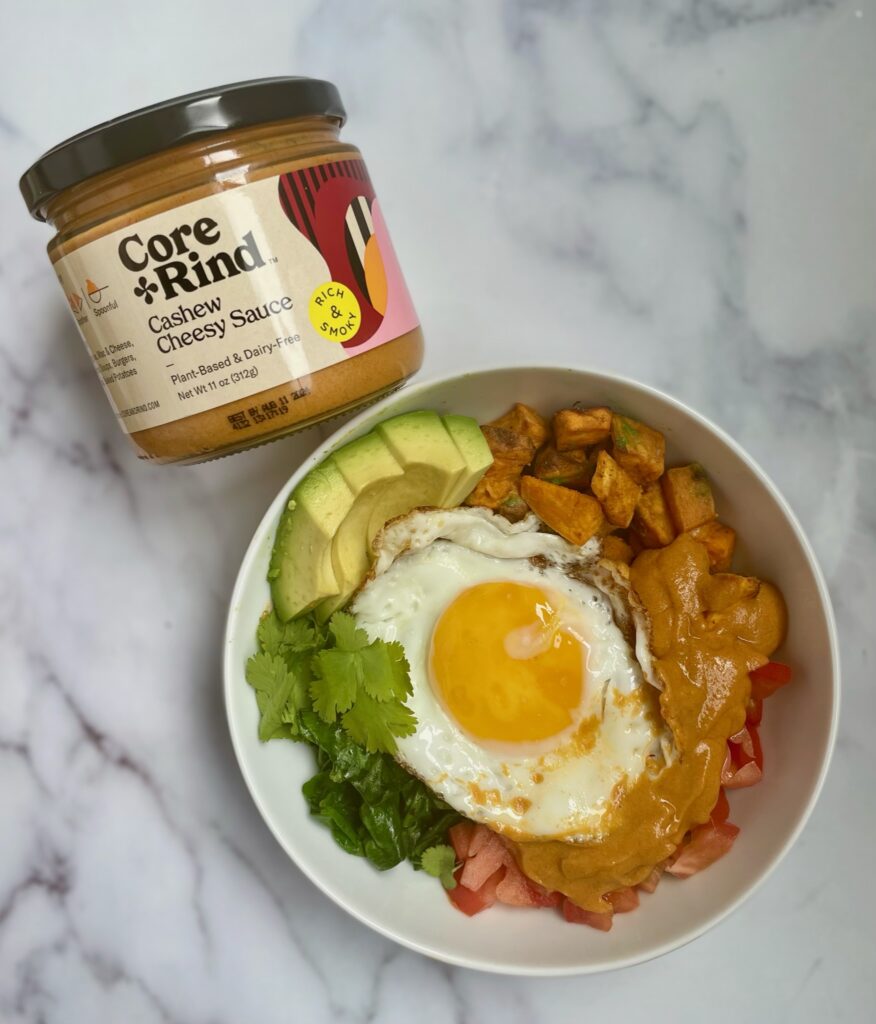 Remember, carbohydrates digest quickly, which in turn raises blood sugar quickly, and cause elevated blood sugar, or hyperglycemia. A lonely carb is only going to provide a quick source of energy; it's fleeting! But, when you pair your carbs with fat or protein, you keep your blood sugar steady. Adopting the strategy of "no lonely carbs" will keep you feeling more energized and feeling full longer. 
Cinco De Mayo is on the horizon and this is the perfect time to create a blood sugar balanced fiesta meal! But remember, carbs are best enjoyed with protein and/or fat to be a slow-release of energy. On May 5th, when you find yourself setting up the sombreros and turning up the J.Balvin, remember to have plenty of protein-rich and healthy-fat filled options to pair with your Spanish rice and tortilla chips. 
Create a BYO

Burrito Bowl

Station

A taco buffet with plenty of fajita veggies!

A Mexican-inspired

snack board

, with an elevated

queso

. 
Side note – When I first moved to Texas, I truly thought they said cheese in Spanish for fun. Yes sir, "I'm allergic to 'queso'. I was confused, and so was my waiter. Whoops!
And, after many dairy-free cheez let-downs, I finally found the perfect swap for my weekly taco nights and yearly Cinco de Mayo celebrations; Core and Rind! Core and Rind is the dairy-free cheese dip, sauce and spread that you have all been waiting for. Me? I'm good. I store it by the jar-full. It's made with whole-food, plant-based ingredients, and in true Whitness Nutrition fashion, it's a healthier anti-inflammatory swap from traditional queso. 
What makes Core and Rind Whitness Approved?
Tostitos queso is made with vegetable oil, MSG and food colorings. Meanwhile, Core and Rind uses real pumpkin, cashews and nutritional yeast as their staple ingredients to provide flavor and nutrients. Their queso is a healthy fat source; your F in the VPFC plate. Like regular queso, Core and Rind cheese sauces can be used in a variety of ways and is the perfect solution for those who struggle to enjoy their veggies. 
Need some ideas on how to incorporate Core and Rind into your Cinco de Mayo fiesta? No problemo! 
My current favorite way to enjoy Core and Rind is drizzled over a deconstructed breakfast burritos. Crispy sweet potatoes, creamy avocado and freshly fried eggs all topped with some dairy free cheese sauce? I'm drooling already.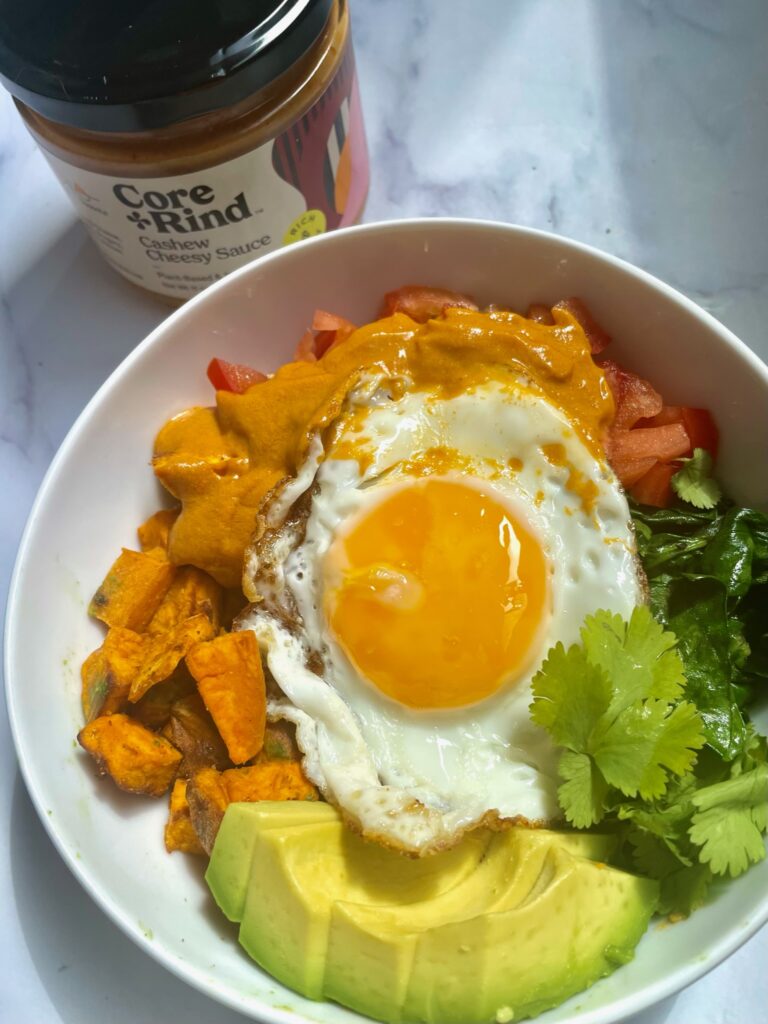 Cheezy Breakfast Burrito in A Bowl
Whole30, dairy-free, gluten-free and vegetarian
Servings: 2
Ingredients
1 sweet potato, diced

¼ tsp garlic powder

¼ tsp cumin

2 cups spinach

4 eggs, fried or scrambled 

1 roma tomato, diced

1 avocado, sliced 

¼ cup cilantro 

¼ cup

Core and Rind

Cashew Cheesy Sauce, warm 

Salt and pepper to taste 

Avocado or olive oil
Instructions:
Peel and cube sweet potato into ½ cubes. Toss with 1-2 tbsp olive oil, garlic powder, cumin and a pinch of salt and pepper. Air-fry at 400 for 10-12 minutes or bake at 425 for 20-30 minutes in the oven.

Meanwhile, in a small skillet, drizzle lightly with olive oil. Saute the spinach until wilted and remove.

In the same skillet, spray with oil and turn up to medium-high heat. Crack your eggs into the skillet and fry until crispy.

Dice tomato and cilantro, and then mix well. Slice avocado into thin strips.

In a bowl, serve about ½ of the sweet potato hash.

Assemble your bowl by adding the spinach and eggs, followed by the tomato, cilantro and avocado.

Drizzle with half of the Core and Rind queso.

Sprinkle with salt and pepper, and enjoy! 
Core and Rind is Whole30 Approved, plant-based, keto and paleo friendly. They are also women-owned, non-GMO certified and free of any chemical preservatives or additives. You can purchase Core and Rind online on Thrive Market and Hive, or find on the shelves of Foxtrot, Central Market, and Sprouts. Order directly through the  Core and Rind website and receive 20% off your shipment with code WHITNESSNUTRITION. Ole!