How do you define a convenience meal?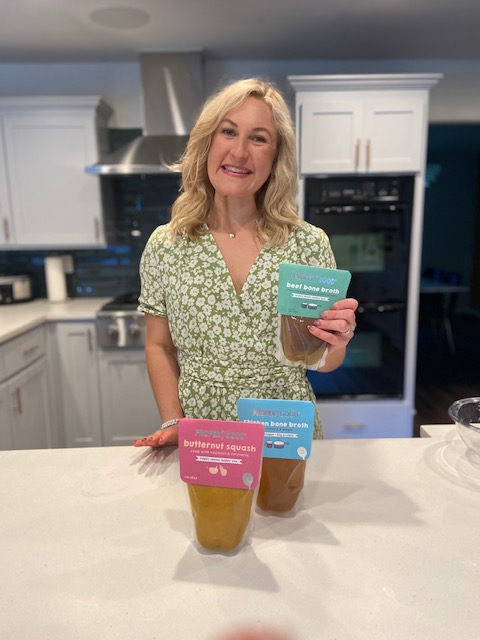 When I think of a convenience meal, words like quick, easy, and most importantly – convenient come to mind. But, nutritious? Not so much. Fast-food and sodium laden frozen dinners are the convenience meals my busy patients (AKA every patient) reports most. A convenience meal should provide advantageous energy, an easy source of nutrients, and be tasty convenience to our body. Is that too much to ask?
I know that preparing a fresh salad for lunch or a warm pot of soup for dinner is nutritious, but it's not always feasible for our busy schedules. It's common to fall into the "prepared meal" trap of caloric, sodium-filled frozen foods or microwave meals. Let's talk through options that can be a supplement to a fresh ingredient meal when you need help. 
Let's be clear; I could all use a little help! Whether it's lack of time, lack of energy, little interest in cooking, or your work game is just crushing it, use these quick and easy tips for you to reference for choosing convenience meals! It's time to fuel, not fumble.  
How to pick a convenience meal
Check the Ingredients 
This is the easiest determinant of whether a convenience meal can be considered nutritious. If the list of ingredients is miles long with words you can barely pronounce, it's best to avoid. 
Pro Tip: Note the order of the ingredients! The ingredients are listed by their quantity in the meal. I would want the proteins, veggies and other whole food sources at the beginning with the additional flavors at the end. 
Ex: The prepared Panera Bread soups contain more than just what is in the name of the soup, with ingredients sugar and food colorings. Proper Good Broccoli Cheddar is an easy substitution with real food ingredients you can pronounce! 
Sodium Content
Excessive sodium is a typical culprit in pre-made meals, especially frozen options! Frozen food brands use salt to make up for any lack of flavor that might decrease during processing. Many popular options with seemingly healthy ingredients can contain up to 2000 mg of sodium per serving! This exceeds most Americans' daily sodium needs. 
Whitness goals: We target no more than 500 mg per meal ~ ¼ tsp per serving. Tip: Choosing convenience meals that are made with fresh herbs or bone broth is a great way to get increased flavor without added salt. 
Nutritional Bang for your buck
While this may seem redundant, looking at the nutrition benefits of a convenience meal can be overlooked! While the meal may be pre-prepared, it's still important to prioritize the function of this meal and if it's even to satiate you. Frozen meals tend to be carbohydrate-rich but lacking in protein or heart-healthy satiating fats. Hot tip: Aim for a meal option that contains more fat or protein than carbs, like this butternut squash soup full of coconut milk! This is a wise decision to prevent hunger an hour later. 
Bonus: meals that contain vegetables will naturally provide vitamins and minerals! The benefits of adding veggies into our diet is a long list and mixing them into a frozen meal or pre-made soup is an easy way to boost nutrition. 
Sneaky Fillers 
Besides sodium, convenience meals have increasingly started to contain fibrous fillers and added sugars that can cause GI upset and inflammation. This can be a cheap and easy way for companies to have a low calorie nutrition label. But, your body may pay the price later. Some common additives include modified food starches, dextrose, gum Acacia, caramel coloring and sucralose. Be sure to read your ingredients and not just the label. It could save your daily digestion!
____________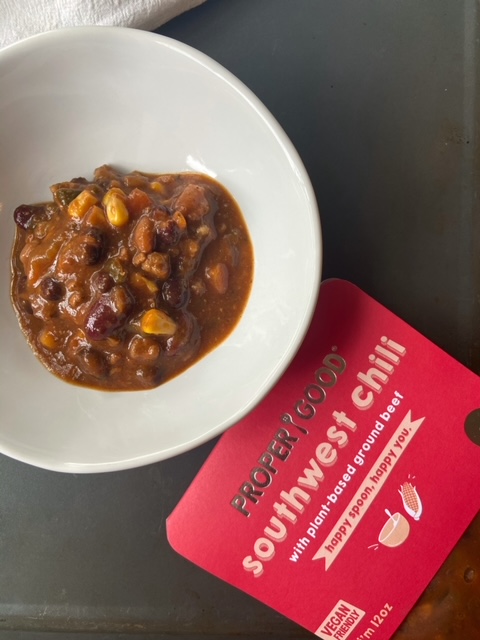 Now, it feels like there's really zero options to satisfy this criteria! But, Proper Good's meals changed my expectations for what a convenience meal can really be!
Proper Good has created ready to eat meals that have no added sugar, no preservatives and are low in sodium. The best part? They offer gluten-free, plant-based and keto options, all of which provide a variety of functional ingredients like turmeric, fresh vegetables and heart healthy bone broth that improve your health long beyond one meal. Their meals are also ready in ninety seconds or less, making them a quicker option than DoorDash! Proper Good products are also shelf stable for up to eight months, and have a variety of classic flavors like Broccoli Cheddar, Chicken Noodle and classic Chili.
But, these soups are also incredibly flexible. I've used them as sauce, marinade, dip or just a simple boost of protein using the broth in the base of my casseroles. Try one of our simple meal remixes using the Proper Good products!
Boring roasted spaghetti squash can become Chili Stuffed Spaghetti Squash! 

Turn a heavy mac & cheese into a fiber rich protein loaded entree using the Creamy Butternut Squash Sauce(link) over Banza Pasta with roasted cauliflower

Add a boost of protein and flavor by marinating chicken kabobs in Proper Good's Bone Broth 

Turn a classic comfort into a protein powerhouse with our Healthy Chicken and Waffles using Proper's Beef Bone Broth. We added broth in place of the recommended liquid in our Paleo Waffle mix with a dash of garlic. Brilliant and delicious, right? 
Proper Good makes for a perfect convenience meal or flavorful addition to your next entree. Order yours directly through their site & know that a healthy option is always 90 seconds away.
---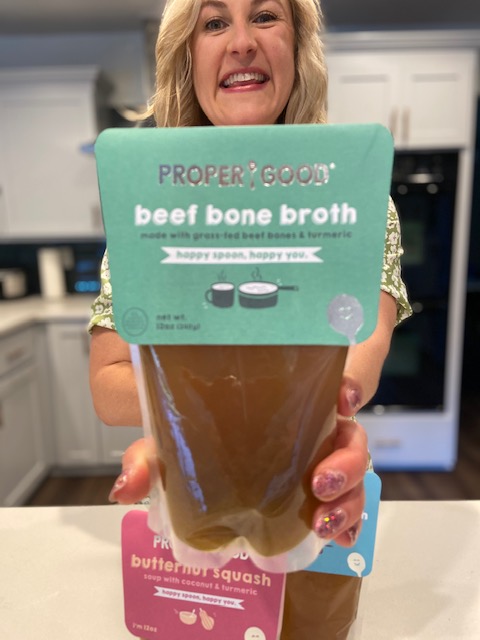 This blog post was sponsored by Proper Good through the creation of a thoughtful partnership with the intention of educating the masses on wholesome health concepts. Whitness Nutrition takes every partnership seriously and Whitney upholds her role of #honestinfluencer to a high standard. Never hesitate to reach out with comments, questions, or concerns.