Supporting a child's growth and overall well being through nutrition is one way to support healthy development. But, with multiple children and time constraints, making every ounce of their diet homemade can be daunting, expensive and unrealistic. Ideally, you can shape your child's diet through mirroring your own plate; the same balance of protein and color, but also the flavors and spices from your favorite cuisines and family traditions! During these early years, finding a happy medium between 100% homemade baby food and store bought bland options can be a challenge.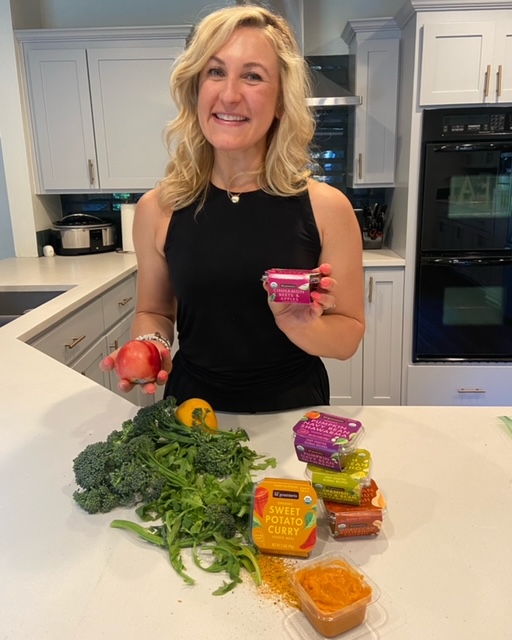 Ready-made baby foods have improved, but the variety, cultural diversity and lack of robust nutrient-rich ingredients remains dismal. Classic brands like Gerber, HappyBaby and Plum focus on fruit-first blends that limit a baby's palate to exposure from the other half of the spectrum; vegetables! lil'gourmets, a company born out of a mama's concern for veggie-focused food for their children, fills the need for a diverse palate, all while getting the adequate calories and nutrients from wholesome foods. 
lil'gourmets is a mama founded baby & toddler food company providing minimally-processed  veggie-based blends with diverse spices and flavors to expand the palate of growing babies and cultivate a wide variety of cultural flavors. Curry? Absolutely! Shawarma? You bet! Find your own traditional favorites within their flavor-filled options. Your baby may have already had a taste of these spices through amniotic fluid and breast-milk, as research has shown that your baby's sensory system may already have tasted flavors from its mother's diet.
Those nine months of pregnancy can be just as influential on their diet as post-birth. That Spanish paella on your baby-moon was just the beginning for your child's sensory motor skills! Prime your baby's palate with a large variety of diverse flavors from day one!
Five reasons lil'gourmets is Dietitian recommended: 
Veggies Come First – lil'gourmets focus on including veggies and beans as the first ingredients before fruit, which makes for a lower-sugar, higher-nutrient rich meal. According to Clancy Harrison, MS, RDN, FAND,  it is important to introduce savory solids at an early start to grow those specific taste buds as well as prevent any aversions or dislikes. lil'gourmets meals are on average over 85% vegetables and legumes, and start with veggies like beets and corn, followed by our sweet fruits like apples and pineapple, which creates a delicious and well-balanced meal for your baby. These different flavors and in turn textures, will help teach your child to embrace savory veggies all while expanding their palates. 
Culturally diverse – lil'gourmets does an excellent job at varied macronutrients in their meals, but they also work to introduce a culturally diverse, globally flavored meal into your child's diet from a young age. One of their companies mission is to nurture a child's curiosity for food and flavors from around the world, and avoid the normalized sweet, over-processed foods. All the spices, flavors, and colors found in their foods add both exposure to global cuisine and increased nutrients. Whether it's Moroccan Butternut Squash, Sweet Potato Curry or Spanish Corn & Bean Gazpacho, you'll be introducing an authentic global cuisine to your child with every meal.
Macronutrient Balance –

lil'gourmets meals are never a stand alone ingredient serving, such as "smashed peas" or "mashed bananas." But rather,  they're always a chef-crafted, paired and well-balanced meal. Introducing healthy fats, whole grains and proteins is very important at a young age to ensure a well-balanced diet. The combination of ingredients and macronutrients also helps to expand the palate from a young age. For example, rather than just plain apple puree, you can choose

lil'gourmets Cinnamon Beets and Apples

for double the fiber, calcium and potassium, not to mention extra flavor. 

Textures –

As mentioned earlier, it's important to mirror adult meals in your child's meal to get them accustomed to varied textures and flavors from a young age. lil'gourmets does this by pureeing their foods but also including different textures of fruits and veggies to make sure their meals are full of texture. Think mouthfeel – their combination of

Coconut Cauliflower Mash

is going to provide a wide variety of texture and flavor compared to if it was just mashed potatoes. In fact, their meals are designed to grow with the child, so they can go from eating with a spoon to dipping or spread on more solid foods. Plus, they produce their food in cups to ensure the child will be able to learn how to eat with a spoon

which

has proven to help develop important fine-motor skills, indicate fullness/hunger and contribute to parent-child bonding. 

Cost Benefit

– Baby food can get expensive, whether it's homemade, packaged or just organic fruits and veggies.

lil'gourmets

makes it easier for families looking to increase their children's nutrient intake by providing both ship-to-home and in-store options. You can order their products in BPA-free packaging that is shipped in a refrigerated box to your door. Small eater? No problem, each shipment has a guaranteed shelf life of thirty days. They are also found in select Whole Foods, Target and Meijer stores across the country; find a store closest to you

here

.
lil'gourmets is the ideal meal for babies, and can even be used as a side or dip when more solid, whole foods are being introduced. With no added sugar, salt or preservatives, their meals are the perfect way to provide your child with a nutritious and delicious meal. Next time you're at Target, Whole Foods or browsing Amazon, grab a pack. 
Sources:
This blog post was created in paid partnership with lil'gourmets. Although the recipe, photos and opinions are exclusive and unbiased to Whitney Stuart MS RDN CDE & Whitness Nutrition LLC. This site is to inspire and educate; the information shared is always clear and concise to prevent confusion. We believe in facts, not fads, and most of all, transparency.