This healthy salmon dinner recipe is a must-try for individuals looking for a quick meal that provides a hit of omega-3 fatty acids, flavor, and nutrient density. Plus, salmon usually has a fishy flavor, but this the crispy crust and seasoning counteracts that issue, nicely. Why is the color so bright? Because it's WILD salmon. Aim to consume two servings of wild fish per week which boosts more omega-3 content than it's farm-raised conventional counterparts. Avoid salmon that is Atlantic or Farm-Raised. Enjoy!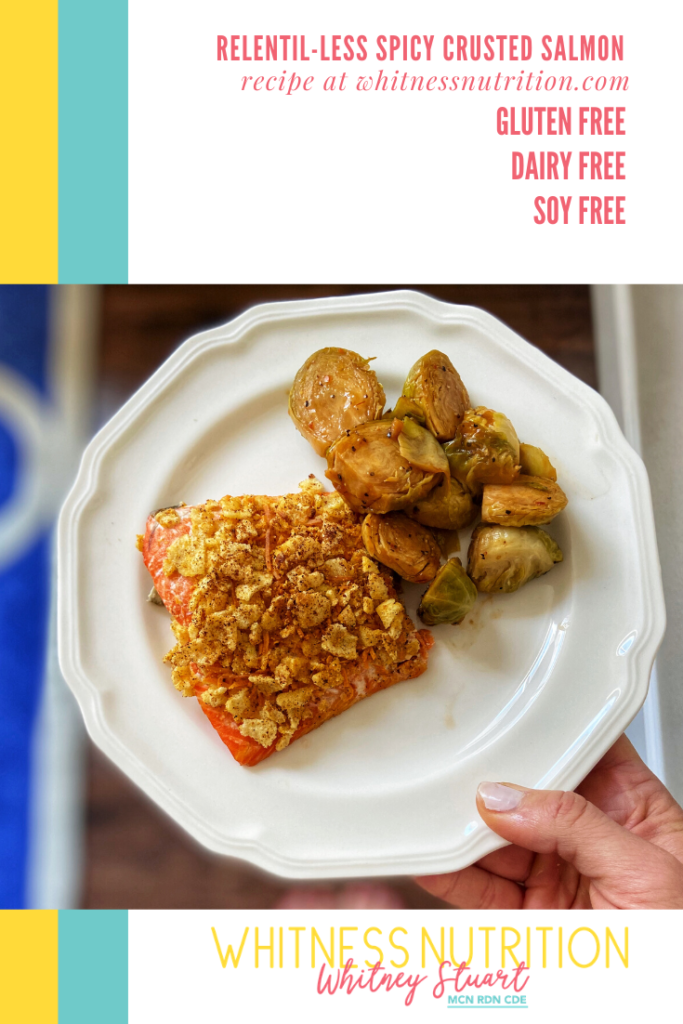 The star ingredients of the show? Paleo Powder and Enjoy Life Foods.
Enjoy Life
This has been my go-to for allergen-friendly baking goods since day 1. And, their new lentil chips surprised me. I half-expected them to taste and have a lentil mouth-feel, but the taste profile is definitely like a salted baked chip. Now, I'm not allergic to potato chips, but this high-fiber alternative was a creative way to expand my palette.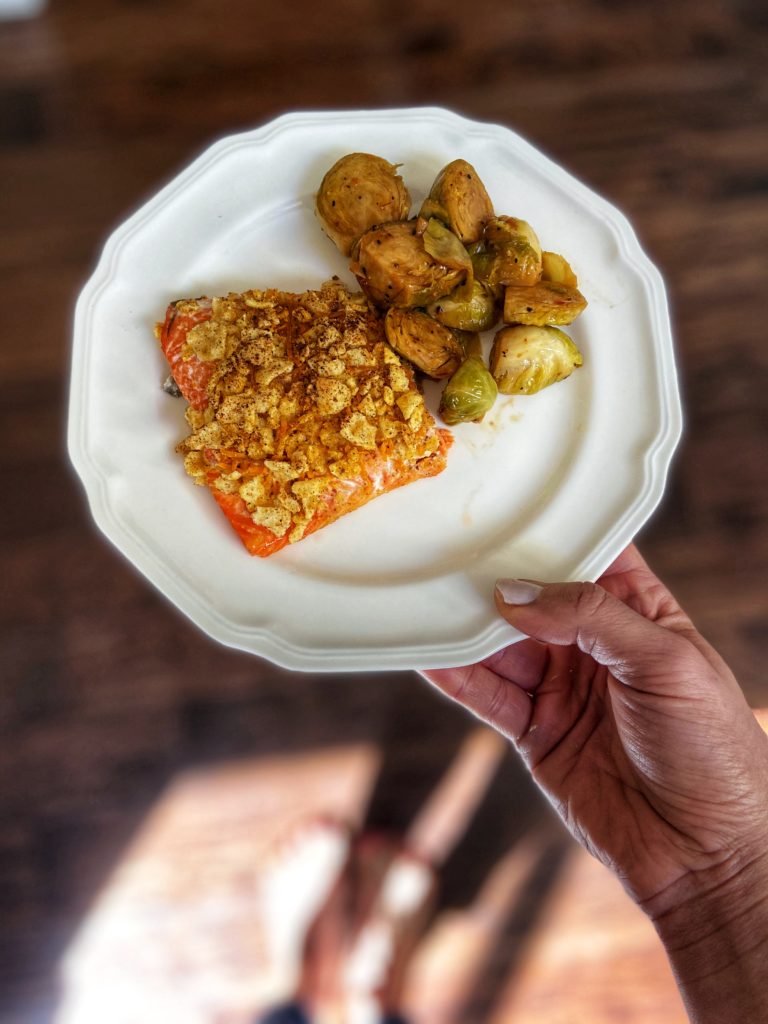 Paleo Powder
This brand makes incredible spice blends that I've baked into my weekly frittata and spiced my chicken tenders with. But, Paleo Powder has a new grain-free coating mix that contains a powerful flavor for anything you would normally bread. They use a mix of nuts, seeds & spices – the mix I used had coconut too!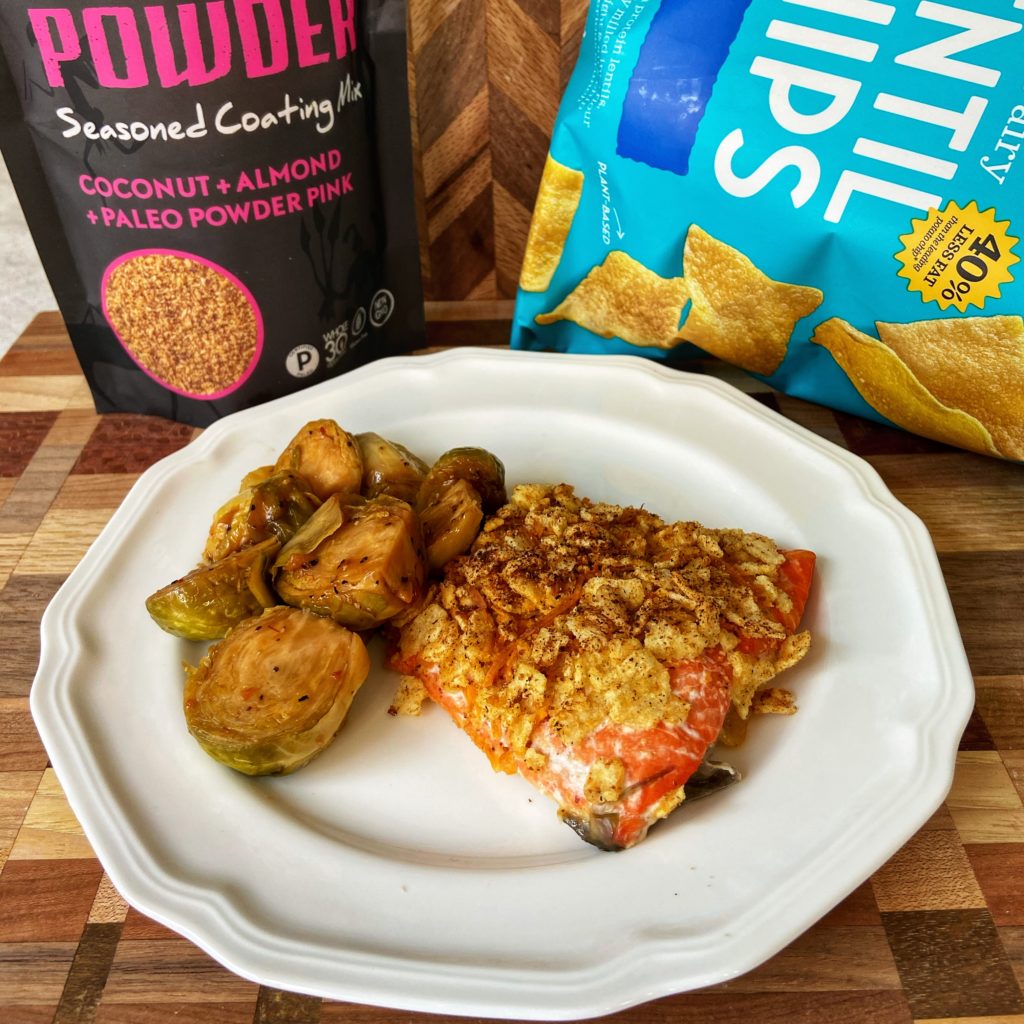 With some quarantine and creative juices, I've nixed the melancholy for my Mom's original pank0-crusted salmon with this appetizing allergen-free version of the entree. It's hitting the pan on the reg and producing big smiles around the table. I think you'll find it does the same for your household. Naturally free of peanut, egg, gluten, dairy, soy, sugar, low-carb, and low FODMAP.
Pro tip: Use a wild salmon for a boost of anti-inflammatory omega-3 fatty acids.
---
Re-Len(til)less spicy crusted salmon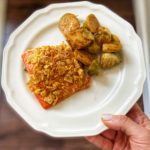 Bringing spicy comfort back to your plate with allergen-friendly considerations
2 8 oz wild salmon filets

1/2 cup crushed Enjoy Life Foods Lentil Chips

1 TB ghee (melted ~30 seconds in microwave)

2 TB Chili sauce/Sriracha

2 tsp Lemon Juice
Preparation

Crush your bag of chips, it's so therapeutic.

Cover a baking tray with foil.

Pre-heat oven to 400F degrees.

Rinse the salmon, pat dry, and place on the foil.

Mix Paleo Powder seasoned coating mix & spices in a small bowl. In another bowl combine the melted ghee, chili sauce & lemon juice.

Spread the salmon with this mixture.

Carefully press the dry mix onto the wet mix.

Pat each salmon piece to better adhere to the "crust" to the chicken.

Place tray in the center of the oven.

Bake 15 minutes, until a white crust begins to seep out.

Enjoy over rice, roasted veggies or cauliflower rice. I'm not the boss of your plate, you are!
The ingredients for this recipe were provided by Enjoy Life Foods + Paleo Powder, but the opinions and recipe creation are 100% my own.