You can call me a Registered Dietitian, a Certified Diabetes Educator, and even a Fitness Instructor, but most importantly, call me Queen of the Bento Box method. There is something oh so satisfying for the Type A personality in me when it comes to using bento boxes. These nifty little boxes make it easy to build a balanced plate. And, it feels fancy. Does anyone else consider it almost like a mini charcuterie board?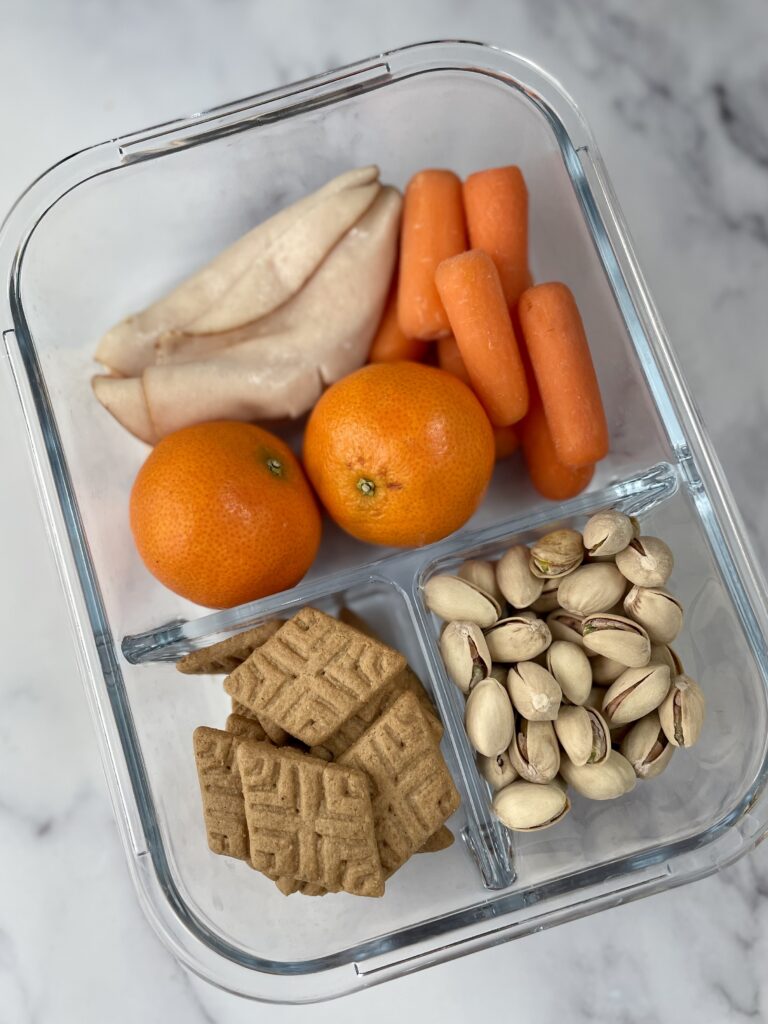 But, what makes a Bento Box better than a charcuterie board is that it is a sure-fire way to achieve blood sugar bliss. No lonely carbs, no missing veggies, just an open, organized to-do list for health through my surefire VPFC method. Bento boxes are one of my top recommendations for patients who don't have time to prepare a meal or travel for work, or work through lunch meetings. Okay – so I prescribe this to all my patients. Keep your box simple using these tricks! 
Buy a non-toxic bento box built to last: While, Anthropologie does sell stylish, cute bento boxes, I recommend buying a silicon plastic and BPA version that is dishwasher safe. Invest in a high-quality bento box that can be tossed around a bit! I've been using this one. 

Multi-purpose use is key: Make sure this can be used hot or cold and easily keeps dishes separate.

I won't even eat smoked salmon that fell into my berries. 

Most importantly, is your bento box big enough to fit a

balanced meal,

a la VPFC? Aim for 4 quadrants! I am passionate about patient's setting themselves up for success. That starts with your meal containers! If your bento box is divided in half or into thirds, I recommend keeping the biggest sector for your fresh veggies to ensure you get the right amount.
Bento boxes are an easy way to keep meal components organized. Aim for two handfuls of fresh veggies, a palm size of protein, three fingers full of fat and a fist full of carbohydrates as a starting place for success. You can adjust based on hunger, as you go!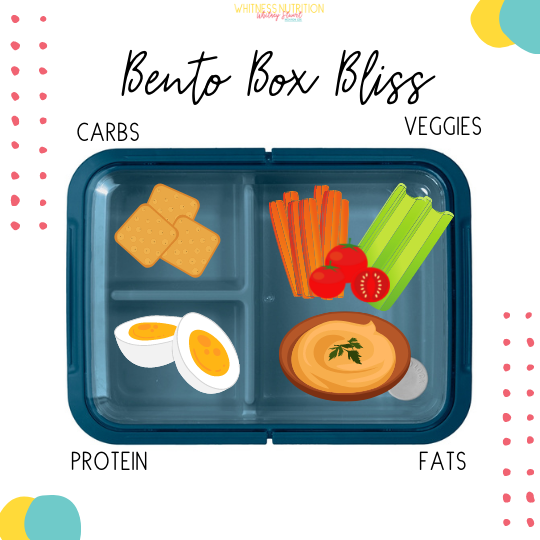 Now, try this dietitian-approved Bento Box 101:
Add easy veggies: Don't over complicate the veggies by making a stinky steamed broccoli or must-be dressed salad. Opt for pre-sliced, pre-washed veggies like baby carrots, snap peas or baby bell peppers. 

Pack a protein: Easy options like already peeled hard boiled eggs, wild smoked salmon, nitrate free deli meat or cubed pieces of rotisserie chicken make for a quick and easy source of protein.

Aim for at least 20g of protein!

Fat for fullness: Add an easy dip option full of heart healthy fats like hummus, guacamole or cashew queso.

This addition ensures satisfaction 3-4 hours post-meal. 

Crunchy carbs: technically your carbs don't need to be crunchy, but different textures keep things interesting, and prevents healthy food boredom! Add a serving of fiber-filled crackers, almond flour tortilla chips or even some cold sliced sweet potatoes. 
Call it a mini charcuterie or call it an adult-Lunchable, but keep it balanced with your bento box. Need more ideas on what to include in our Bento Box? Schedule a virtual grocery tour to learn healthy grocery shopping habits to keep your bento box filled with only the most nourishing of options!