Hey there 2022, you're early! I feel like the clock sped up in Q4, anyone else? As we enter January, you may feel the pressure to fulfill new year goals. Remember, building a strong foundation can be done any day, any time, in any season. Something I make sure to reiterate with my patients? Always set yourself up for success by thinking ahead and fueling for the next 24 hours. A prepared meal-time, and snack-time can prevent fast-food burgers, frozen mac-n-cheese and crackers as a measly lunch. 
Convenience meals are full of inflammatory foods that can contribute to chronic diseases like heart disease or diabetes. A constant routine of fast-food lunches can quickly lead to unhealthy lifestyle habits and long-term health issues. Is it time to change these habits and set yourself up with success through planning, purchasing and prepping?!
First, allow 5-10 minutes to walk through your pantry and peek in the fridge, pre-grocery store. Taking this time to create a customized list makes the grocery store much easier and less overwhelming. You probably need less than you think (from the inner aisles, at least!)
Once you get home, prep some basics and staples (ground meat, hard-boiled eggs, roasted veggies, baked potatoes) to have everything ready to go in hand reach. Remember: It doesn't have to be pretty! I am a huge proponent of #uglynutritiondeliciousmeals that are made with leftovers, frozen items and pre-prepared foods/ Ever had leftover meatloaf for breakfast? Join the ugly breakfast club with me! 
Meal prepping and planning is a part of my weekly success routine, especially during the January Whole30 reset. Coaching in January keeps me really busy and balanced plate is essential for long-lasting energy. In addition to meal planning, I also recommend double-checking your snack drawer. Or in my case, purse. I always keep purse jerky on hand and a source of hydration within arms reach. 
Meal planning does sound daunting, but it doesn't have to be! Try one of these four favorite meal-prep friendly lunches (also Whole30 compatible for those that need it!) Get creative with your ingredients, prep a double batch and most importantly, prioritize a balanced plate. 
Zoodles and Fried Eggs
Zoodles (zucchini noodles) are an excellent low-carb, high-fiber way to get additional veggies in your diet! Who doesn't love pasta shaped anything?! I really need to find that video of me, covered in noodles, as a naked two year old, in my high-chair. It was clearly the defining moment of what my future career: this girl loves food. And, talk about VIRAL CONTENT. When I'm bored with zoodles + sauce + meatballs,I will turn mine into Eggs in Hole and fry an egg directly into the center. Throw on top of a bed of leafy greens, top with some mashed avocado or cashew queso, and you've got yourself a great meal. This can also be made delicious with butternut squash noodles or filled with scrambled eggs and turkey sausage. Taking this on the go? Reheat the nests for about 30 seconds and sprinkle with some flaky Icelandic sea salt. 
Tuna Salad and Cucumbers
A high-quality, flavor-filled tuna salad is one of my favorite a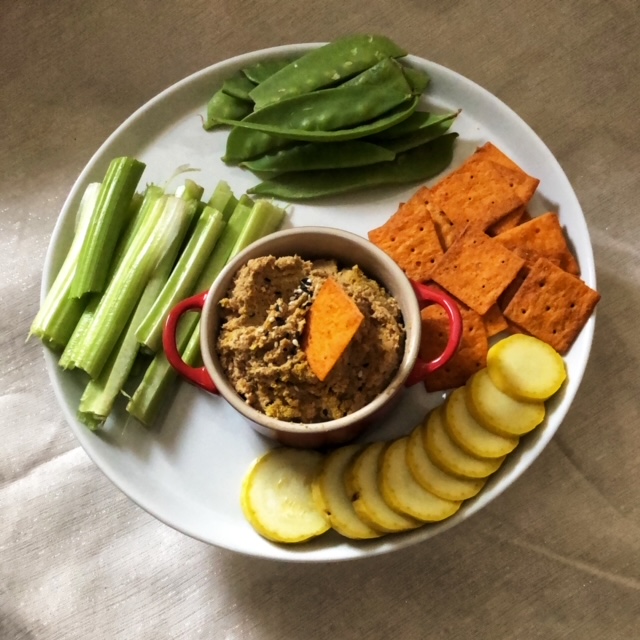 nd easiest recommendations for patients to prepare in advance. Tuna is an excellent source of protein, fat and vitamins, not to mention it's easily accessible and affordable! Thrown together with some fresh veggies, a Whole30 approved mayo and fresh herbs, you really can't go wrong here. Please aim for wild-caught tuna cased in water and watch the ingredients for soy! Served with cucumber spears (or it's far superior cousin, the Persian cucumber), it's an excellent combo of flavors, textures and nutrients. Don't like tuna? Swap this for chicken salad. Don't like cucumbers? Whoa now. Try making with sliced bell peppers or celery. 
Protein Packed Snack Plate
Nothing makes me happier than a bento box filled with VPFC staples. This is simply one of the easiest ways to build a plate. And many of my clients use this bento box approach for every meal! Keeping it simple leads to great success. You can easily make this snack plate on-the-go friendly with a bento box or large pyrex. It's like your own little personal charcuterie board, but better. Keep balanced with these ideas:
V: sliced cucumber, celery sticks, baby carrots, mini bell peppers

P: sulfate-free deli meat, hard-boiled eggs, tuna or chicken salad, rotisserie chicken 

F: guacamole, hummus, greek-yogurt ranch dip, olives 

C: seed crackers, almond flour crackers, Siete tortilla chips – all of which I found on Thrive Market!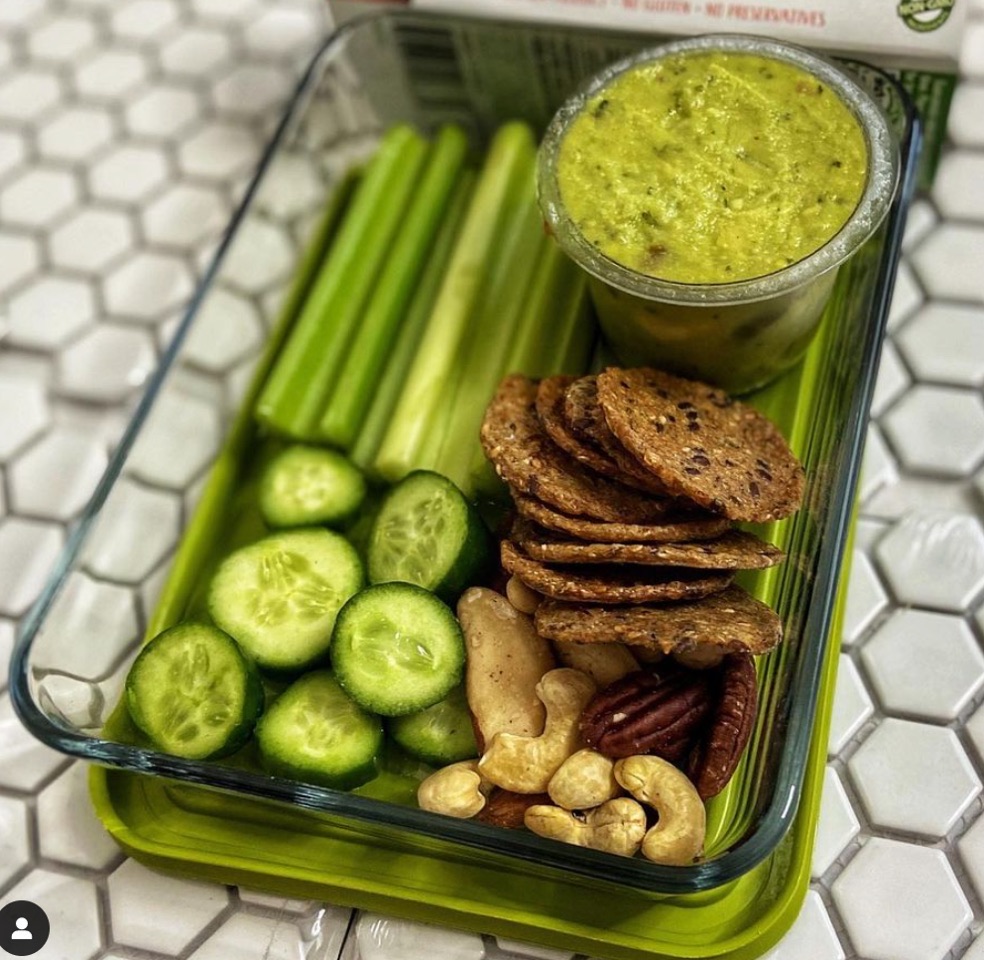 Pre-Prepared Meals by Eat the 80
A high-quality, nutrient-dense and delicious meal delivery like Eat the 80 is one of the most convenient and delicious ways to make meal prep and meal-time success achievable. I keep my fridge, both at home and at work, stocked with Eat the 80 Whole30 approved meals that can be heated up in a flash, all while meeting my VPFC needs. Eat the 80 makes meal prep easy with fully cooked meals being sent right to your door, all in microwave safe containers. No dirty dishes? Score! 
Although these don't have to be your Plan B, I advise to always have one! A back-up plan for healthy meal options is key when you're a busy gal! Some examples? Maybe it's getting home from a long weekend and realizing you have zero groceries (just a few tortilla chips). Or you have a cooking burnout from the 5 hour prep you did last week. Or, you just want to sit in front of the TV all night and watch Bachelorette. Skimp on cooking, but not on your health. Instead of the classic soybean oil filled, highly-processed pre-packaged meals taking up space in your freezer, find yourself a fridge full of Eat the 80. 
All of their meals are made with grass-fed and antibiotic-free protein, farm-fresh produce and no preservatives, artificial ingredients or added sugar. Eat the 80 meals contain far less sodium than the other prepared meal delivery services available. While others average 800-900mg per serving, Eat The 80 averages less than 150mg per serving. Also, their entire menu is approved by yours truly  and each meal only takes 3 minutes to warm up! You can also stock up and save time in the future by freezing your Eat the 80 meals for a later time. Eat the 80 is also one of the highly coveted Whole30 compatible meal services, and ships nationwide. 
I love to order a simple meal, like their

chili

and supplement with some batch-cooked veggies or complex carbs. Consider these WWWO combos! 
Take on the new year with the planning and preparation you need, and utilize beneficial resources such as Eat the 80 to set yourself up for success. Use code WHITNESS for 30% off your first order through Eat the 80. Happy New Year!