Imagine it – it's a September Friday night and your best girlfriends are coming over. Typically, you would bust out some Brie, wine and crackers, but oh wait! It's day 12 of your Whole30 reset! Well, guess what? A Whole30 approved charcuterie board can be just as delicious and a lot more nutritious! With summer still going strong, there are so many delicious seasonal options to add to your board without ever missing the usual go-tos.
What I left out?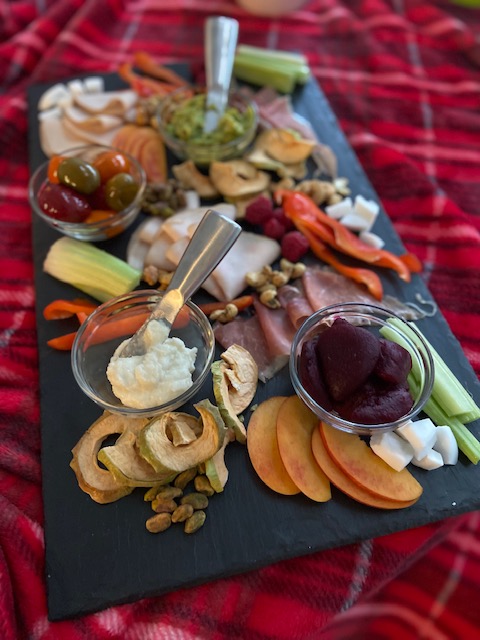 The typical refined grains, honeycomb, aged cheese & fruit jams but your taste buds won't even notice! These are great additions for food freedom boards, though! Instead, I included heart healthy fats such as olives and avocado, fermented veggies for gut health and fresh fruits and veggies of your choosing. Whole30 shouldn't be focusing on what you can't have, but rather what you can increase in your diet. Get creative with fresh cut veggies and fermented options!
Charcuterie boards are one of the easiest ways to include foods you might not typically gravitate too; experiment with flavorful dips (like this Majestic garlic fluff!), spreads and a wide variety of flavors. 
With September right around the corner, I know that these snack boards will become a staple at our house, whether it's while hosting friends or just for a low-key night in. I have included a variety of Whole30 compliant brands that I love, both for the quality of ingredients and delicious flavors, but make sure and check out the other great Whole30 approved brands on the market. Let's make a snack board!
First, make your shopping list
.
This will help prevent any needless grabs when wandering the aisle, as well as help you paint a picture of what you are going to create! Most stores will carry a variety of Whole30 compatible products, including those in the product and deli. Remember, the Whole30 approved label helps identify products easily, but there are far beyond that, too! 
Include two proteins, two fruit, and two veggies Ideally – more veggies, the better! 

Include two "crunchies" such as pickle, fermented vegetables, nuts, and seeds.

Also look for a flavor burst like olives or spicy seasoned nuts. 

Include two dips and spreads, like hummus, nut butters, chutney or olive spreads. 
Fats and Fermentation 
Turkey slices – look for nitrate free,

Applegate

is my go-to Whole30 option! 

Prosciutto , low-sodium

Whole30 BBQ Meatballs – make with

Good Food For Good

sugar free bbq sauce, make sure and use code

WHITNESSNUTRITION15 for 15% off your order

Bite size jerky bites –

Chomps

cut into pieces makes a great addition! 

Macadamia nuts 

Marcona almonds 

Smoked Salmon 

Raw cashews 

Pre-shelled Pistachios 

Rockit pumpkin seeds – I get mine on

Thrive Market!

Mini pickles –

Grillo's

Dill Pickles (find at Target, Sprouts, & Central Market!) 

Fermented onions or cabbage or pickled carrots – I'm a huge fan of

Olive My Pickle

and their fermented pickles!  

Olives 
Fruits and Veggies
Blackberries and strawberries 

Apple slices or dried apples 

Peaches 

Watermelon Radish

Mini bell peppers 

Zucchini slices

Celery sticks and carrots 

Cherry Tomatoes

Raw cauliflower and broccoli 

Snap peas

Love Beets

– I find these at Target, Sprouts, and pretty much anywhere! 
Dips and Spreads 
Cashew Butter –

Georgia Grinders

make the best one yet, perfect with veggies! Use code whitnessnutrition for 20% off! 

Vegan cashew kale pesto from Trader Joe's 

Primal Kitchen

ranch – save with this link! 

Spicy chimichurri 

Course Ground Dijon Mustard – I really like

The New Primals

! 

Guacamole –

Wholly Guacamole

and

Yo Quiero

make the most convenient to go packs! 

Garlic fluff – If you follow me on Instagram, you already know how obsessed I am with

Majestic Garlic

. I snag it at Sprouts! 

Tahini

– such a great savory, nutty spread
Second- wash, dry and chop ingredients.
Not only is this what I recommend doing ahead of time for snack boards, but also for any and all vegetables you buy. Having pre-washed, pre-cut veggies and fruit on hand is the best way to set yourself up for success when it comes to snacking. Trust me, a stalk of celery on its own can be a tad discouraging, but cut up into pieces, it's one of the best snacks! 
Make sure and let ingredients  dry completely after washing them, we don't want any soggy or ruined ingredients!

For your fruits and vegetables, make sure and wash with a heavy hand the ingredients included on

The Dirty Dozen list

. Pesticides, bugs, and more can lurk behind the surface. 

Have extra veggies ready to go in the fridge in case you run out, that way you won't feel in a bind and grab some crackers or chips lurking in your non Whole30 section of the cabinet.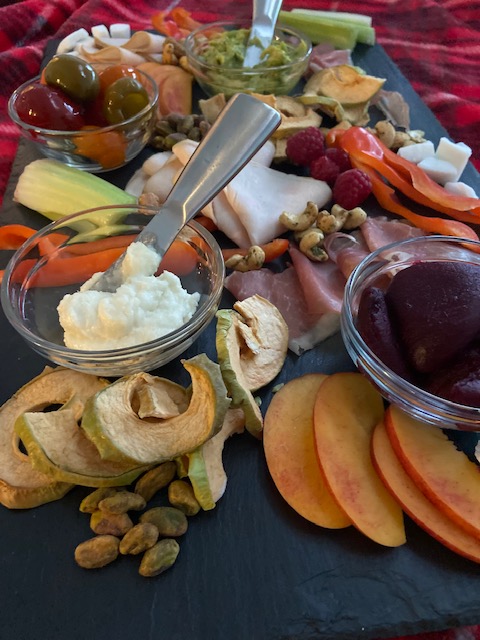 Third, assemble and present! 
Little bowls work well for housing smaller ingredients like seeds and pickles. I always place my dip cups and little bowls first, and work around them. Starting from the center and moving out. 

Keep your fruits like berries or stone fruit away from the meats, otherwise they will leak a bit of juice and cause a bit of discoloration. 

If you have little spoons or forks, these are great for the dips and spreads to prevent any double-dipping. Also having cute serving plates and napkins never did any harm! Target run is essential here. 
Building a filling and healthy board from a variety of Whole30 compatible foods doesn't have to be boring. You can easily host friends and snack to your heart's desire! Plus, this is a fun way to get your kids involved in preparing lunch or snack time, having them get creative in what they want to include.  Charcuterie boards have no rules, even during a Whole30 reset –  get colorful and creative – even a little haphazard! Spice, season and snack to the beat of the Whole30 drum.