Jump to recipe
Valentine's Day is right around the corner and while the typical box of chocolate is never something a lady would turn down, it can be a bit mundane. Year after year; chocolates. Let's switch it up, shall we? 
Valentine's Day isn't only about showing how you love someone else, but also how you LOVE YOURSELF. Allowing ourselves to enjoy the little things that make us happy, such as chocolate or candy, is ok. Actually, it is encouraged!  Showing yourself love is important every day of the year, but when a day that focuses on L-O-V-E rolls around, you bet I'm cueing up the Micheal Buble and encouraging all my ladies out there to treat themselves to their favorite sweet. Whether you are sharing Valentines day with a special someone or looking forward to curling up on your couch, opt for the sweet that makes you feel like your best self. 
More than sugar
In addition to sweets, I encourage indulgence in self-care to come from more than just sweet treats; consider the other love languages! Quality time with someone you love, a special activity together like a lover's picnic or heart-shaped pizza making. Then there's the option to do a massage or spa day and perhaps a stay-cation! We can indulge with treats and time; don't forget to get in a mix of both!
But, as a dietitian who encourages enjoying sweets, I also encourage looking for quality options with healthful ingredients. It's easy to grab a pack of M&Ms or roll of Oreo's, but if you read the ingredients they're nothing you would want for yourself or loved ones. Food dye, artificial sweeteners and trans fat doesn't spell out body love, does it? It's important to note how many great options there are on the market that don't include these ingredients and also provide options for gluten and dairy free crowds. Being celiac and dairy-free isn't easy on Valentine's day, but I'm sharing 6 tasty upgrades for allergen friendly, clean AND tasty Valentine's treats! 
You can find me sharing these with my girls on Galentine's Day and with my husband on Valentines Day. Sending love, hugs and the sweetest treats your way!
Call me flexible, but I can eat cake in any form- a cupcake, a slice of cake or my own personal mug cake. When the trend for mug cakes came out I was all for it (who doesn't love something ready in 3 minutes), but didn't love the ease in which a high sugar dessert could be ready in minutes. For example, a Betty Crocker Funfetti Mug Cake is ready in 1 minute (yay!) but it has 400 calories and 51g of sugar in the mug (not yay!). Consume almost double the recommended intake of sugar per day in one sitting? Not preferred. The Sweet Logic mug cake and mixes are a great upgrade; keto-friendly, meaning low carb, but also free from sugar alcohols. Sweet Logic mixes are made with better ingredients like almond flour and flax, but also use natural sweeteners like Stevia, with one serving being around 1-3g of sugar. The lemon poppyseed is so refreshing and light. 
Treat yourself, and your loved ones, with both quality time and quality treats!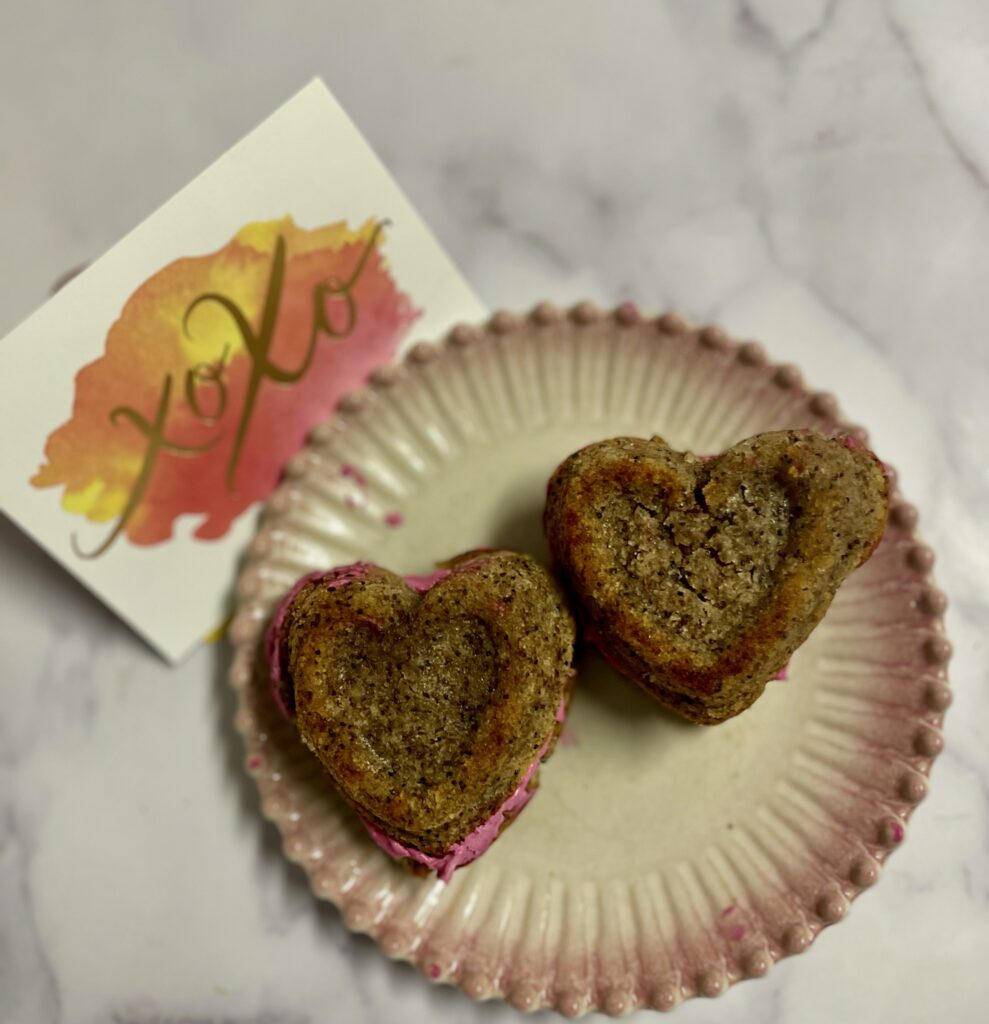 Lover's Lemon-Raspberry Whoopie Pies feat. Sweet Logic

Ingredients
- Two bags of Sweet Logic Lemon Poppyseed Mug Cake Mix
2 tbsp liquid coconut oil
2 flax eggs or regular eggs
4 tbsp of dairy free cream cheese
1 tsp red beet powder
¼ tsp vanilla
Instructions
Grease 4 silicone molds or muffin tin. Preheat oven to 350
Combine coconut oil, flax egg and Sweetlogic cake mix in a small bowl until thick.
Pour into 4 baking molds and bake for 10-15 minutes, or until the toothpick can come out clean.
Meanwhile, using a spatula, combine the cream cheese with the vanilla and beet powder. Look for a pink hue to form.
Let the cake cool then remove and turn one upside down. Use a small spoon to spread filling onto the cake, then place other cake on top.
Enjoy!
---
Traditional throwback: SMASHMALLOW
Nostalgia is that of a marshmallow, whether it's squashed between s'mores or floating in hot chocolate. The normal marshmallow in our childhood pantry was made with sugar and high fructose corn syrup, clocking in around 17g of sugar per serving! If your sweet tooth is looking for that light, fluffy marshmallowy treat but you don't want a blood sugar spike in .008 seconds, check out SMASHMALLOW. These mallows are made with organic cane sugar, no syrups or dyes, and is half the calories per serving size. They melt, stretch and chew exactly like the normal marshmallows on the market, but are way better for our bodies.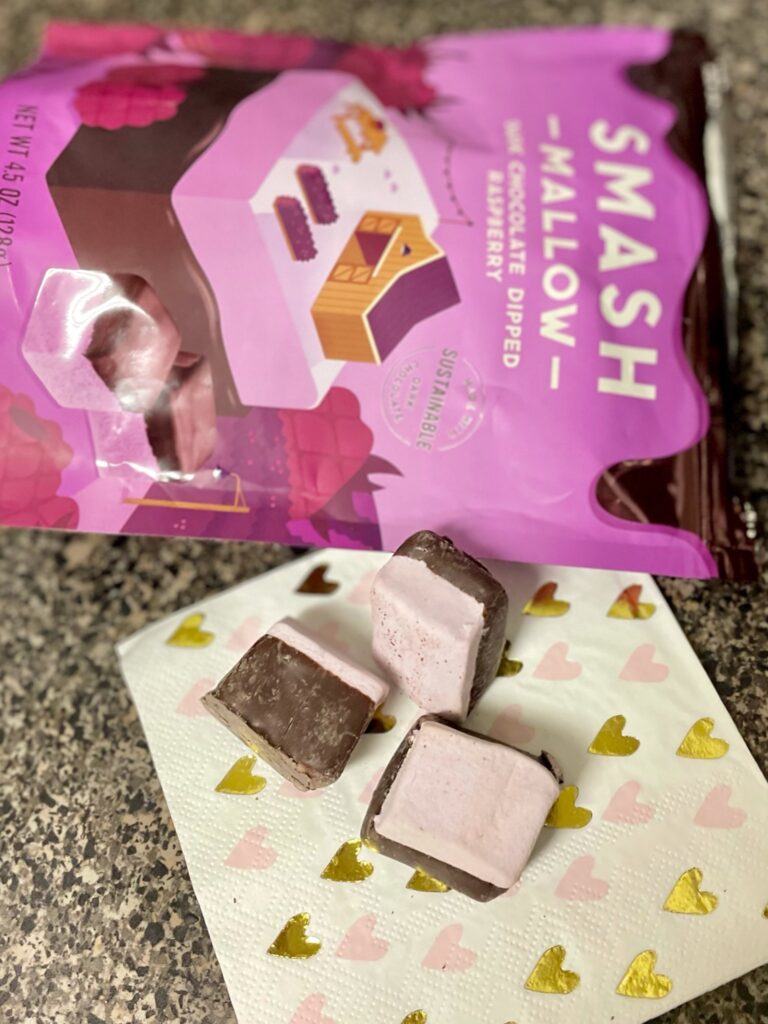 There's just something about reaching into a crinkly bag and pulling out a brightly colored gummy makes me smile (RIP Alamo Drafthouse and in general, I miss movie theaters). Think of the classics- Haribo gummy bears, Wrigley skittles; these candies are filled with artificial coloring, high fructose corn syrup and tons of sugar. One serving of those delicious gummy bears has a whopping 14g of sugar. SmartSweets candy is a delicious dupe! This women-founded brand makes their variety of candy with natural flavors and colors, no artificial sweeteners and are primarily free of most allergens. One serving of SmartSweet gummy bears has only 4g of sugar and won't make you feel like you need to go see a dentist, or a dietitian, immediately after eating them. My favorite? The sour gummy bears– use code whitnessnutrition for free shipping!
An indulgent treat: Cocomels 
Most caramels are made with a ton of sugar, not to mention whole milk (not a win for my dairy-free tummy). Even worse, three to four little caramels have about 16g of sugar, which adds up fast. I was pumped to discover Cocomels, the organic coconut milk based caramels. Naturally gluten and dairy free, made without corn syrup and much less sugar per serving. My favorite? The coconut sugar Cocomels, they have that burnt brown sugar taste.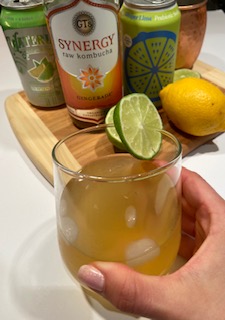 A smarter sip: Poppi 
Last but not least, Valentines Day means treating yourself, which to some of us means sipping on a cocktail or glass of wine. Choosing a festive pink or red drink rimmed with sugar or salt to go with a special dinner is a fun way to celebrate the holiday. But, those festive beverages are going to be laden with sugar. Hello hangover and hypoglycemia. Instead, crack open a cold can of Poppi and enjoy solo or add a splash of Vodka with the ginger lime. Poppi is an apple-cider vinegar based "soda" with only 5g of sugar per can and is full of gut-healthy probiotics. Poppi makes it easy to pick up a can to nix the soda or sweet tea cravings all while benefiting your gut health. My favorite? Orange, it's pure Sunkist shine.
Other sweet treats to consider: Chipmonk cookies, macarons from local Dallas patisseries (hello Bisous Bisous andor Kate Weiser!)or Partake cookies and the chickpea cookie dough from Hungryroot.