Where can I get a healthy Dallas meal? Is this good?
What is your favorite healthy restaurant?
What is best on this menu?
Welcome to the long awaited, What Would Whitney Order. Or, WWWO! A roundup of my favorite restaurants to get a healthy Dallas meal, along with how I choose a nourishing and delicious entree. This is the most popular FAQ in our practice! All of these delicious meals make it easy to support local business, as well as their provision of allergen-friendly options for every dietary need. My gluten-free and dairy-free people; rejoice! Plus, although I love to cook a good home-cooked meal, I never want patients to feel required to cook at home from our meal guide. Long-term sustainable health comes from the ability to do both; stay in and go out!
---
WWWO: The Henry, the Boujee Brunch
The Henry serves more than brunch and coffee, but you could have fooled me! I thoroughly enjoyed my hash last weekend, composed of seasonal ingredients that you would find at Flower Child or True Food Kitchen; it's sister concepts! I started with an Americano topped with frothy almond milk and cinnamon. There was a gluten-free and vegan carrot muffin that called my name but I didn't want to zonk with hypoglycemia during church so this savory hash was my second choice. And, it's now, my favorite. Who continued to eat Brussels all week..? Me! I guess the dinner menu and cocktails are equally fabulous, but it's more likely that this granny will be back before 9AM next weekend.
If you're going later in the day, choose from the variety of their delicious salads (nix the candied nuts) or splurge on the rotisserie chicken, yum. 
Unleavened is the perfect lunch spot for client meetings; the menu allows for stress-free dietary versatility. Gluten-free, dairy-free, vegan and vegetarian, along with low carb and paleo; it's all possible. I have ordered the Market Offer, which is vegetarian by nature. I switched the veggie sausage for turkey sausage. My vegan client just nixxed the egg. Simple!
Unleavened's menu is clean and simple with straightforward ingredients. There are zero gimmicks. Menu items are clearly described and the staff is well-versed in the ingredients used in their sauces and sides. Over a decade of known food allergies have made me acutely aware of restaurants that simplify my life with a menu clearly marked, easy to modify, and full of enough variety that I may not even have to. I've inquired about several items; the harissa crema, the quinoa porridge and always received concise answers in return. Although I'm even more excited to have their official nutrition information and allergen guide set to launch this Spring.
There's an alluring section of low-calorie cold refreshments. Call me basic but it's no secret that I'm a new but loyal fan of sparkling water and a devout drinker of daily iced coffee. And, as a dietitian, I refuse to drink a significant amount of liquid calories. The bright selection of Topo Chico, LaCroix, and local Noble Coyote iced coffee lifts my spirits while my blood sugar remains nice and stable.
Malibu Poke was such a pleasant surprise with it's quick & efficient ordering systems that denote Whole30/vegan/GF options. It's cheery inside and *bonus* within walking distance for me. I like to go for a kale, slaw or cauliflower rice base. Sashimi on top (avoid spicy tuna). Macadamia nut topping. Avoid edamame and aioli sauce. Malibu Poke has a delicious aioli sauce that is Whole30 compliant (& marked as such!). 
My go to order is as follows! Double protein, cauliflower rice, spicy aioli, shallots,  jicama, radish, red onion, Asian pear, daikon. 
WWWO- Bella Green, Veggie and Celiac friendly 
I was super excited when this Houston based restaurant opened up locations in Dallas, as this place knows what is up! Bella Green prides themselves on being able to accommodate their dishes to different dietary needs and making their dishes fresh.  I was delighted to find items that are usually off limits for my allergies, were not. By now, you know that I really dislike rules being told "no". This was YES NIGHT. Yes I'll have the enchiladas. Yes I'll have an app with gluten free pita. Yes I'll have the GF Carrot Cake (no icing, but the cake is good as is!). 
WWWO- Origin Kitchen- Whole30 and Health Food Heaven
Conveniently located, Origin Kitchen is my go to for date-night, treating visitors or even just Friday night take out. Especially convenient during a Whole30 reset, Origin has multiple dishes that are 100% according to the Whole30 lists. They also take tons of recipes from local Dallas extraordinaire, The Defined Dish, to create a variety of gluten-free, dairy-free, and super tasty meals! Their cashew queso? To die for…  My go to order is the paleo tacos or Defined Dish green goddess salad – how can your reset gluten free popcorn chicken?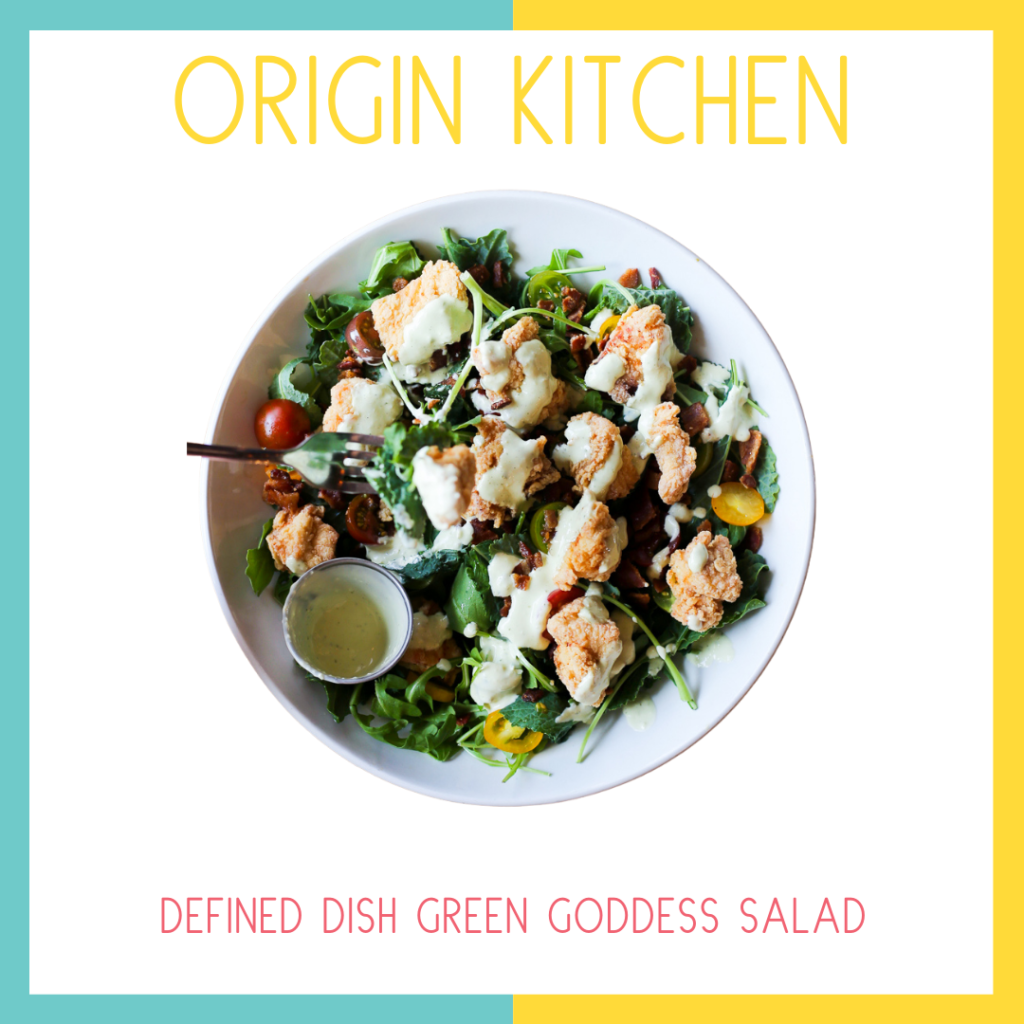 WWWO- Flower Child- Quick and Nutritious
It's hard for me to imagine Flower Child as a chain restaurant, because they are my go to for fresh, healthy and tasty options that appeal to everyone. With multiple different gluten-free options, organic and clean-sourced protein sources plus seasonal veggies, it's hard to go wrong. The environment is super cheerful, uplifting and makes it easy to enjoy your good food in a good mood.  My personal favorite is doing a build your own entree, with one protein and two sides. The salmon is a great way to get a tasty punch of healthy fats, while paired with my favorites- the Brussel sprouts and sweet potatoes, both have a slight asian kick! If you're thirsty, their on-tap kombucha is killer. 
WWWO- HG Sply/Hero – Hearty and Healthy Dinner
HG Sply & Hero are sister restaurants that create dishes that appeal to paleo, keto, vegan, you name it (HG meaning hunters and gatherers). With tons of options and easy accommodations, both restaurants make it easy for a df/gf person like me to have choices when out for dinner. Their entrees and appetizers are amazing as is, but my favorite option is creating your own bowl. Their chicken is lean, the veggies pack a ton of flavor and the different condiments, such as the spicy aioli make the perfect combo. The HG concepts are a great place for happy hour as well, as they make their cocktails with cleaner options like ginger kombucha Moscow mules and veggie infused liquor.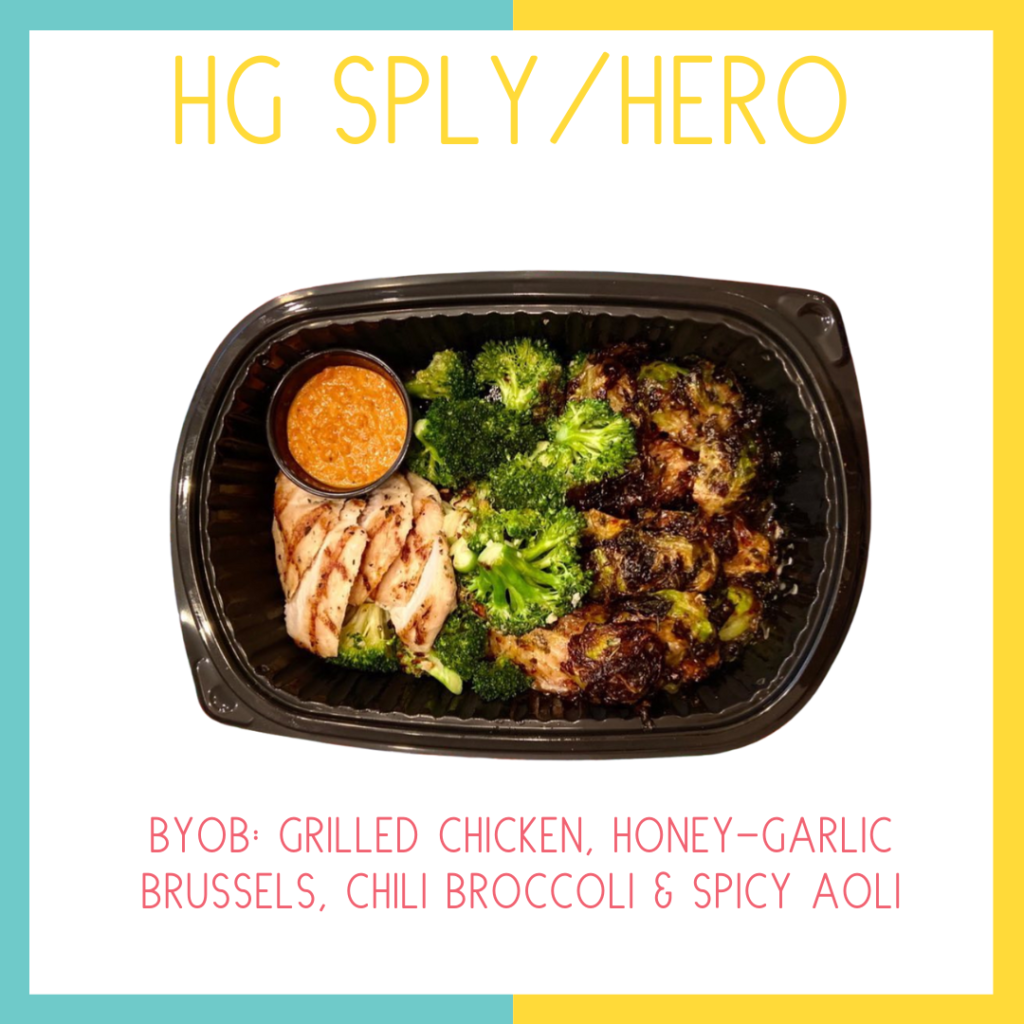 As someone who is a self-proclaimed seafood lover, TJ's is my go to market for freshly caught fish and seafood. I love that their menu has tags for the options that are higher in omega-3's, as well as tags for gluten-free and wild-species. They have ton's of fresh options like salads and fish tacos, but as a creature of habit I like to do a build your own plate with grilled fresh. I prefer salmon, blackened is so good, then choose two sides of veggies. Avoid the citrus glaze, anything beer battered, and deep-fried!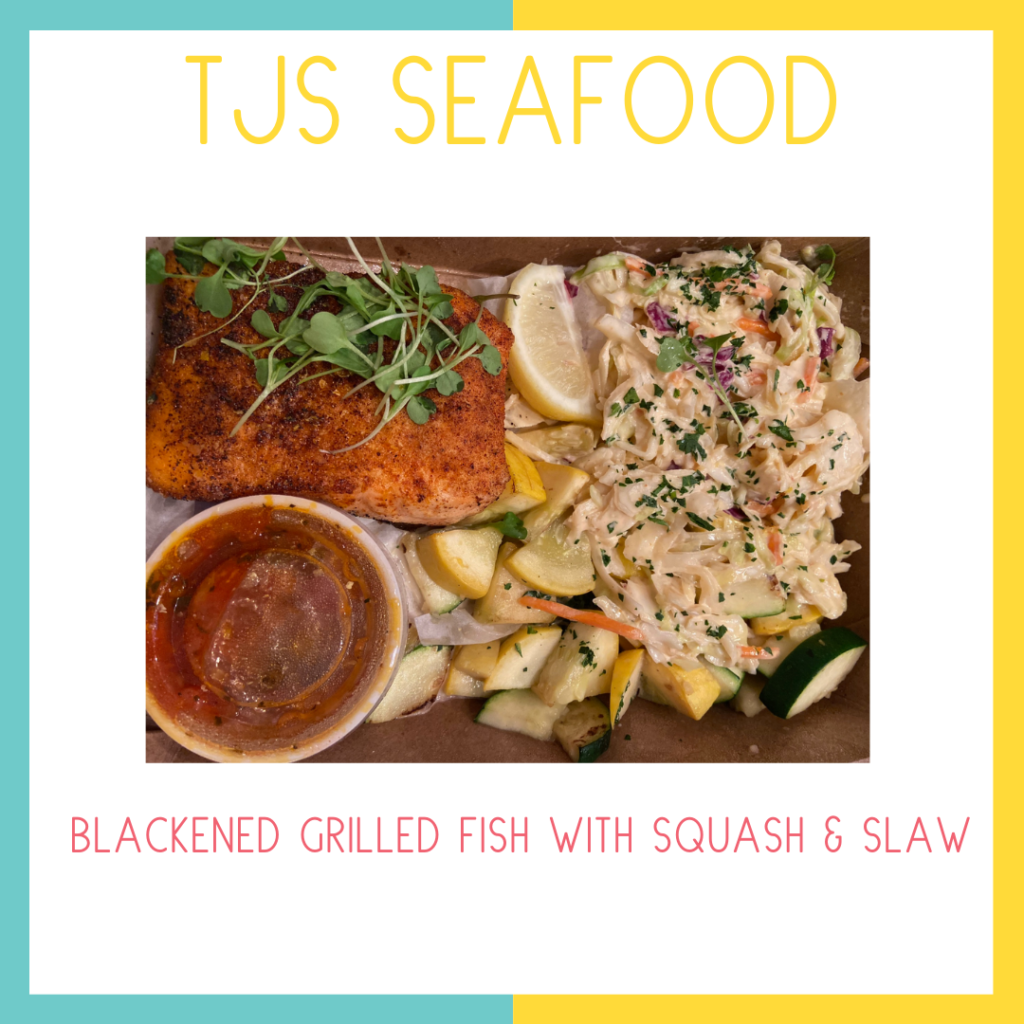 ---
These are just a few of the restaurants that you can find me for a healthy Dallas meal, but I have so many others! Whether I'm looking for the usual gluten-free/dairy free option or doing a Whole30 reset, I know there are plenty of restaurants in the DFW area that are great options. Stay tuned for more favorite restaurants around Dallas, as well what my go-to coffee order at my favorite cafes!