This Spring Clean blog post is part three of three in our series! Don't miss our first and second post featuring how to spring clean your pantry and fridge! Today we're tackling the final freezer. We're excited to share more tips on how you can elevate your freeze to be a source of health!
Remember, an 80/20 approach is so important. Fill up your fridge with essential nutrient-rich food, but don't hesitate to try a new food that just lights up your senses, too! A cookie, a new tortilla brand, a delicious cracker. Variety IS the spice of a healthy life. 
Finally, the Freezer!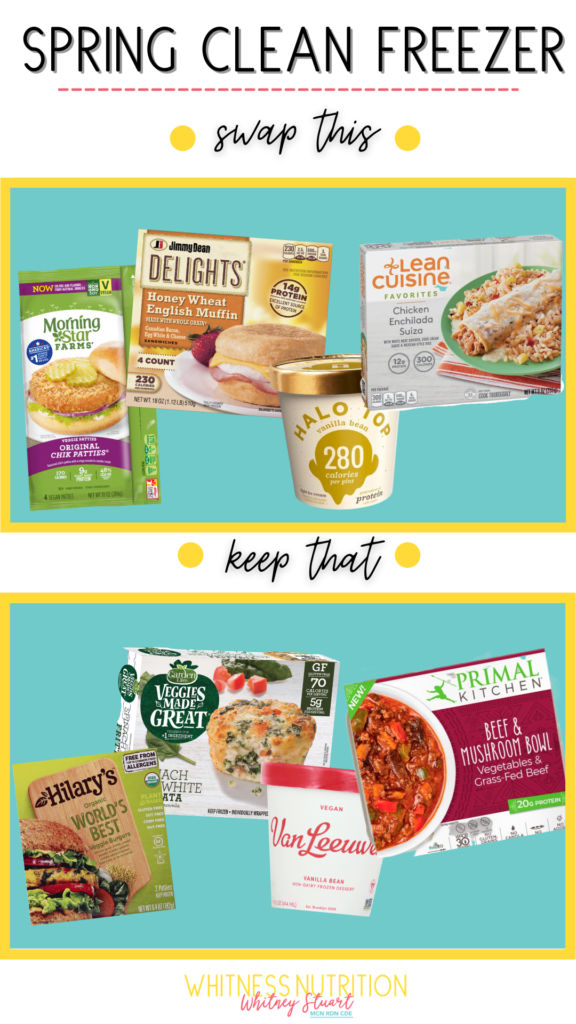 Swap: Soy & artificially filled veggie patties for real food based patties
Plant-based frozen foods can be quick and convenient for meatless monday or the vegetarian diet, but half the time they're made with soy protein, wheat gluten, corn oil and inflammatory ingredients. Skip the veggie chicken nuggets and burgers, instead look for bean based frozen veggie patties. Options made with lentils, black beans and pea protein are a healthier choice with a better texture and mouth-feel. 
Nix: Vegetarian chicken nuggets, tenders, and sausage, instead:
Swap: Salty ready-to-go breakfasts for high protein, DIY pre-prepped breakfast
Still buying Jimmy Dean breakfast sandwiches? It's time to upgrade! Frozen pre-made breakfast, such as JD sammies or the kid-friendly waffles, are filled with sodium, sugar and artificial flavors. Look to incorporate breakfast into your meal prep routine, and make freezer friendly options that can last you a week or too. Trust me, a DIY egg sandwich can be twice as flavorful for half the cost with more nutritious ingredients. 
Nix: high carb breakfast sandwiches, waffles, and cheesy burritos, instead:
Swap: "low-fat" & "low-carb" desserts & snacks for clean, veggie-based options: 
When I see "low-fat" or "low-carb" options, I run in the opposite direction. In the freezer aisle, this reveals inself in Halo Top ice cream, Lean Cuisines, and the Quest frozen pizzas. These labels allude to the right choice, but their low calories additives include more sodium, fake fibers and artificial sweeteners!
Nix: "Low-cal" ice creams, "low-fat" desserts, and "low-cal" salty snacks, instead:
Swap: Frozen meals full of soybean oil, sodium and high fructose corn syrup for high-quality, low sodium meals 
The beloved frozen dinner section; you need a strategic plan in that abyss! The typical frozen meal, whether it's a classic HungryMan or Trader Joe's curry, can be filled with significant soy oil, HFCS and sodium! Frozen meals are incredibly convenient, but also need to be beneficial for health! Choose from brands that create high quality frozen meals with quality protein and minimal sodium, instead. 
Nix the frozen meals full of saturated fats, salt and fillers, instead: