Jump to recipe
A veggie-filled Whole30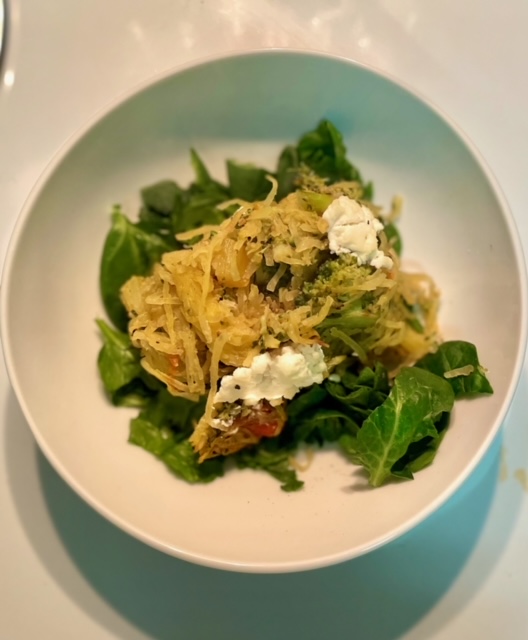 I know that list of Whole30 compatible foods seems restrictive, even if you're a seasoned pro (and haven't settled into Food Freedom). Each each takes some adjustment, prep and patience. And, I see many patients get fixated on what they can't eat, rather than what they can eat. But, when you review the Whole30 approved foods, you'll see a large selection of fruits, vegetables and nuts, and seeds. Herbs and spices. There's a lot of plant-based options! And, I find that it's the ticket to your success!
I recommend to focus on Whole30 from a plant-based perspective
This doesn't mean bland broccoli, or blah carrots with every meal. But it also doesn't mean heaping plates of chicken breast, ground turkey, and a weekly rare sweet potato, either. With this blend of both extremes, you can satisfy your plant-based friends at the same time. With the recent push for plant-based meals, I've created the best of both worlds in today's recipe. This serves a healthful dose of fiber-rich veggies for you, your Whole30 reset, your friends on Whole30 or your vegan BFF. It's the perfect dish for anyone!
Let's make your plant-based Whole30 the best reset yet!
The key is to look for the purest form of compliant foods. Read the fine print of your labels and think outside the box; using your approved list. Today's recipe is Whole30 compliant even with two condiments, both of which are made from approved veggies, nuts and seeds. The Kite Hill ricotta isn't Whole30 approved but it IS compatible! Their ricotta is made with almonds, salt and natural enzymes. Those three ingredients are all great compatible additions to a Whole30 reset, and are full of plant-protein and calcium. There is a long list of Whole30 approved brands that make delicious sauces and bases, but you don't have to stick with those.
Instead of restricting yourself into only eating Whole30 approved brands, you can get creative with your purchases by doing the research and keeping a healthy, open mindset.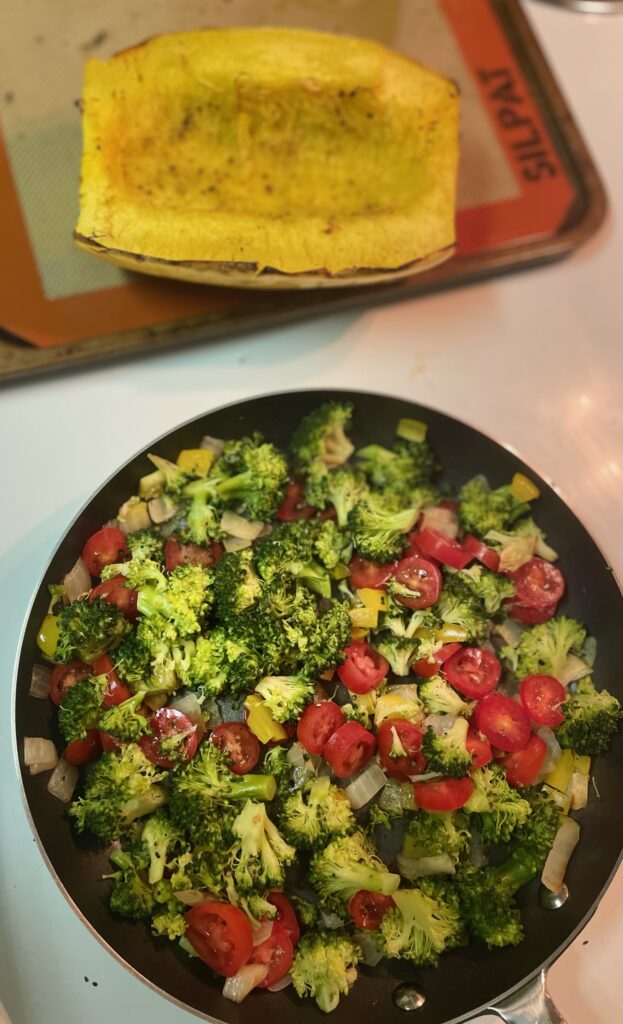 If you are a vegetarian or follow some form of a plant-based diet, you can 100% succeed during a Whole30 reset and maybe even teach your carnivorous friends a thing or two!
While yes, legumes and soy products aren't allowed in the main protocol, there are plenty of other high-protein, sustaining approved foods that you can enjoy. Look to nuts and seeds as an easy source of protein to incorporate into your meals.
Eat almond butter with breakfast, snack on pistachios mid-afternoon and munch on walnuts after dinner.
You can also put on your chef's hat and cook with ingredients that have higher protein than the norm, such as almond or coconut flour!
Up your intake of compatible healthy fats such as avocado and coconut oil to keep yourself satiated and level-headed through the day.
Lastly, don't doubt the power of a vegetable! Veggies are a huge source of nutrients and sustenance for a plant-based reset. In this recipe alone, we chose broccoli because it's a higher protein veggie, squash because of the fiber content and an almond based "cheese" for calcium.
There are some great plant-based recipes out there that might not be labeled Whole30 but taste delicious! Doing a Whole30 reset is just one great way to reset from dietary habits that may have contained a bit more added sugar, alcohol and other junk; but it isn't a cure all.
Lastly, during the reset, consider the following:
Keep an open mind and do not see it as what you

can't

have, but rather what you

can

have. Use this time to explore! If you don't typically reach for vegetables, use this as a chance to get creative with how you consume your veggies (like spaghetti squash!).

Second, reflect at the end of the 30 days on how you felt and what you would like to

take from the reset

and

incorporate into your lifestyle

. Maybe this is eating less white bread and pasta, but also increasing your intake of whole grains like quinoa or buckwheat. It's ok if you didn't enjoy every part of the reset, just focus on the positive occurrences and feelings!

Lastly, be proud of yourself for what you have accomplished during those 30 days and move forward with the confidence that you are capable of living a clean and healthy lifestyle.

Whole30 & Vegan Pesto Spaghetti Squash Casserole

Ingredients

3 tbsp olive oil
One large spaghetti squash
One head of broccoli
One handful of cherry tomatoes
¼ of a small sweet onion
1 tbsp garlic
¼ cup almond ricotta (Kite Hill brand used here)
½ cup vegan pesto (homemade, but the Trader Joe's Cashew Kale works)
1 small container of basil
1 tbsp garlic
2 tbsp walnuts
1 ½ tbsp nutritional yeast
2 tbsp olive oil
Salt and pepper

Instructions

Preheat oven to 375. Lightly oil a lined baking sheet.
Poke squash with fork, microwave 4-5 minutes. Cut the ends off the squash and then slice long-way.
Scoop out the seeds with a fork or spoon. Coat with olive oil, salt and pepper. Place scooped side down onto the pan. Bake for 25-30 minutes.
While squash is baking, cut broccoli in florets and steam. Opt for slightly undercooked broccoli as it will cook more when baking. Season with salt and pepper.
Finely chop the onion and slice tomatoes into halves.
Using a small skillet, saute the onion, garlic, broccoli and tomatoes to combine flavors and cook slightly.
Remove squash and, using a fork, scrape as much of the flesh out as possible.
Evenly coat a casserole dish with olive oil and combine all of the sauteed vegetables with the squash. Do so by tossing with a fork, season with salt and pepper to taste.
Stir in pesto, evenly coating. Place dollops of almond milk ricotta along the top of the dish and cover with foil.
Bake for 20-25 minutes, remove foil and bake for an additional 5 minutes.
Slice and enjoy!




This recipe was thoughtfully created and photographed by Elena Levy, nutrition coach for Whitness Nutrition. Schedule a call to improve your plant-based tendencies with her, here!