Allergen-friendly sweet treats for everyone
Food allergies and dietary modifications are tough to navigate for parents and their children. Isolation is a common outcome at social events when gluten-filled cupcakes or dairy-laden ice cream are the treats of choice. While there are many recipes out there for allergen-friendly goodies, finding a ready-to-go convenient and tasty alternative is usually a challenge. Who has time to create a second dessert to satisfy all dietary modifications? 
But, Leah Lopez, the founder of Better Bites Bakery, created Better Bites as a solution to this challenge: a line of allergen-friendly sweet treats that actually taste GOOD.. These products are free from the top 8 allergens. They are also made with high-quality, wholesome ingredients! Safe, easy and delicious, to keep smiles present in all situations. 
At Whitness Nutrition, we know that social sweets are a huge part of childhood memory making.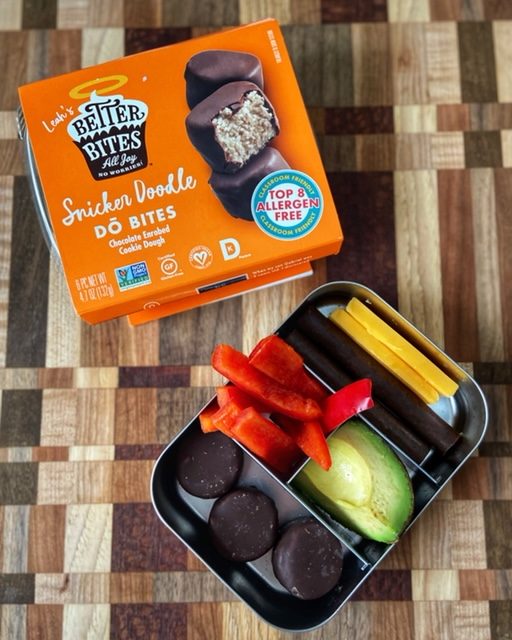 Cookies at a family picnic or cupcakes at a school birthday party taste good but also sweeten our connection with each other. These treats, especially when consumed in a social setting with our loved ones, can absolutely be part of a healthy diet. We all deserve the enjoyment of a warm cookie or drippy ice cream cone. Remember, a balanced diet can contain treats, along with quality proteins, fats and carbohydrates. 
Fun Fact: Better Bites was the dessert provided for my own 21st birthday from a fellow dietitian during my graduate program. I've been hooked ever since.
Safely enjoying the sweet treats and special moments in life with your loved ones is important. These memories are an essential part of life! Equally important? Learning how to incorporate, and truthfully prioritize nutritious items in your diet.
We've created a family-friendly picnic-style Bento box 
This is a great demonstration to show how sweets & nutritious snacks can be consumed together and normalized for an all foods fit snacking scenario. 
A chocolate chip cookie, a sliced hard boiled egg, veggies & hummus.

An ice cream bar after a whole grain turkey and veggie sandwich.

Below, our demonstration includes a meat stick, full-fat cheese, half an avocado, sliced peppers, and Better Bites Cake Bites!
A healthy diet is all about moderation, and it's ok to enjoy the sweet things in life while also incorporating necessary nutrients. Whether you have an allergy, dietary modification, or want to try a new sweet treat,  look for Better Bites goodies at the store or online. They offer a wide variety of treats, such as cookie dough bites, cake bites, and cupcakes. Each package verifies that they are certified gluten free, vegan and non GMO, as well as an easy to understand list of ingredients. Over at Whitness Nutrition HQ, we love the Birthday Do bites and the Big Mo cupcake (can you say Hostess, upgrade!?). Pack these little bites of goodness on your next family picnic right next to the crunchy crudite and whole grain goodies.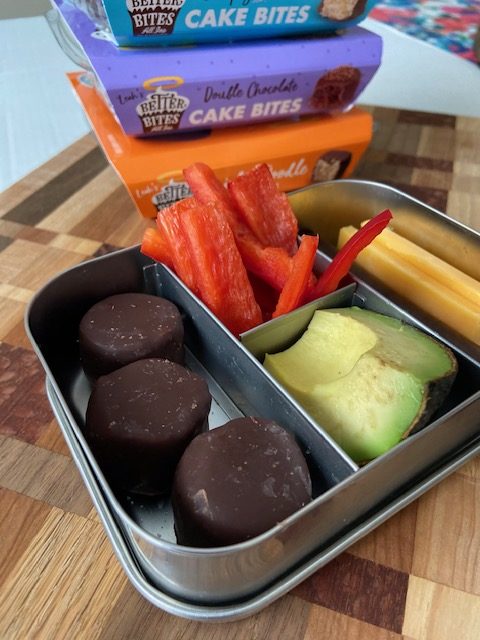 FTC Disclaimer: This post was sponsored by Better Bites after a thorough review of their product meeting the Whitness Nutrition standard. The recommendations and options belong to Whitness Nutrition, alone. Remember, we only work with nutritious products that can make a difference for good in the lives of our patients.