Jump to recipe
Bake a healthy muffin
Banana bread is so 2020. And, I'm here for it. But I made a mini version because I don't have time to slice bread right now. That isn't a joke.
These portable banana bread muffins are loaded with healthy fat sources and fiber to keep your blood sugar stable. I tested it on a few insulin dependent patients. Cool, right? Plus, these are naturally gluten, dairy and soy free so any population can enjoy.  Just like my chocolate chip cookies, but with a bit more nutrients! Try these as a smarter boost of sweetness with any meal.
This muffin is really good slathered with ghee – warm or cold. But, a lonely muffin is also just as delicious.
Baking is a healthy habit
Remember, baking doesn't mean you've given up. It doesn't mean your pants won't fit. If anything, baking can be a great habit or hobby to improve this year. Perhaps you improve your knife skills while you're at it, or your perfect chicken marinade?
Now, if sweets are your favorite thing to make; share them! This is a great and economical way to connect with co-workers, neighbors and family members. Leave a bag of these muffins on their doorstep! What a sweet random act of kindness and nourishment.
Nana Muffins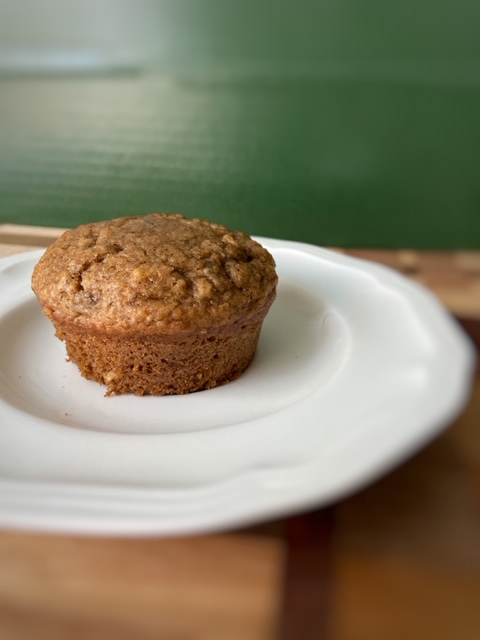 Notes
I made 12 and then poured the rest into a loaf pan for a thin slice for us to sample. It was delicious!
You can use any creamy smooth nut butter here. Crazy Richard's or Maranatha both work. Almond or cashew butter is going to be the most mild in flavor.
I have used three successful 1:1 sugar replacements in baking, including Lakanto, Swerve & Switch
You can use code Whitness for a 20% discount at Georgia Grinders

Ingredients
2 bananas, ripe (1 frozen, I fresh)
1 cup Georgia Grinders almond butter
3 eggs
1/4 cup coconut sugar
1/4 Lakanto 1:1 sugar replacement
3/4 cup oat flour (pulse oats in a blender or food processor until finely ground)
1/4 cup almond meal
1 tb vanilla extract
1 tsp baking soda
1 1.4 tsp baking powder
¼ tsp salt
1 teaspoon cinnamon
½ cup rolled oats
Instructions
Mash the banana, add wet ingredients.
Separately mix dry ingredients together, incorporate into wet. Don't over mix. Make into greased or silicon/ceramic muffin tins. Should fill ~16.
Bake at 325 for 25-30 minutes until a toothpick comes out clean and the top springs back slightly. Let cool 10 minutes before removing. Store at room temp 3-4 days. Or freeze for individual heat up.
really good slathered with ghee but also good alone.