Banana bread reminds me of home.
As a kid I would watch  my mom cut a thick slice, warm it up and spread butter across it for my Dad. I preferred it chilled.
This recipe is good either way.
Needless to say, banana bread was the first baked good that came to mind for our lonely Easter celebrations. Plus, I had frozen bananas that were taking over the freezer! I am being very intentional about using what we have before heading to the grocery store.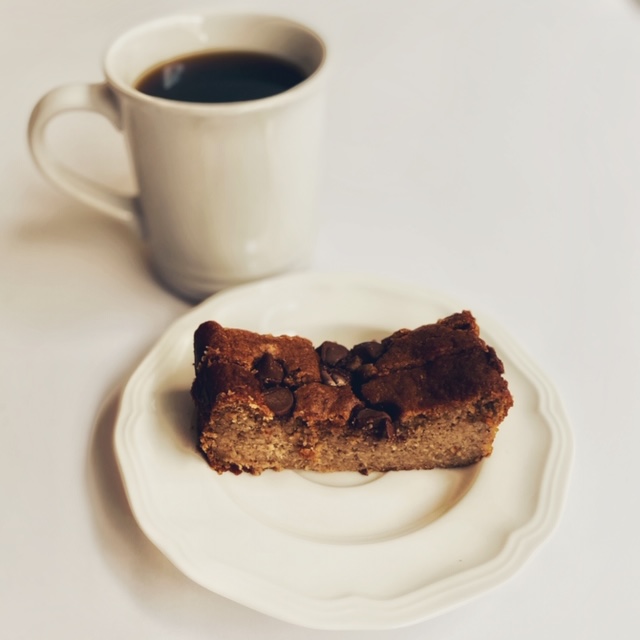 This recipe is naturally free of gluten, sugar & dairy because I wanted to enjoy it alongside my husband. But, don't think that means it's bland! This loaf is full of fiber, whole grains, plant-based heart-healthy fats and delicious flavor! I believe the real rock star in this recipe is the olive oil, which gives it a rich flavor paired with the only sugar sweetener I've tried that doesn't' produce a baked aftertaste.  Both Swerve and Switch(Thrive Market's version) are erythritol based and don't seem to increase in bitterness upon baking like most Splenda and Stevia alternatives. My favorite low-glycemic sweetener to bake with is Monk Fruit. I didn't have any on hand but you can use a 1:1 replacement of Lakanto's in this recipe.
Now, do you like your banana bread dense like bundt cake or gooey like a brownie? I've provided a way to customize the ingredients for both groups. Everyone wins! But, for the record, I'm all about the bundt cake texture.
Banana Bread
gluten free, dairy free, sugar free, soy free
2 frozen bananas (defrosted and mashed)
4 TB Almond Butter (Georgia Grinders is my preference, I use the squeeze packs!)
1/4 cup Lakano syrup
1 TB milled flaxseed (mixed in 2TB water for a "flax egg")
3/4 cup unsweetened almond milk (I used MALK, it's so creamy. )
1/3 cup non-sugar sweetener (I used Switch, Swerve works too)
1/4 cup olive oil
1 TB baking powder
1 cup almond meal (or you can blend up raw almonds in the blender)
3/4 cup rolled oats
1/4 cup coconut flour
16 chocolate chips (I used extra dark Ghiradelli)
Process: Blend the flour together. Mix all the wet together and add to dry. Grease pan with oil, spread in batter & bake. Sprinkle top with chocolate chips.

Bake at 350F for 45 minutes

After thoughts: Add an extra cup of almond meal or 1 cup oats to be less gooey and more bread-like.