My main goal in sharing this exhaustive list is to empower you to make anything work, anywhere.
Also, there are other meals at these locations that could work for your needs. But, these are my favorites and what I personally enjoy. Although I haven't done a full Whole30 reset in awhile; because Food Freedom, I like to provide resources for my coaching groups. Whole30 compliant meals and allergen-friendly options are so much easier to find in Dallas now, it's refreshing!
---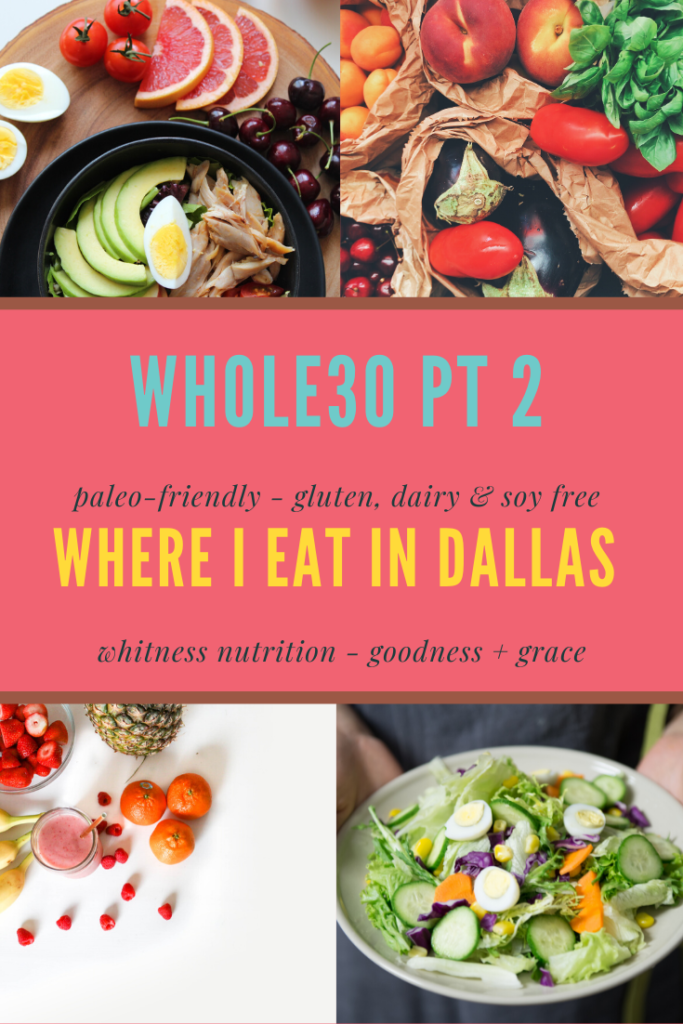 Already health-oriented:
TJ's or Lover's seafood: Freshly caught fish, fresh veg. Avoid the citrus glaze option and anything beer battered.

ModMarket; sunrise bowl nix bacon/feta. Or, the homestyle plate – mixed green salad, veggies + steak/salmon/chicken. Harvest cobb nix walnut and dressing. Wintergreen nix cheese/walnut. Vinegar for dressing.

spicy green chili chicken soup. To d

rink: iced coffee, iced tea, kombucha.

Pok the Raw Bar & Malibu Poke: kale, slaw or cauliflower rice base. Sashimi on top (avoid spicy tuna). Macadamia nut topping. Avoid edamame and aioli sauce. Malibu Poke has a delicious aioli sauce that is compliant (& marked as such!). 

Flower Child; Chicken/Salmon plate with Brussel sprouts, spinach and squash sides. Nix any cheese. They have a compliant lemon avocado dressing.

Kozy Cafe: lots of options here! Ask for a specific menu. Grass-Fed Fillet with veggies is a common pick, but I love the Veggie Connection for brunch.

True Food Kitchen: lots of options here! Ask for a specific menu. I love their brunch; The organic eggs with sweet potato and chicken sausage. Or, the Seasonal ingredient salad + protein.




---
Fast & Easy:
Salad from Eatzi's, Crisp, Snappy or Salata: A leafy green salad, add salmon, shrimp, or chicken, hard-boiled egg, olives, avocado. For the dressing: Balsamic vinegar or salsa for dressing. Plus, Eatzi's has zoodles. Upgrade! 

MIXT: Obviously a salad, but also, a plate option (any of the proteins) + chimmi sauce + roasted broccoli & Brussel sprouts.

East Hampton: TURKEY BACON + AVOCADO, nix the bacon and use vinegar as dressing. Side of fruit salad and iced tea. 

Unleavened: guac with veggies to start, early-bird breakfast bowl on hash (served all day), mole verde warm bowl with any protein (nix feta and chocolate). Or, cashew sesame bowl, nix rice and glaze. Farmstand salad no feta. For the dressing; stick with guacamole, salsa or vinegar. You can even get the Southwestern salad without hominy or cotija. 

Zoe's – Kabobs; sides roasted veg, potato salad and greek salad no feta. 

Royal Blue Grocery; grab a friend for iced Stumptown coffee. Snack? EPIC meat sticks,  RXBar or raw nuts with fresh berries.

Roti Modern Mediterranean; Salad, salmon or chicken kabob, fresh veggies, cabbage, olives & tahini. 

The Gem: limit juice, but The Celery Salad with some Jalapeño Pesto makes a great light lunch, nearly all the smoothies (aside from Golden Glow, Cashew Milk, Clarity Lemonade, and Jaded Ginger Snap) are compliant. Don't add protein, but collagen is a-okay!
I'd love your feedback & to hear any meals you've personally enjoyed in the DFW area.