July 31st is National Avocado Day. I'm preparing your palette with the perfect DIY Taco Bowl with ¡Yo Quiero!™️ If you haven't tried chunky guacamole on your tacos you're about to take your taste buds to another level. Get creative with your ingredients; flavor, spice and texture make the bowl! Step through each level of our BYOB breakdown for the perfect meal! 
Avocados are an excellent source of fiber, potassium, and mono-unsaturated fats. These are the healthy fats contributing to reduced LDL levels and increased HDL levels; the protective form of cholesterol. Plus – avocados provide that creamy, fatty mouthfeel that can replace caloric alternatives like sour cream, cheese or mayo.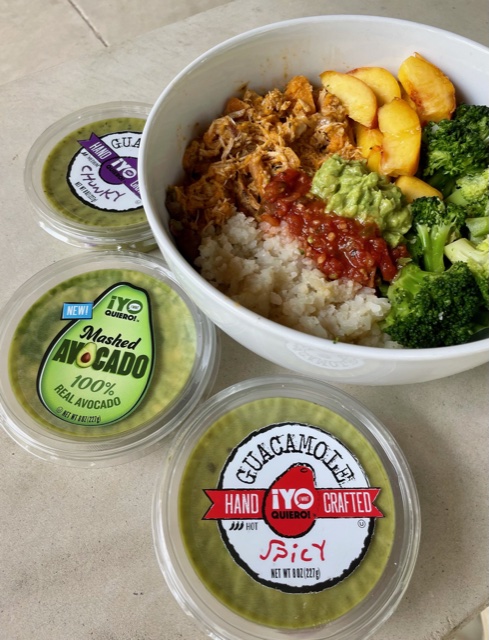 An RD Approved Taco Bowl!
Ingredients:
Chopped kale or leafy spinach or crunchy romaine 

Brown rice or cauliflower rice 

Grilled fajita style chicken or vegetarian black beans 

Bell peppers, tri-color, cut into strips 

Sweet yellow onion, cut into strips 

Cilantro, finely chopped 

Tomatoes, finely chopped 

¡Yo Quiero!™️

White queso, or crumbled Cotija 

Taco seasoning of choice 

Optional: diced jalapeno, pico de gallo, salsa, plain-greek yogurt  



Instructions: 
Prepare your ingredients accordingly:

Leafy Greens: Wash your leafy greens thoroughly, then chop to bite site pieces.

Rice: If using frozen cauliflower rice, saute in a medium heat pan with olive oil till cooked through. Add seasonings and set aside. If using brown rice, prepare according to instructions on the bag or if using frozen, do the same as cauliflower.  

Protein: prepared fajita style chicken to your liking, I recommend cutting 2lb of chicken breast into strips and seasoning with taco seasoning of choice. Saute in pan until cooked through OR bake on a sheet pan for 30-40 minutes. 

Vegetarian: Drain a can of black beans. Heat oil in a pan, then add minced onion and garlic. Saute till fragrant then add black beans. Add taco seasoning of choice and cook until heated. 

Veggies: Slice your bell peppers and onion into strips. Heat oil in a pan over medium heat then add peppers & onion. Saute until soft. 

Toppings: finely chop your washed cilantro and tomatoes. Heat up your dairy-free queso of choice OR crumble your cotija cheese. 

Assemble your bowl in the order listed, starting with a heavy base of leafy greens. Sprinkle it with salt and pepper.

Top bowl with a large scoop of

¡Yo Quiero!™️ Original Guacamole

, then drizzle with hot sauce or salsa – or not, if you don't like spicy!

Add any optional toppings you may like, here we added fresh lime! Enjoy!
The most important part about your burrito bowl? A big ole scoop of ¡Yo Quiero!™️ Original Guacamole!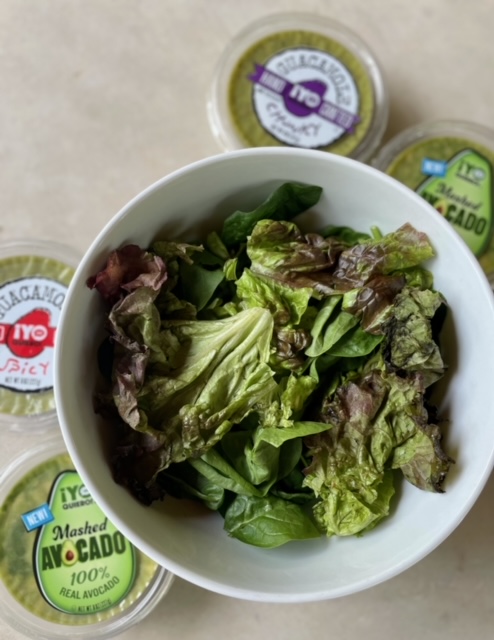 How to Build a Dietitian-Approved bowl every time!
How many times have you gone to Chipotle, Cava or your favorite Poke place and left with a lighter wallet and an excessively full stomach? A bowl based fast-casual is actually an excellent option for eating out, if you do it right! I choose a bowl-centric restaurant quite frequently due to it being easy to grab a veggie-packed, protein-topped on the go meal. See our restaurant guide here of what a dietitian-approved order looks like! 
But, a home-cooked meal, or shall I say home-cooked bowl, can be an excellent additional to your family meal calendar, too! Use our no-fail guide to make a better balanced meal every time. 
Step 1: Start with a Veggie Heavy Base
Leafy greens are going to be an easy way to add extra fiber, lots of volume, but low-calorie, high-nutrient substance to the bowl. All of them are high in antioxidants, vitamins and minerals, but yet all provide their distinct flavor and texture. 
Chopped kale or spinach 

Leafy arugula or mixed greens 

Crunchy romaine or endives 
Step 2: Build with a Complex Carb
Carbs are our best friend for a source of prolonged energy. Forgo the white rice, cold pasta or side of bread that only give you energy for now, not later. Instead, add complex carbs like those from sweet potatoes and quinoa; giving you more fiber and less energy crashes. 
Sweet potatoes or white potatoes are high in iron

Ancient grains like quinoa, farro or rolled oats 

A combo of brown rice with cauliflower rice, even!
Note: Beans would be considered a carb if there will be a source of animal protein, but if it's a plant-based bowl, beans can be utilized as a source of protein! 
Step 3: Add In That Lean Protein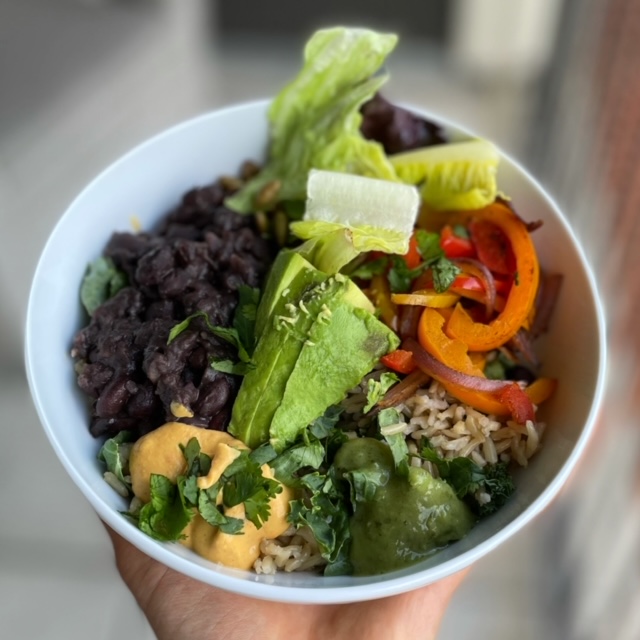 Protein is a huge part of our bowls. If  you skip out on this part, you'll be reaching for a snack or dessert twenty minutes later! Look for at least 20g of quality lean protein (without breading, frying or just heavily coated in marinade). Leaner meats like chicken or turkey are always a go-to, but it's important to rotate with wild fish and sometimes, plant-based options like tofu or tempeh.
Ground turkey, grilled or roasted chicken, or lean beef

Plant-based like tofu, tempeh, or edamame – beans if we're going plant based! 

Salmon or tuna, poke style
Step 4: Garnish with Veggies
Building your own bowl is the perfect opportunity to add in all your favorite veggies without having to think of them as a side or what they pair with. Even better, when you're building at home you can basically throw whatever veggies are sitting in your fridge from last night's dinner. Reduce waste and get creative!
Grilled veggies like peppers, onions, corn or mushroom 

Roasted cruciferous veggies like broccoli, cauliflower or asparagus 

Raw veggies like carrots, tomatoes, cucumber, snap peas or pico de gallo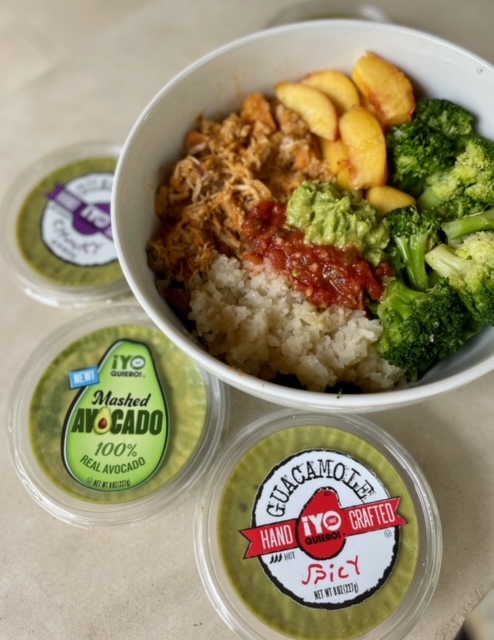 Step 5: Finish it With Healthy Fats like ¡Yo Quiero!™️ Original Guacamole 
My favorite part about a bowl is the toppings – sauce, herbs, and healthy fats, I'm here for it. These nutrient-rich toppings are loaded with flavor; once you add in all the tasty fats like avocado, olives or just the simple drizzle of olive oil, you have an impeccable meal! Plus, these heart-healthy flavors are the key to balanced blood sugar; keeping you satisfied hours after your meal flavor and of course, nutrients! 
Heart-healthy fats like

¡Yo Quiero!™️ Original Guacamole and ¡Yo Quiero!™️ Mashed Avocado

; free of any artificial preservatives, added flavors or hydrogenated oils. 

Olives, and soft, salty cheeses like goat or feta

Fresh herbs such as cilantro, parsley, or chives 

Dressings with a base of avocado or olive oil, as well as hummus or guacamole 
Celebrate National Avocado Day with me this year by picking up some ¡Yo Quiero!™️ Original Guacamole and Mashed Avocado to make the best Chipotle knock-off you've ever had ¡Yo Quiero all the avocados! 
Sources:
This blog post was created in paid partnership with

¡Yo Quiero!™️

Although the recipe, photos and opinions are exclusive and unbiased to Whitney Stuart MS RDN CDE & Whitness Nutrition LLC. This site is to inspire and educate; the information shared is always clear and concise to prevent confusion. We believe in facts, not fads, and most of all, transparency.