The restaurant guide was such a hit that I'm expanding into the coffee category. Clearly, my favorite category! Coffee can be loaded with sugar, soy, glitter, you name it! I have grown from a blended caramel mocha in my teenage years to really just enjoying a good strong cup of black coffee. But, espresso is near and dear to my heart, always. I was a barista at age 14 and spent most of my summer roasting coffee, blending mocha milkshakes and eventually learning someone's coffee order just by their "drive up demeanor". 
In Dallas, I spend many weekends trying out new coffee shops with my husband and want you to feel free to do the same while maintaining your health! It doesn't have to be lattes and donuts every time. I have identified my favorite orders and some of the unique perks that come with each location. Enjoy!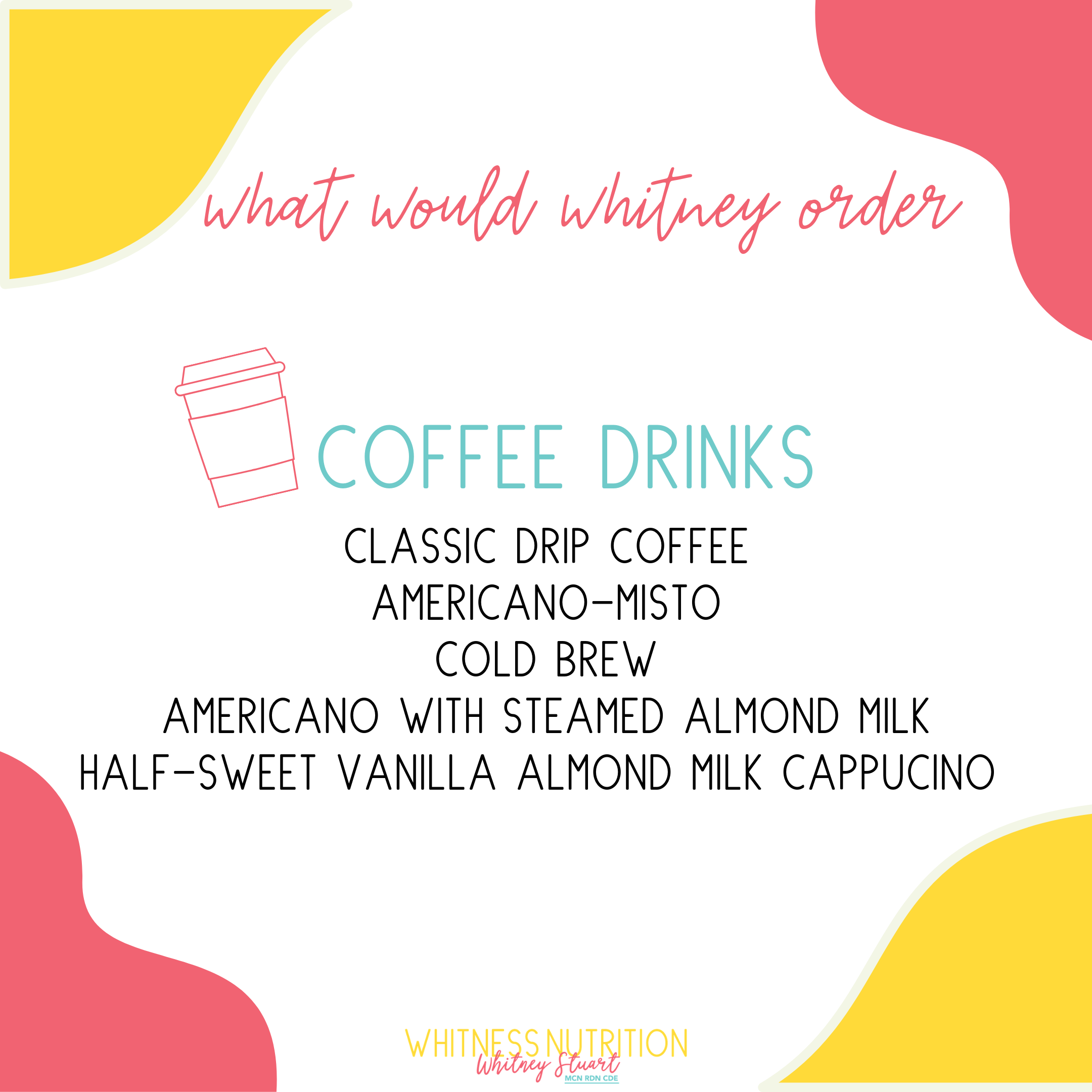 My top three orders
I would make five, but honestly, I don't have five. I'm a creature of habit. I do what I like.
Americano

Classic drip coffee.

Americano-misto. They steam milk on top. This is cheaper and less calories than a latte. I think that's a win. Choose almond milk or coconut milk. Nix the sweeteners and added sugar, but feel free to add cinnamon or cocoa powder. 

Cold Brew. But I hate nitro. That level of carbonation just ruins my stomach. Anyone else? Usually cold brew is less acidic but more caffeinated and is the perfect combination for a busy day!
Dallas Coffee Shops
Best Cold Brew
Royal Blue Grocery – Hit this shop during off hours. The morning line is insane. But, it's also a fabulous patio for people watching. The wine tastings never stop. I love grabbing a Poppi to go here, or Alyssa's healthy cookies to pair with my coffee, or a bag of Miracle Milkookies for my new mom friends.

Unrefined Bakery- They use cold brew ice cubes, too! No dilution. That is my kind of solution. Obviously a ginger molasses cookie is a must have pairing.
Best Americano
Merit Coffee – This is a Stuart house favorite. We walk to one of their locations on the weekend and the coffee is thoughtfully done. They have a "hippie bar" of nuts, seeds and dried fruit that I'm in the process of trying to DIY. It's great with an Americano. I do think they have the nicest dog-loving staff, too!

Drip Coffee – Although the employees here are really hit and miss (some know my order and others glare as I walk in), the coffee is hand's down the best in town. My americano here is always perfectly made with an unsweetened almond milk (hard to find that in Dallas!) and very low acid. The Lover's location is perfectly cozy in the afternoons but the morning feels like Wall Street. I pair my order with a jar of Health Bombz even though 3 bites is $6. They're a rarity, to say the least.

Sip Stir Coffee – This shop has the perfect sleepy coffee shop vibe and the staff. Try an

iced almond milk latte or americano here. I'll grab a bag of almond when I'm here.
Best Coffee
Ascension – a mug of coffee is cheap and the protein brekky is one of my favorite Dallas meals. I can't handle their nitro cold brew or lattes; the acidity level on their espresso bean is much too strong for me. 
Cheapest Best
Unleavened – They have a locally sourced cold brew on tap that rings in under $3. A perfect option to pair with a breakfast bowl. Specifically the early bird on sweet potato hash, no Swiss. Yes, I've memorized the menu. It's that good! And that cold brew is under $3.
Pay for the Vibe
Lala Land Kind Cafe – I love this place and the concept but I almost always choke on my half sweet Buddha americano when it rings up to $7 for steamed almond milk. I like to think of these drinks as a gift to our future youth. I haven't order any menu items because most of them are loaded with sugar, just like many of the novelty drinks. I do wish there was a gluten-free toast option here. I'm not sure I could afford it, but alas, a girl can dream.

Leche De Cafe – The organic fair-free cold brew is $5 and worth every penny to meet the owner of this new shop and the adorable vibe that We the Birds HQ has created. 

Window Seat Coffee – A newer shop with wanderlust travel vibes. The parking can be hit or miss but the concept is thoughtful in its design and the cold brew is good.
I know there's others I'm missing here. Share your favorite with me below! Save this list for your next coffee shop date, too!