Each month I collect the questions and answers you have about health and answer them in one place. Follow the Whitness Nutrition Instagram page, where I host bi-weekly Ask Me Anything question boxes FREE for the community.
Whether you're wondering if that new protein powder on the market is good for you or whether your recent lab work is showing signs of insulin resistance, you've come to the right place!  Rather than scouring WebMD and trusting TikTok for your health and wellness advice, why not turn to the nutrition expert! 
Remember: these answers are not meant to be a substitute for medical advice, and if you are looking for more individualized answers, schedule a discovery call with me today!
Food, Fad and Facts: the nutrition questions you asked this month!
Food: Quick, Easy Healthy Meals
How to not hate meal prep? 
First, stop doing ALL your meal prep in one sitting. Start small and prep one thing at a time. I recommend patients start with a few breakfast options like egg muffins or chia pudding. Also, consider buying protein that can be used as component prep during the week such as turkey sausage or cottage cheese. I swear by these kitchen tools that make meal prep a whole lot easier:
If component meal prep seems daunting or downright overwhelming, schedule a discovery call where we can discuss meal prep techniques! 
How to eat healthy on a budget? 
Focus on shopping the sales, this is where having the Whole Foods/Amazon app or Sprouts app come in handy. If I see a good sale, I'll try to incorporate or base my meals off that specific product. You can also make a "fluid" list, for example, "2 veggies" versus "broccoli and cauliflower." This way you won't feel tied to a specific item that may be more expensive that week and can still contribute to component prep rather than stringent recipes. 
Also, canned and frozen veggies work perfectly well. For carbohydrates, using shelf stable items like beans (WNCOMMUNITY25 for 25% off), rice or chickpea pasta rather than something that will expire like fruit and fresh veggies. I recommend allocating the majority of your budget to be on protein since it's the most satiating! The best bang for your buck proteins? Try these: 
Canned Tuna or Salmon,

Safe Catch

is my favorite (

WHITNEY20 for free shipping on orders of $50 or more – stock up on salmon!)

Plain Greek yogurt 

Cottage cheese

Eggs 
My go-to budget-friendly stores are Aldi and Trader Joe's since their prices remain pretty consistent. Grab my low-glycemic grocery guide to Trader Joe's! 
How to pack healthy snacks for travel?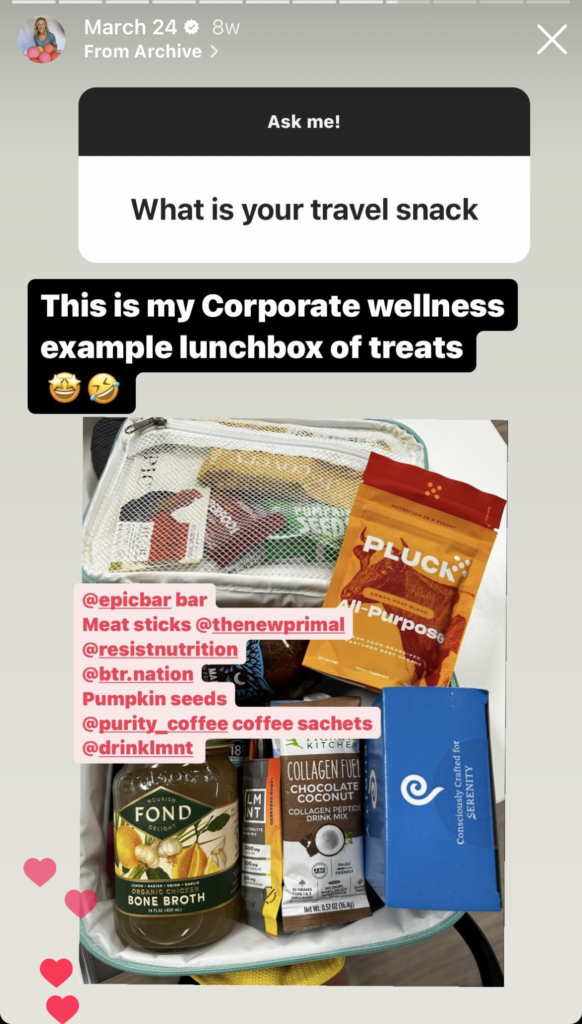 Protein, protein, protein! But really, prioritize packing plenty of protein-rich snacks because this is what will satiate you, fuel you and prevent unnecessary snacking while traveling. Even better, pack a TSA-friendly meal that you can eat while waiting to board your flight or while riding shotgun. I've decided that even if my tuna salad doesn't make me the most popular, it definitely makes me the most satiated and least likely to grab a bag of chips!
You'll likely find a variety of these snacks in my carry on, as well as a large bottle of water: 
Fad: Hot Topics in Nutrition
Are CGM's uncomfortable? 
No! CGM's are quite comfortable and honestly go unnoticed. The one I use with patients can go on more places then your arm which I notice tends to feel less invasive. You can learn more about how to use CGM's through my Diabetes Mastery Course! 
Is Ozempic safe for patients without diabetes? 
No. As a Diabetes Educator, the Ozempic epidemic is quite frustrating and down-right upsetting. Ozempic is a powerful tool that can be used in low doses to reduce insulin resistance for patients with diabetes on other medications and/or insulin. Otherwise it's just a quick weight loss tool like all the others (Ephedra, Phen-Fen, Sachsenda, Belviq, Qysmia) and can be easily abused.
Ozempic is not a miracle drug and will not build real sustainable results or teach you to manage your health in the long run. Read more about my take on Ozempic here. 
Are meal delivery services healthy?
They definitely can be! Aim for meals that contain at least 20g of protein per serving, have more protein than carb, and contain less than 500 mg sodium.  Many of the popular meal delivery services on the market lean high carb, high sugar so it's important to read the nutrition label before clicking purchase. If your meal does turn out to be lower in protein, supplement it with a quick protein addition like eggs or chicken sausage that doesn't take up too much time.
These are my go-to meal delivery services that I use  personally and recommend to patients. It depends if you want a family style, fresh, frozen, but across the board these are my favorites. 
Fact: Healthy Diets and Nutrition Facts 
Does dairy cause bloating?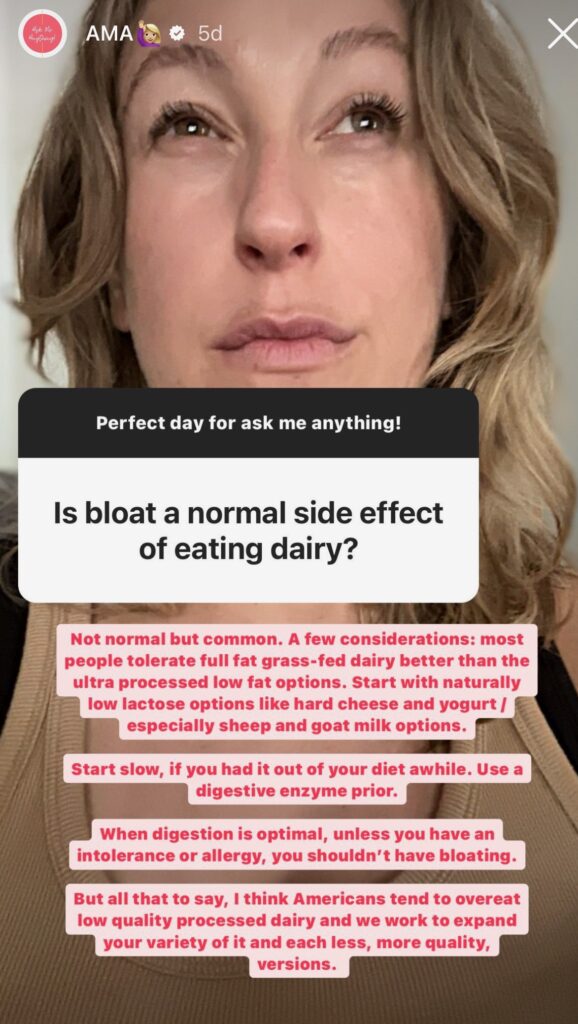 Bloating isn't necessarily a side effect of eating dairy, but it is quite common. It is important to consider the quality of the dairy products you're consuming and if that correlates with your bloating. For example, most people can tolerate full-fat, grass-fed dairy products better than the ultra processed, low-fat dairy. If you have a lactose intolerance or dairy allergy that's another story and should be discussed in greater detail with your registered dietitian or doctor. Consider the quality of your milk alternatives and avoid added sugars or artificial sweeteners.
Generally, I recommend to patients who want to eat dairy without bloating to start slow and small. Choose low lactose options like hard cheeses, full-fat plain yogurt or kefir, especially ones that come from sheep or goat's milk. If you're still experiencing bloating, consider using a digestive enzyme or switching to non-dairy alternatives, such as almond milk or coconut milk
Should I quit soda for weight loss? 
Many of my patients have come to me saying "how do I cut soda out of my diet completely, it's so addicting!" My answer is always "Don't restrict, upgrade!" Restricting is only going to cause you to want it more or to look for sugar from another source. Smart soda swaps like Poppi and Ollipop are my favorite way to do this. These are at least half of the sugar of your regular soda and contain vinegar which supports digestion and blood sugar balance. The best support for blood sugar is really, less concentrated liquid sugar.

Swap the pop at try sparkling water, low-sugar kombucha or unsweetened iced-tea! 
Does sparkling water hydrate you?  
Yes they do! Sparkling water as well as water with added electrolytes are an excellent way to increase your daily water intake. The only liquids I don't count towards daily hydration are caffeinated beverages or sodas/sweetened beverages. 
I'm a big fan of sparkling water with additional benefits like Sound, Shrubbly, and Aura Bora. 
If you're looking for more FREE blood sugar bliss tips, sign up for my free meal guide for weekly inspo straight to your mailbox. You can also find the rest of the AMA's on my Instagram, @whitnessnutrition, in the highlights section under "AMA."