The Ultimate Trader Joes High Protein Grocery Guide
Raise your hand if you love strolling the Trader Joes aisles. I know I do! With the blend of staple products, fun new finds and guaranteed goodness, what's not to love about TJ's? Finding high quality proteins can be tricky due to deceptive food marketing. Many labels state that they contain protein but you'll find the majority of their calories come from carbs or fat. Peanut butter is a good example of this! It takes time to master label reading, but I've rounded up freezer, fridge, and pantry options at Trader Joe's that are conveniently, actually, high in protein!
But first, a dietitian's Best Tips for Grocery Shopping
And, start every grocery trip by using these Whitness Nutrition helpful healthy grocery shopping tricks! I recommend these actions to all of my patients on our grocery shopping tours (included in every package!) to ensure they're buying the most nutritious and delicious foods for their home include: 
Shop your kitchen beforehand: First things first, see what you have in stock to avoid food waste and unnecessary spending. Instead of buying that second bag of fresh spinach, another option would be frozen kale or zucchini noodles. 

Figure out your week: traveling? Work dinners? Determine how many days you actually need meals for. And, on busier weeks, add in easy time-saving options like pre-cut veggies and individual containers of guac. Generally, I have at least one container of pre-cut, pre-washed vegetables on hand at all times.

Make a list on a

Joy Creative

notepad. Their

grocery list

s and meal planning pads are SO fun and can help organize your thoughts before you head to the store!

Nab a discount with code

nutrition10

.

I make a list every week, organized by sections, with specific amounts, to save on waste. Whenever I need to make a list, either a to-do or a grocery, Joy Creative is my favorite way to make it fun!
What protein-rich options should I buy at Trader Joes? 
Fridge:

Just Chicken, Heat and Serve 

Wild-caught alaskan salmon 

Charcuterie meats such as nitrate free prosciutto 

Chicken or beef bone broth

Grass-fed greek yogurt (not dairy-free!)

Organic extra-firm tofu 

Chicken sausage 

Sockeye smoked salmon 

Pre-hard boiled eggs
Freezer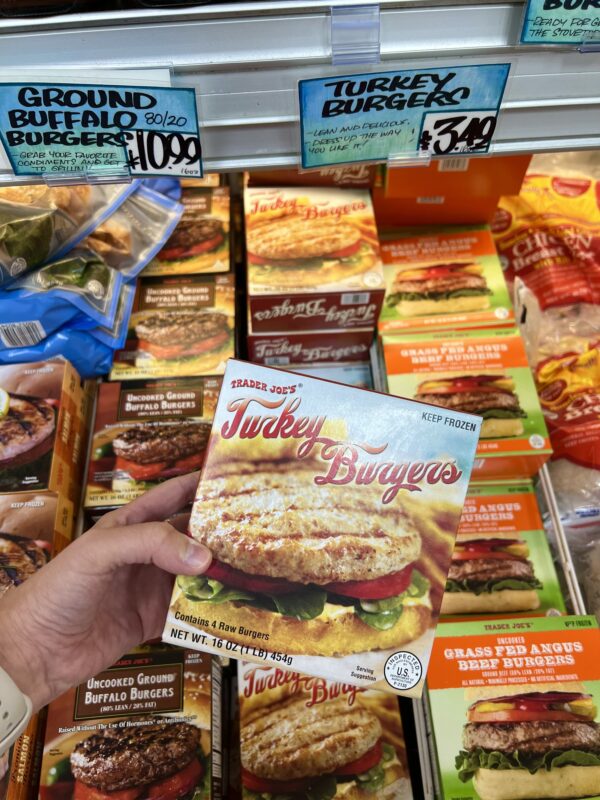 Turkey burgers 

Chili-lime chicken burgers

Raw argentinian red shrimp 

Branzino filets

Wild-caught Alaskan salmon filets 

Egg frittata 
Pantry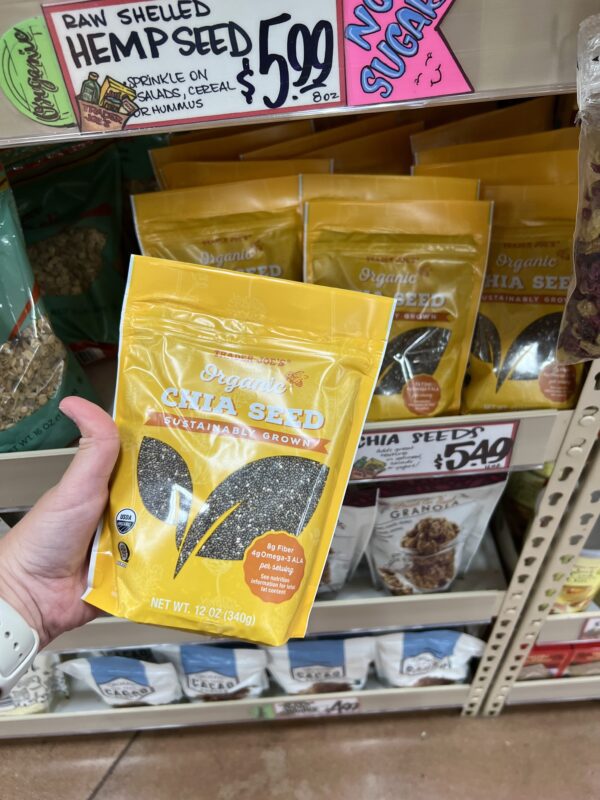 Chicken bone broth (they have both shelf stable and refrigerated!)

Wild-caught tuna packets

Chomps sticks (I also order in bulk through

Thrive Market

!)

Hemp seeds

Cheese bites
Remember, finding nourishing high protein options can be overwhelming. In today's world you cannot trust marketing, which is why reading and understanding a nutrition label is crucial! These services are offered in my practice – we all need a little support! Interested in getting one on one grocery guidance? Schedule an in-person or virtual grocery store tour today.
Meanwhile, follow along on the Whitness Nutrition IG for more foodie finds and grocery tips!