There are so many things this mama-to-be is doing to get ready for the newest Team Stuart member's arrival! First up, packing my hospital bag for labor & delivery. Followed by my daily stretches, prepping some post-delivery meals and making sure his nursery is stocked and ready to go! Clearly we are so excited for Baby Stuart to arrive! 
Most importantly, I'm focusing on preparing my body for the most challenging feat it will endure – child birth. A PSA: Please don't just let labor happen TO you. Own it. Study it. Make it yours. This marathon can be a wonderful, powerful, process, if you undertake the training needed to make it that. Without a doubt, I know my body was created for this miraculous event called birth. I definitely feel grateful for my body and brain, and the intense prep I've done through curated resources and support:
It should be clear; there is a huge benefit in me keeping up my strength, getting adequate rest, and nourishing myself & baby J with specific nutrients!
Third Trimester Nutrients 
One way that I am prepping for labor is by adding key nutrients into my diet. 
The

Natural Delights

of Medjool dates! 
Speaking of nutrients, one of the foods I have incorporated into my diet are Natural Delights Medjool dates! Obviously, I am always a fan of food as medicine and the benefits of real food, but the research on Medjool dates for labor is truly fascinating! Research shows that consuming Medjool dates in late pregnancy can help decrease the length of labor, and decrease the need for oxytocin (a drug given to help speed up labor). It's clear that decreased labor time is a good thing for both mom and baby; and in turn prolonged labor has been linked to unfavorable outcomes.
That magical little chewy fruit also helps to ripen the cervix before delivery. Cervix ripening refers to the softening and opening of the cervix in preparation for birth. Throughout most of pregnancy, the cervix remains closed and hard. Medjool date fruit aides in the softening and opening of the cervix, getting it ready for delivery. The preparedness of the cervix plays a big role in the way a baby will be born; whether it be vaginally or by c-section. This is especially true for those mama's who are induced – the more the cervix is ready to birth a baby, the less likely an induction could lead to a c-section.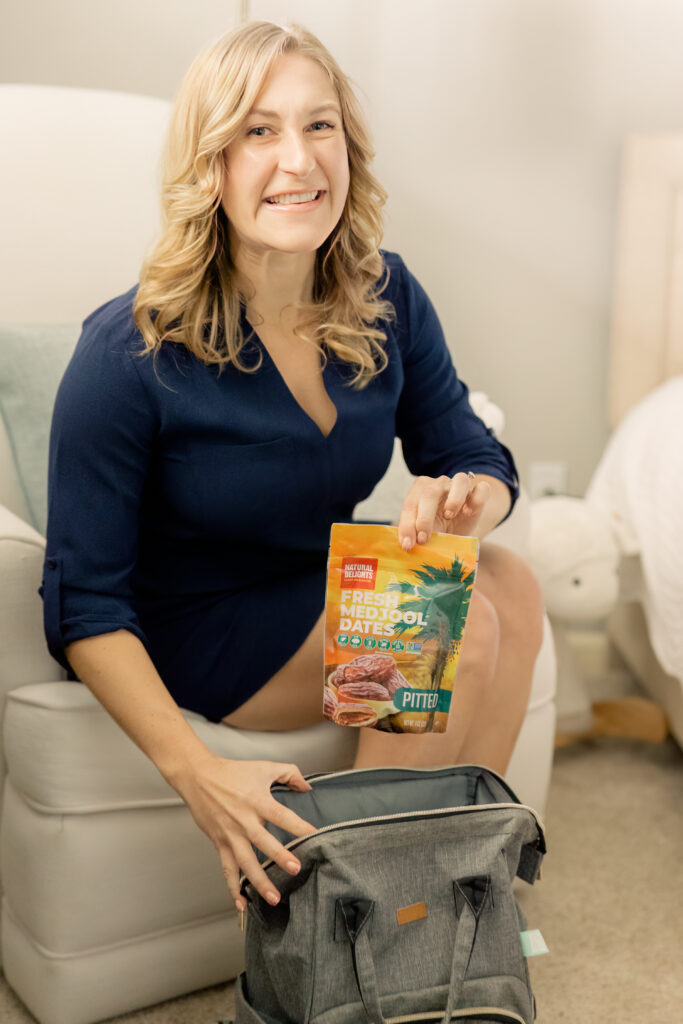 Munching on Medjool dates late in your third trimester helps to prepare your body for labor!
Furthermore, research shows that the consumption of Medjool dates can prevent postpartum hemorrhage, too! All good things from those sweet, fiber-rich fruits!
While Medjool dates are great for mama's late in their pregnancy to help prepare their body for birth, it's important to maintain #bloodsugarbliss for a healthy pregnancy. Medjool dates are naturally sweet and lower glycemic than other date varieties. But, if insulin is running higher in the late third trimester, I still recommend balancing them with protein and fat for ultimate glycemic control; keep reading for my how-to do dates!
P.S. Did you know what Medjool dates are actually quite low on the glycemic index? This means they won't cause blood sugar spikes and will support a balanced blood sugar – especially when they're paired with protein! In fact, the sugars found in Medjool dates will process slower in our body than traditional sugars, making them an excellent source of energy!
Dates for labor – when, why and how many?!
Although dates are a low-glycemic treat you can eat ANY time, during pregnancy, it is recommended to increase your date intake at 36 weeks. You'll want to consume at least 6 per day to help the body with many things like continued regularity in late pregnancy (hello, third trimester constipation!). Plus, this helps to get important vitamins and minerals to mama and baby. They're also a great low-glycemic snack to help satisfy your sweet tooth! Next time you want a sweet treat after a meal, try a Natural Delights Medjool date with your favorite nut butter and shredded coconut! Fiber-rich, packed with nutrients, and helps prepare your body for labor. What's not to love?!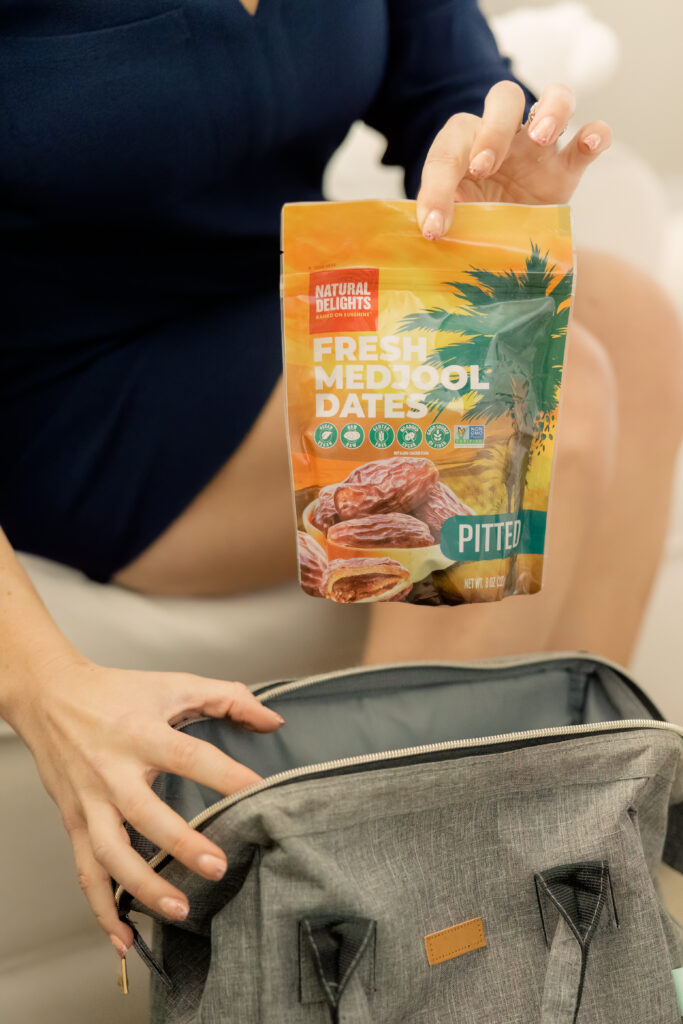 Natural Delights has a variety of

options

for your date consumption!
For continued blood sugar bliss, we advise you to pair your Medjool dates; consider our favorite ways to date below! 
Whoa – 6 Medjool dates a day? 
Yes! And, I have a few easy ways to do it! Try one or all of these four ways to incorporate Natural Delights Medjool dates into your daily third trimester routine!
Berry Balanced Date Smoothie
Don't these Medjool date focused dishes sound amazing?! Shop through this link for some Natural Delights goodies sent right to your door!
Are you a mom-to-be struggling with nutrition in your pregnancy?
Sign up for our entirely virtual gestational diabetes course – this focuses on blood sugar support and prevention; a great resource for expectant, whole-food focused mamas!
Disclaimer: This blog post was sponsored by Natural Delights through the creation of a thoughtful partnership with the intention of educating the masses on wholesome health concepts. Whitness Nutrition takes every partnership seriously and Whitney upholds her role of a #honestinfluencer to a high standard. Never hesitate to reach out with comments, questions, or concerns.
Research & References
– (1) Kordi, M., Meybodi, F. A., Tara, F., Fakari, F. R., Nemati, M., & Shakeri, M. (2017). Effect of Medjool dates in Late Pregnancy on the Duration of Labor in Nulliparous Women. Iranian journal of nursing and midwifery research, 22(5), p383–387
– (2) Kordi, M., Aghaei Meybodi, F., Tara, F., Nemati, M., Taghi Shakeri, M. (2014). The Effect of Late Pregnancy Consumption of Medjool date Fruit on Cervical Ripening in Nulliparous Women. Journal of Midwifery and Reproductive Health, 2(3), p150-156.
-(3) Razali, Nuguelis et al. "Medjool date fruit consumption at term: Effect on length of gestation, labour and delivery." Journal of obstetrics and gynaecology: the journal of the Institute of Obstetrics and Gynaecologyvol. 37,5 (2017): p595-600.