Twice a month, I share five new food finds (a.k.a #5NFF) that are free of gluten, dairy and refined sugar. This series began after the dozens of daily messages from patients and followers who were looking for allergen-friendly, healthier, low-glycemic alternatives to their favorites. When there's a need, I like to address it!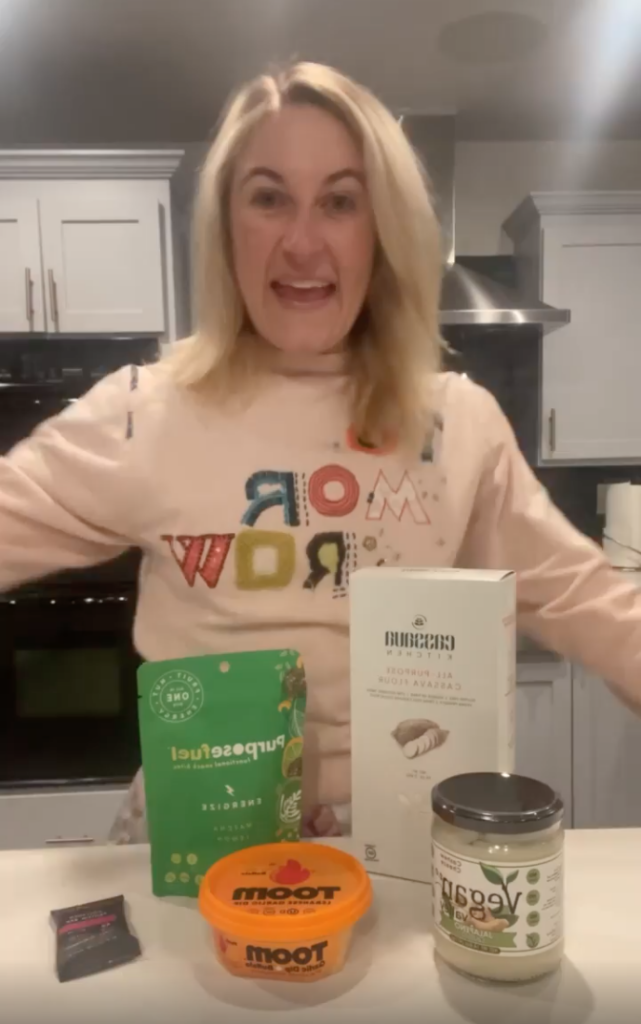 In order to be eligible for a 5 new foods Friday, there's an application process! I personally chat with brands and review their products before you ever see it. And yes, very few make the cut! These have to be nourishing foods that actually taste good and would benefit the health of my clients. And this series is done completely free; I never want to seem bias and authenticity is so important to me. Plus, this means I can support the smallest of brands with no budget. This series has really evolved and has been a great way to support others! Really, in two ways!
I've met some really amazing business owners behind these brands. Individuals who are working hard to create nutritious and delicious products. Learning their story and their why has been a joy and also fueled my own passion for goodness. And, sharing these details with my patients feels like special insight. Details that don't come up at the grocery store when you see their product on the shelf! Essentially, it feels good to share the good.

Second, I get to sample and honestly recommend products that I actually enjoy and weed out the options that may look healthful but are dry and disgusting. This process saves you time and money! Plus, I feel honored to be a trusted taste tester for you.  I love that I can support the Whitness Nutrition community by upgrading your snack and sip game by introducing you to brands that are better for your health.
Remember, you can always follow the Search my Social link in the Whitness IG bio to look for past Five New Foods, or use the #5NFF hashtag. 
I have pulled my favorite finds from the past few months of 2022's 5NFF below 
Have you ever actually read the ingredients in a bottle of Sriracha? Although it's spicy, it actually contains sugar. The True Made Foods sriracha is made without sugar and five different vegetables. It's spicy, it's sweet and excellent for drizzling over cauliflower fried rice or eggs. I'm also a big fan of their mustard and bbq sauce, sweetened with veggies and lower in salt and sugar then the average bottle!
Balanced baking mixes – literally! These functional baking mixes are based on Ayurveda principles and the idea of Bio-individuality, You Again Foods is the future of baking mixes. Each baking mix contains adaptogenic mushrooms; ashwagandha (destress) and lion's mane (clarity). Many gluten-free baking mixes trick consumers into thinking they're healthy purely because the gluten-free label, but You Again Foods are actually good for you! I enjoy my favorite, which is the oat ginger, with a smear of cashew butter and a sprinkle of cinnamon!
My afternoon coffee game has changed for the better, with a little more flavor and a little more protein. I stumbled upon Marigold on Instagram (#influenced) and was so impressed by their quality ingredients and organic collagen sourcing. The iced vanilla latte is delicious, and a much better alternative to a Starbucks vanilla latte. A serving of Marigolds vanilla latte has 0.2g of sugar, while a tall Starbucks vanilla latte has 22g of sugar. Consider this an easy swap!
Needed is an excellent resource for the fertile phases! They have free education and consults available to mamas! I'm partial to the powdered pre-natal; a total game changer for nausea and vomiting. Swallowing a pill during the first trimester can be rough and this simple swap makes nourishment, easy. Plus, needed holds some of the highest quality standards I've seen in the supplement industry. Order directly through their site with code Whitness💧
I am VERY particular about protein bars, and Elavi is definitely at the top of my list. The Elavi bars are made with two different forms of collagen and two different types of protein powder. The texture is amazing without that chalky aftertaste. Best flavor? The chocolate goji berry bar. Fingers crossed these come into stores ASAP.
While yes, I love Siete Foods tortillas, I have to give kudos to other brands doing the good work, too. I'm unbias! And Maria and Ricardo's almond flour tortillas were at Central Market recently. I used the keto tortillas for the perfect breakfast taco (piled high with eggs, leafy greens and of course, avocado). The ingredients are stellar and hold together nicely!
If I had a dollar for every time someone asked me my thoughts on Liquid IV, I'd be a very rich, albiet frustrated, girl. Liquid IV is one of the top selling electrolyte mixes on the market due to smart but manipulative marketing. A single serving has 11g of sugar; more sugar than a bowl of cheerios in milk! One of my new favorite electrolytes, Redmond Relyte, is made with a balanced blend of minerals, sans the sugar, artificial sweeteners and the inclusion of their own sea salt. Electrolyte repletion without sugar is much more effective for your health. I personally love the Watermelon Lime the most but the Lemon Lime is a close second!
Have you seen a new product at the grocery store that needs review? Shoot me a DM or an email with the name or photo!

Not sure if you're navigating the snack, drinks and shelf-stable aisles with your health in mind? Schedule a guided grocery tour, we can work together to find the best snack for you!