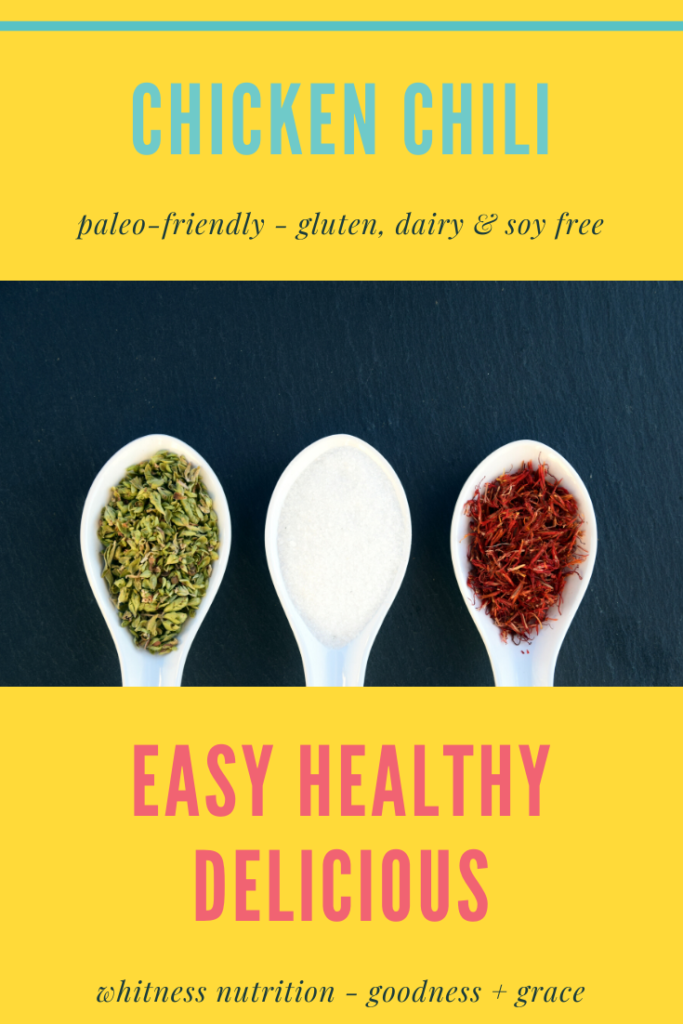 Calm down and warm up with this protein-rich, fiber filled healthy chicken chili, great for lunch or dinner!
As the weather starts to get cold, it's time for some more soup recipes! If you're like me, I love a good hearty chili; tons of protein, loaded with veggies and the perfect base for sliced avocado or cashew queso. If that description made your mouth water as much as mine, then you will love this bone-broth infused healthy chicken chili recipe.
This healthy chicken chili recipe has all the slow-cooked protein, heart healthy fat, and fiber you need in a meal. Add a delicious side of steamed greens or roasted veggies to round out your meal to cozy comfort food perfection! Chili is oftentimes loaded with unnecessary starch and sodium, neither of which are present here, which can leave you feeling overly full and bloated.This recipe is low-sodium, fiber-filled and made with clean, wholesome ingredients.
You will love this dietitian-approved meal option, and so will your family! It's not only rich in flavor, but it's also rich in essential nutrients and anti-inflammatory ingredients. This healthy chicken chili is naturally paleo, celiac-friendly and diabetes-friendly – ideal for blood sugar bliss. Pair it with your favorite grain-free tortilla chip or dairy-free sour cream, and you've got the perfect fall dinner! 
Healthy Chicken Chili
2 lbs. organic chicken, diced into 1-inch cubes

1 red pepper, chopped

1 green pepper, chopped

1 yellow onion, chopped

6- 1­2 jalapenos, seeded and minced

1 clove of garlic, minced

1 cup canned (full fat) coconut milk

4 oz can green chiles

1 tablespoon avocado oil1 teaspoon salt

1 teaspoon garlic powder

1⁄2 teaspoon oregano

1⁄8 teaspoon ground red pepper 
1. Grab a large soup pot, put over medium heat, and olive oil and minced garlic.
2. Once the garlic is fragrant, add chicken. Mix as needed with a wooden spoon to
cook on both sides.
3. Once chicken is ~ halfway cooked through, add in your peppers, onions, jalapeños, and green chiles. Mix together and let cook for about 3 minutes, stirring occasionally.
4. Now add your chicken broth and coconut milk, along with all spices.
5. Stir together until well combined.
6. Cover and let simmer for about an hour minutes to let the flavors meld together.
7. Eat fresh; or consider freezing a batch (if you'll actually thaw it out again!)
Looking for more meal inspiration?
Check out our pinterest board for more ideas! Or, if it's time to take that next step on your health journey, schedule a free call. Whitness Nutrition is here to help you!