You won't find cereal, oatmeal, or any low-fat yogurt listed here, because I believe in propelling you towards your goals, not away from them! Starting your day with a protein-rich breakfast, at least 20-30g, is key to feeling and fueling your best. Don't do eggs? No sweat, try one of these 5 egg-free breakfast options instead! 
Five Egg-Free Breakfasts for Balanced Blood Sugar
Chia Flax Hot Pudding (FO' MEAL) –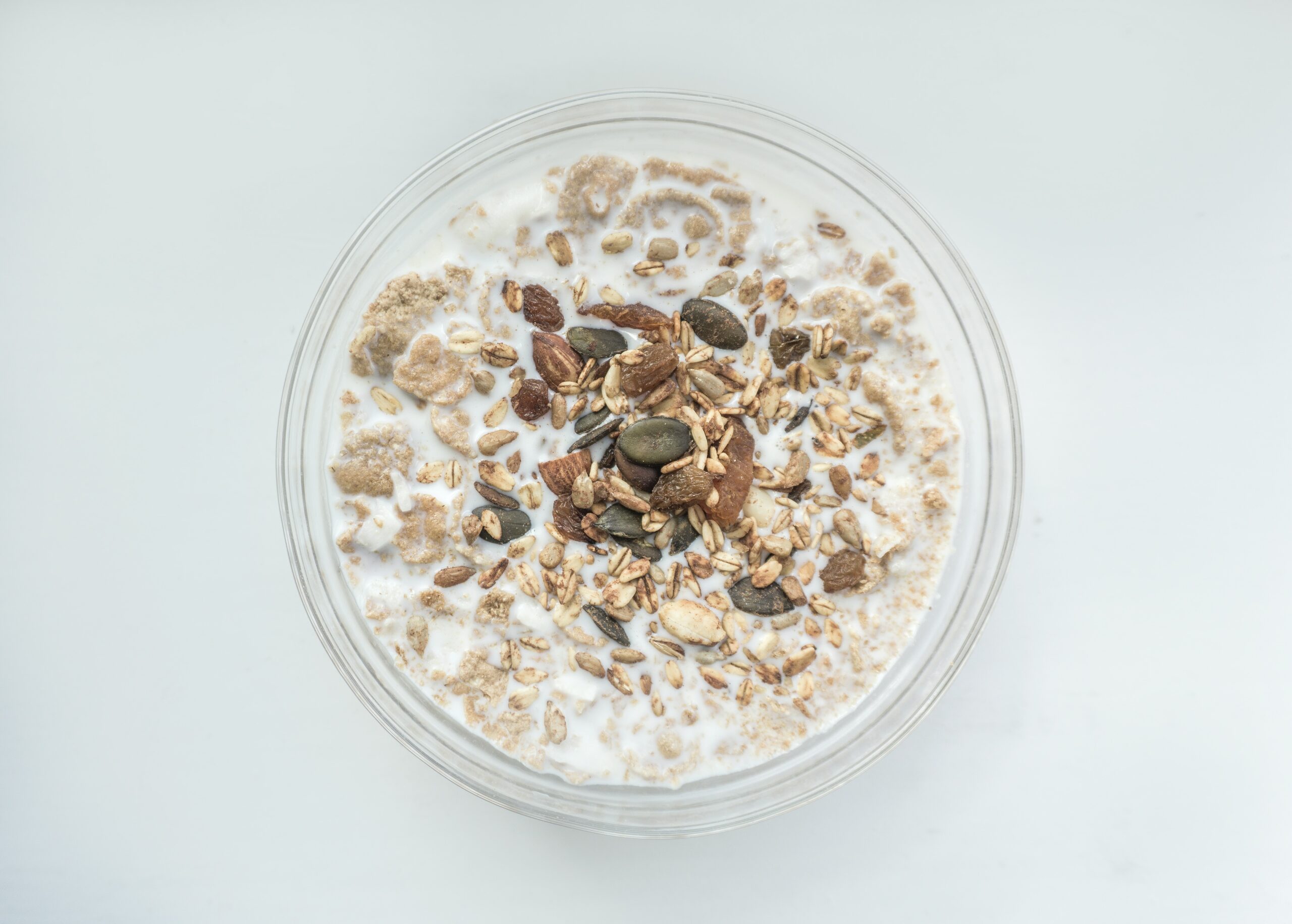 Inspired by Be Well By Kelly
1 tbsp coconut oil 

2 cups coconut or almond milk, unsweetened 

2 tbsp chia seeds

2 tbsp ground flax seed

3 tbsp hemp hearts

Toppings: 4 tbsp chopped pecans + 1/4 cup mixed fresh berries
In a medium size nonstick fry pan on medium heat, add 1 tbsp. of coconut oil, 1 cup of coconut milk, chia seed, hemp hearts and flax meal. With a silicon spatula or wooden spoon, continuously stir all ingredients until pudding is thick about, 3 minutes. Add more liquid if needed and continue stirring. Pour warm pudding into a bowl, option to stir in sweetener of choice. Top with nuts and berries. Serve Warm or store in the fridge for a faux-overnight oat. 
Vegetable Sausage Skillet Meal Prep
5 chicken sausage links, sliced

2 cloves garlic, minced

1 small red onion, cut into large chunks

1 small zucchini, halved lengthwise and sliced into moons

1 small summer squash, halved lengthwise and sliced into moons

2 small bell peppers, red and yellow, cut into large chunks

6 cremini mushrooms, quartered

1/2 teaspoon Italian seasoning

1/2 teaspoon red pepper flakes

sea salt and black pepper, to taste
In a large skillet over medium heat, melt the oil. Add the chicken sausage, garlic and onion to the skillet and saute for 10 minutes. Add zucchini, squash, bell peppers, mushrooms, Italian seasoning, red pepper flakes, sea salt and pepper to the pan and saute for an additional 10-15 minutes or until vegetables are crisp tenders.
Chicken Breakfast Hash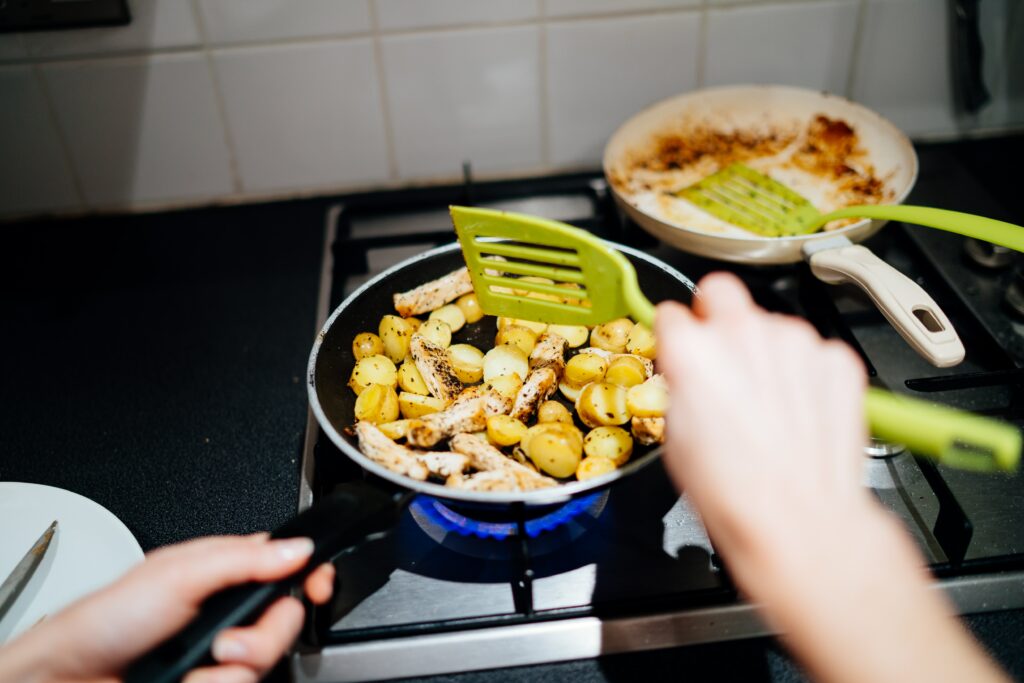 2 tablespoons olive oil or avocado oil

1 yellow pepper, chopped

1/2 large white onion, diced 

1 pound ground chicken

4 cups loosely packed roughly chopped kale

1/2 tablespoon garlic powder

1 teaspoon paprika

1/2 teaspoon salt and pepper 
In a large skillet, heat oil over medium heat. Add in diced pepper and onion. Stir frequently to avoid burning on one side. Once the veggies are only beginning to soften, add in ground chicken. Break apart chicken and brown. As chicken is browning, add in spices. When the chicken and veggies are just about fully cooked, add in the kale and stir in. Once the kale has wilted, remove from heat. Serve with hot sauce or cashew queso. 
Makes 3 servings.
Protein Rich Pancakes: serves 4-6
Make ahead and freeze, store in Stasher Bags. While this isn't exactly an egg-free breakfast option, as you use egg-whites, its not your typical paleo-esque pancake. Easy to toast on demand as a reheat, spread with 1TB nut butter or throw a chicken sausage in the center like a kolache or savory breakfast pastry.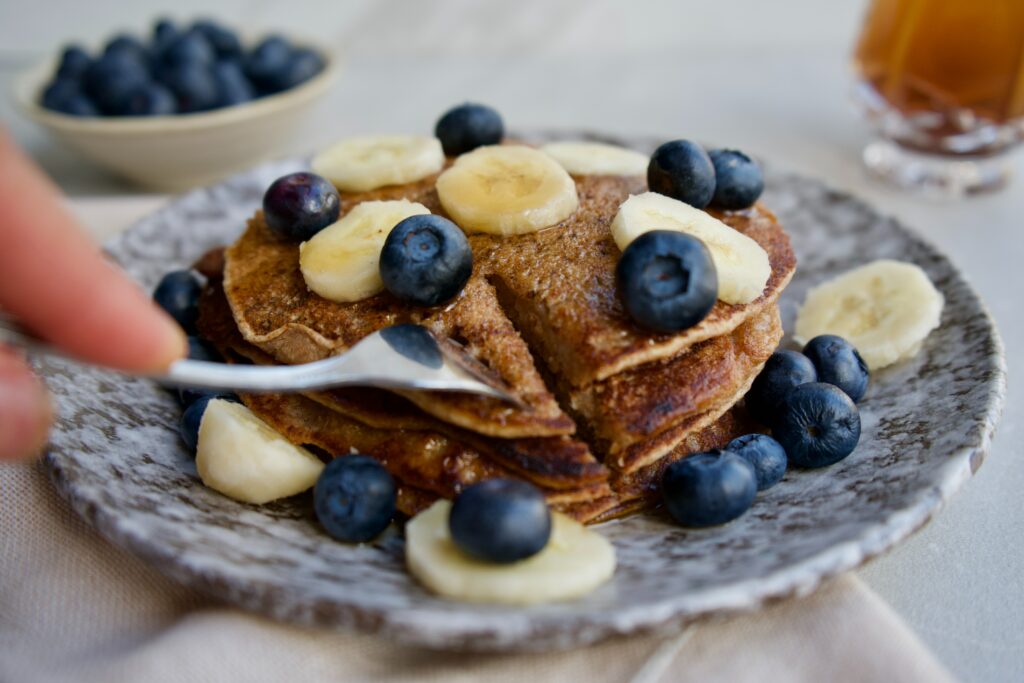 2 cups rolled oats, gluten-free

12 large egg whites (carton is fine = 12 oz) 

2 cups low fat cottage cheese

2 tsp cinnamon

sprinkle of sea salt 
Heat a skillet to medium high heat and spray with nonstick cooking spray. Add all ingredients to a food processor or blender and blend until mixed thoroughly. Scoop 1/4 cup of the batter onto the skillet to form a pancake. Cook until small bubbles begin to appear then using a spatula flip and cook another 2-3 minutes.Remove promptly from the skillet and place on a cooling rack while you repeat the process for remaining bater. Store in the refrigerator up to a week or freeze up to a month. 
Cinnamon Roll No'Oatmeal – 
Inspired By The Wholesome Yum 
1/4 cup hemp seeds 

1 tbsp flax seed meal

1 tbsp Vital Proteins Collagen Peptides

1/2 tbsp Chia seeds

1 tbsp maple syrup or local honey (to taste)

1 pinch Sea salt (to taste)

1/2 cup Coconut milk (from a can; 1/2 liquid and 1/2 thick cream; or try with Nutpods!)

3/4 tsp Cinnamon

1/2 tsp Vanilla extract 
Stovetop instructions:Stir all ingredients, except coconut cream or Nutpods, together in a small saucepan. (This includes the optional sweetener and salt if using.) Add cream/liquid and whisk until smooth. Simmer for a few minutes, until thickened. Stir in cinnamon and 1/2 tsp vanilla extract. Sprinkle with extra cinnamon and crushed pecans or walnuts. 
Breakfast doesn't need to be overly complicated nor does it need to be overly complicated. Did you notice many of these egg-free breakfast can be prepared ahead of time? Meal-prep isn't limited to lunch and dinner, in fact, I recommend including breakfast meal-prep to all of my patients. From egg muffins to chia seed pudding to the protein rich pancakes I mentioned above, breakfast can easily be made ahead of time. 
Interested in learning more on creating a balanced breakfast routine? Or just looking for some more egg-free breakfasts recipes? Scheduled a discovery call today!