My first health workshop focused on the relevant health topics you face
Sponsored by Lifthouse Fitness & FOND Bone Broth
Saturday Oct 8th, 9A - 1230PM
We're talking about the topics you want to hear. Nothing is off the table. And, I've brought together experts from all different fields to provide you insight and expertise on wellness topics that don't get enough attention. Along with speaker sessions, swag bags, movement and breakout sessions, we will be offering Q&A submissions to answer your own relevant questions.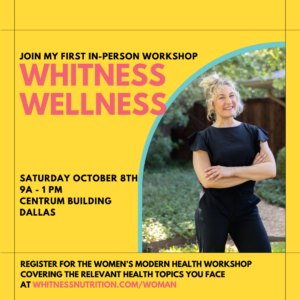 Speaker Schedule
This workshop provides a series of 9 health professionals' bite-size 15 minute presentations with 2 movement shake-up sessions, two breakout group sessions, a candid Q&A from anonymous questions and an epic swag bag. Join us for an incredible day of learning!
Dr. Roxanne Pero is a board certified Obstetrician and Gynecologist as well as a board certified Lifestyle Medicine and board eligible Functional Medicine practitioner. Her expertise is in root cause diagnosis and management in women's health with particular expertise in traditional and functional treatment of Endometriosis, Uterine Fibroids, Infertility, Polycystic Ovarian Syndrome, Spirituality in Healing, Mood Disorders, Recurrent vaginal and urinary tract infections, and Hormonal Imbalance. She is currently practicing at Carpathia Collaborative in Dallas, TX.
Whitney Stuart MS RDN CDECS - Actionable steps for health: insulin resistance & blood sugar balance
Whitney is a registered dietitian-nutritionist and Certified Diabetes Care and Education Specialist (CDCES) focused on real food for real joy, for the real busy. Her virtual practice, Whitness Nutrition, provides functional nutritional counseling for individuals ready to radically improve their health through blood sugar bliss! Whitney has been voted best Dallas Dietitian since 2019. She has been featured in media segments for ABC, NBC & Business Insider. 
Taylor Reyes, PT, DPT, CFMT - The relationship between the pelvic floor, TMJ, and the ability to relax.
Bonus: How not to pee your pants 101 
Taylor is a Doctor of Physical therapy who specializes in Functional Manual Therapy which is an integrative approach to treating any gender and any condition. She has a passion for educating and treating the pelvic floor as well as the cranium and TMJ issues. She started her own practice, FIRE Physical Therapy in 2018 which has allowed her to serve clients with a customized plan of care specific to their goals and function. She is also passionate about the prenatal and postpartum population and teaches a childbirth class, Love Your Labor; An Empowering Childbirth Class. As a way to give back, her clinic donates 10% of every first visit to a wheelchair shop and prosthetics clinic in Guatemala, Transitions Foundation.
Jessica Klement - Ph.D., Clinical Psychologist and Founder of Tella Psychology – Befriend Your Inner Critic: Find Inner Wisdom and Enjoy More Success
Dr. Jessica Klement (she/her) is a Licensed Psychologist who works with adults and teens. She feels passionate about helping people tune into their own healing ability with Internal Family Systems (IFS), an evidence-based therapy that incorporates mind, body, and spirit. Dr. Klement has over 8 years of experience as a therapist. Before starting her virtual therapy practice in 2020, she worked in several large academic medical centers where she specialized in helping individuals with chronic medical conditions, sleep problems, disordered eating, and histories of trauma. She has served as a consultant and published peer-reviewed research in behavioral medicine. Recently, she was featured as an expert on KRLD News Radio. Dr. Klement loves learning and geeks out about science-backed treatments in her practice, including IFS, cognitive behavioral therapy, and Eye Movement Desensitization and Reprocessing.
Erin Donaldson DO - Genomics & precision medicine 101 - how to define, detect and defend against inflammation 
Dr. Erin Donaldson is a service driven doctor on a mission to educate and challenge others to take charge of their health. She is board certified in Family Medicine. She practiced rural ER and Hospital Medicine before settling into her true love of Precision Medicine and disease prevention. She now practices full-time with Wild Health, where she uses genomics and comprehensive data to co-create a health plan with her patients. She believes the majority of health is accomplished through daily habits, a philosophy sparked by her own health journey with autoimmune disease. She understands first-hand the overwhelming feeling of navigating our healthcare system, and more importantly the liberation that comes with taking control back of your outcomes through optimizing daily choices. Above all, she believes joy feeds health. When not practicing medicine, you can find her hanging out with her golden retriever Max, practicing yoga, adventuring around the world, trail running or laughing with her friends and family!
Darrah Kempka RN, Infusion Specialist & Founder of Natural Infusion Partners- vaginal insufflations of ozone & mother baby ozone indications 
Darrah graduated from Louise Herrington School of Nursing at Baylor University with her BSN in 2010. Like many functional medicine providers, Darrah became interested in this alternative/integrative approach after healing herself and loved ones with foundational nutrition support. She was introduced to Ozone Therapy in 2018. It did not take long before she realized that the eight years of an unconventional nursing career had led her directly to her purpose.She is the owner of Natural Infusion Partners LLC, an Infusion Suite located in Dallas Texas. She is happily married and has two children, Jackson age 7 and Jordan age 4. 
Sarah Hackwith - Certified Eating Psychology coach - A Radical Act: Ditching Dieting For Good in a Thin-Obsessed World
Sarah is a Certified Health Coach through the Institute for the Psychology of Eating, and was previously a Certified Strength and Conditioning Coach (CSCS). Sarah has been moving, coaching, and supporting others in their journey toward health and fitness for over a decade. In her work with clients, Sarah is committed to helping women reclaim their sense of personal power and step into whatever they were truly made to do - rather than spending their one precious life obsessed with dieting and weight loss. While she has taught almost every group fitness format imaginable - from cycling to trampoline rebounding to bootcamps - currently, you can catch her teaching reformer Pilates classes weekly in the Dallas area at all Session Pilates locations. When she's not teaching or working with clients, she's also honing her new skill of DJing house music around Dallas!
Elissa Monaco - Professional Coach and Founder/CEO of Elissa Fairchild Coaching; Postpartum pearls from a power house 
Bonus: Elissa will teach our mid-workshop movement shakeup
Elissa has been coaching in the Dallas fitness community since early 2011. She holds certifications in a multitude of disciplines, including CrossFit Levels 1 & 2, CrossFit Kids, Movement & Mobility Specialist through Kelly Starrett's The Ready State, Pregnancy & Postpartum Athleticism Levels 1 & 2 through Brianna Battles, Schwinn and Keiser Indoor Cycling, and Mat and Allegro Reformer Pilates.  Elissa is the Founder and CEO of Elissa Fairchild Coaching, her Dallas-based personal training, instructor mentoring, and fitness studio consulting business She recently became a Co-Founder, Head HIIT Coach, and Master Trainer of FITNNIS, LLC., a local tennis + HIIT interval class concept conducted at tennis facility centers in the Dallas-Ft. Worth Metroplex. Elissa serves as the Director of Client Experience (formerly CrossFit Dallas Central), and she has been coaching group classes at the BPR facilities since 2015, while also serving as Master Mentor for BEYOND Studios, where she trains and develops instructors at BEYOND Pilates and BEYOND500 franchises in Dallas, Frisco, and California. 
Shannon Kouser, M.S. LPC, EMDR Trained, RYT 200 Psychotherapeutic Yoga - maternal mental health through all the phases of motherhood.  
Shannon is a Licensed Professional Counselor who specializes in trauma, anxiety, and psychotherapeutic yoga.  She believes in empowering clients through breath and body based coping skills.  She is trained in Eye Movement Desensitization and Reprocessing, EMDR, which is an evidence based treatment modality that uses bilateral stimulation to assist clients in decreasing disturbance and reprocessing traumatic events.  She is in private practice in Plano working where she works with teens and adults.  Her passion is working with mothers and supporting them through the many transitions of parenthood.  
PT Brooke of Lifthouse Fitness will be offering a complimentary movement session at 8AM for anyone interested.