Bachelorette party plans de-railing your health plan? They don't have to! Implement these smart swaps.
Ok now ladies, let's get in bachelorette formation! You've got the matching wigs, you've got the poolside reservations, but let's be real – what are you doing about the food?! Going out to dinner followed by brunch the morning after is always a great option, but there's snacks and gaps to fill in along the way! You can create a fabulous healthier bachelorette (without a raging hangover) by making some simple swaps that are still full of flavor, fun and good food! 
I recently hosted a Bachelorette in Denver. I didn't want to waste time grocery shopping when I got there. Instead, I utilized HungryRoot and the huge variety of healthy snacks (and meals!) options they offer. Plus, they included delivery. It was one less thing to take off my plate (or shall I say put ON my plate?!). 
Try these healthy hacks for your next Bach!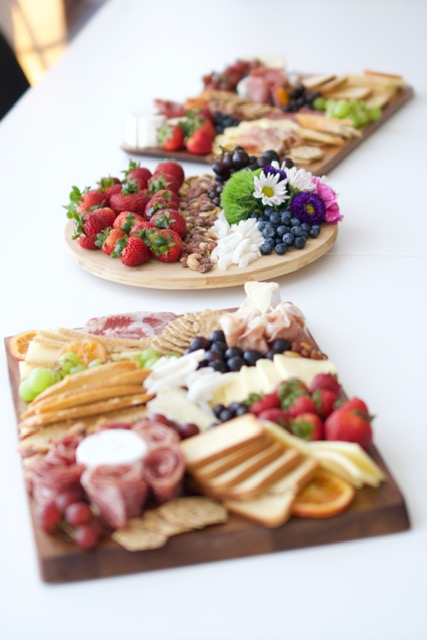 This makes for a warm welcome without a punch of face-swelling salt + sugar. Picture perfect, please! Fat, protein and fiber to get some nutrition in before liquid sugar all night sounds like a great strategy, am I right?
Savory Options 

Crackers & Chips: Simple Mills Crackers, From the Ground Up Cauliflower Sticks, Lesserevil Popcorn, Crunchmasters Crackers 

Dips: Ithaca hummus, Hope Foods Guacamole, Good Foods Tzatziki 

Nuts and Seeds: Biena Crunchy Chickpeas, pumpkin seeds, pili nuts, raw almonds, Ranch "cheesy" nut mix

Little Bit of Umami: Beef Jerky, Dill Snacking Pickles, Turkey Sticks 

Sweet Options

Dried Fruit: RIND apple chips, Solely dried mango, Medjool dates, dried pears

Nuts : Skinny Dipped Chocolate Salted Caramel Cashews, Barnana Dark Chocolate Banana Bites, 

Chocolate: Dark Chocolate Almond Butter Cups, Taza Chocolate Crunch Bar, Little Secrets Dark Chocolate Wafers, Hu Kitchen Dark Chocolate

Little Bits of Baked Goods: Partake Birthday Cookies

Hail Merry Key Lime Cups 
A bonus – If you have dietary preferences that range throughout the group, HungryRoot filters make for an easy solution. I had a vegan tofu scramble and gluten free buns ready to go for breakfast. Our desserts were allergen-friendly. Everyone felt super accommodated. I filtered on the website for easy options to ensure every felt provided for. 

Late night munchies!
I made COOKIES. Well, I also just served Cookie Dough and The Base Culture brownies. 
The HungryRoot chickpea cookie dough is made with almond butter, chickpeas, tahini making it not only safe to eat raw but also much more nutritious! Snag some FOR FREE & 30% off your first two orders. 
Sunday Morning – Make a brunch board!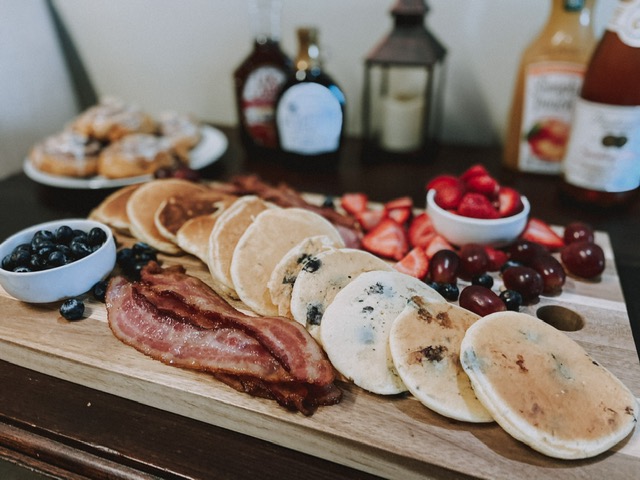 Another creative way to make a bachelorette a little more fun, and honestly relaxing, is doing a brunch board. No one wants to go out Sunday morning. They just went to bed. And no one wants to have to pay for UberEats soggy pancakes, either. The bar tab was enough. 
On the last bachelorette trip I hosted, I used HungryRoot for a killer brunch. No complaints. Obviously I supplemented with coffee, collagen peptides + BYOB nutpods, orange and yes, a mimosa bar OKAY?! 
Brunch Board with

HungryRoot 

Complex Carbs: Ozery Multigrain buns, Sprouted Seven Grain bread, Ancient Grain Pancake Mix, Base Culture Banana Bread

Delicious Dairy: Sous Vide Egg Bites, Siggis Yogurt, Kite Hill Cream Cheese, Peckish Everything Eggs

Fresh Produce: fresh fruit mix, sweet potato fries, envy apples, bella mushrooms

Protein: Garlic Chicken Sausage, Diestel Turkey Bacon, Cold Smoked Sliced Salmon, Vital Farms Eggs, Tempeh Strips 
Whether it's a bachelorette, a girls-night in or just some much needed quality time with friends, plan ahead with HungryRoot for the healthier snacks swaps you need. HungryRoot offers the Whitness Nutrition community  30% off!