Jump to recipe
Admittedly, I'm a little embarrassed to post this as a "recipe" because it's so very simple to make. But, I realize that direction and clarity are what we're all craving right now, so, here is the recipe for your morning success!
This recipe is heavy in protein. This is your X factor.
Protein. That's right. Your fullness factor, and your focus factor, start with protein! Not, PBJ. See, my husband loves PBJ any time of the day. He actually inspired this recipe.
But one cannot eat PBJ all day long.
Not in week 7 of quarantine. I needed a reprieve from sandwich slinging. Even though he was content. That is, besides the point.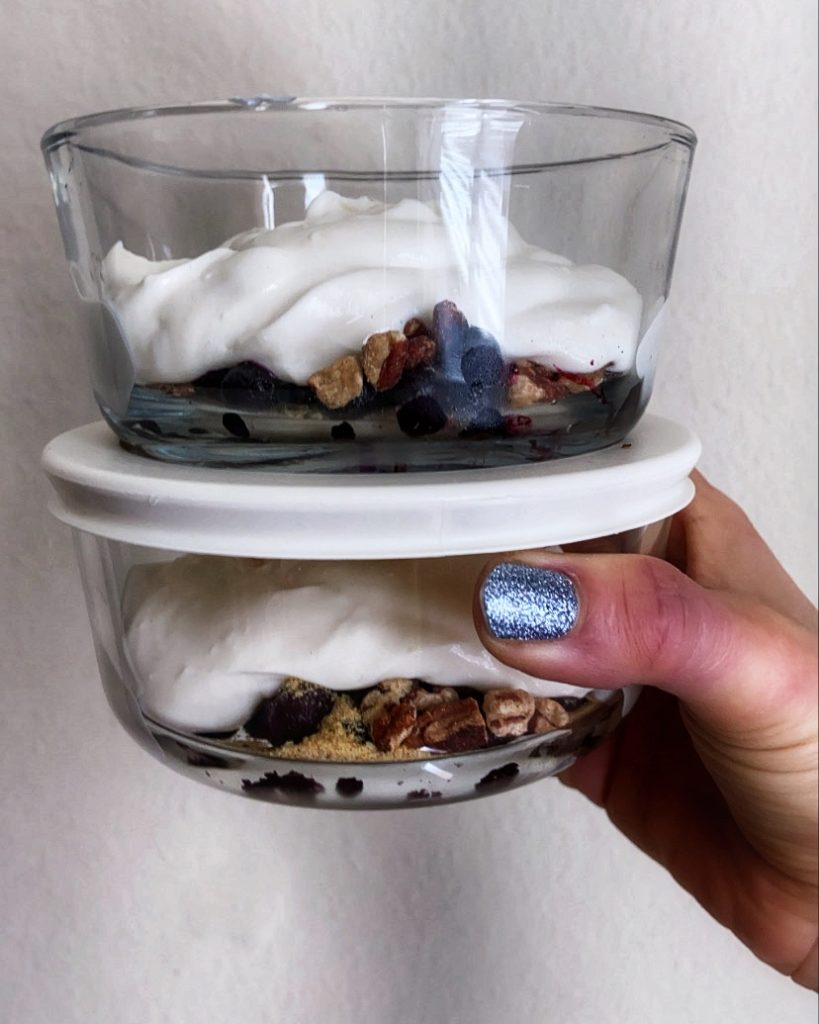 Meet my Power Brekkfast
Technically, it's for my spouse. Details, please! This high-protein combination allows breakfast to taste like PBJ if you choose! The secret required ingredient? Protein Powder & vanilla extract. Because you don't have time for your plain yogurt to taste like sour cream, nor do you have time to spend $3 per jar on the corn syrup strawberry flavored tasty one. Save money, save health. I've posted this week's thrifty finds that contain some deep yogurt discounts, too!
Dietitian Tip: Always buy the plain yogurt.
It is so versatile! I create vegetable dip by adding dill and spices, as a base for an extra smooth smoothie, in a pasta cream sauce, or in this breakfast dish.
I've provided one flavor combinations below, but I believe in your artistic genes to create even more! As pictured, I used Collagen Fuel Vanilla Coconut + Vanilla Extract to whip into my unflavored Whole Milk Greek Yogurt from Trader Joe's.
Power Brekkfast

Notes
Non-dairy yogurt would absolutely work here, too! I love Forager Project & Culina.

Ingredients
1/2 cup plain Greek Yogurt
1 scoop protein
1 TB vanilla extract
3TB frozen blueberries
1 TB milled flaxseed
1 TB hemp seed hearts
1 tsp cinnamon
Instructions
Blend your yogurt, protein and vanilla extract together until smooth.
Add blueberries to your bowl, first. Top with flax, hemp, and cinnamon. Add your yogurt dollop on top. Lasts 5 days.
For a variety, try these combinations:
Greek yogurt with chocolate whey protein or defatted peanut flour.
Instead of blueberries, you could incorporate strawberries, raspberries, coconut, or even mango. Frozen will last longer than fresh, but it's all about texture preference!
Flax and hemp are also something you can alternate! Create a chia seed jelly by adding a bit of liquid with the berries; inspired by this bowl. Or, consider adding in pepitas, walnuts, or sliced almonds!
Whip it up with sass, friend! And tag me in your recipe.