We went to Tulum for our babymoon and it was the most blissful trip. Here's what we did!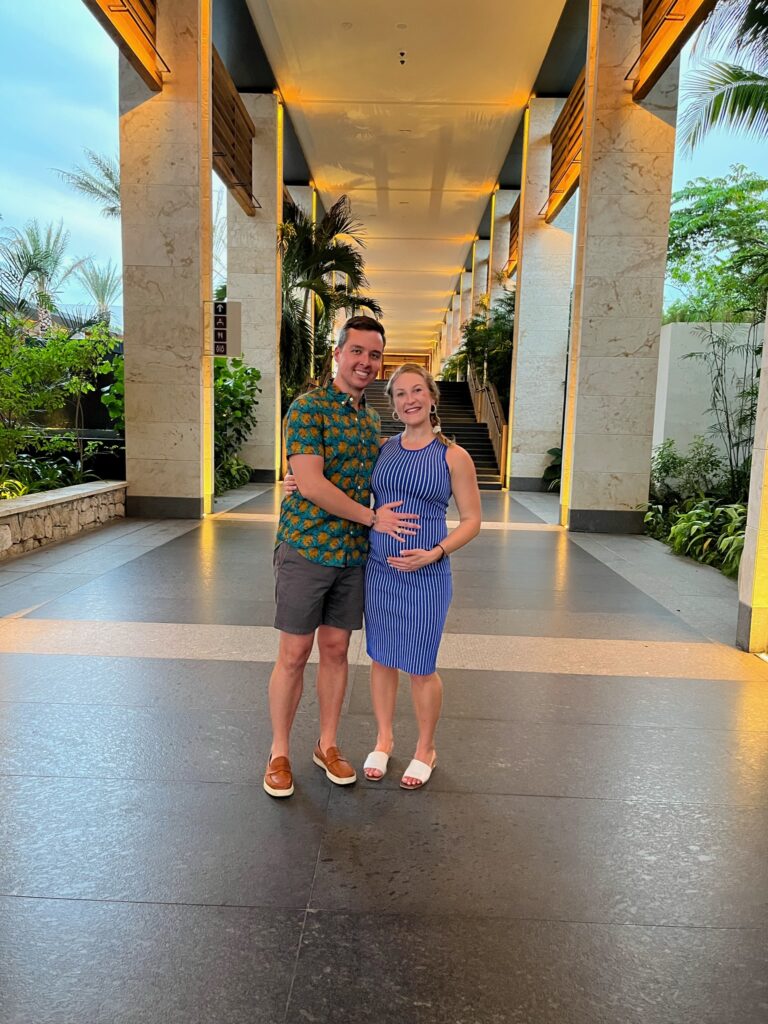 We actually didn't go to Tulum! We went to Riviera Maya. Or Akumal. Really – just go to the Hilton Conrad Riviera Maya.
Tulum proper, is not for me. If you like 6th Street in Austin at 2AM vibes, 24/7 this place is for you!
The traffic is horrible.

The prices are insane.

Everyone is wasted.
Not great ever, but certainly for a Babymoon.
But, when we discovered Akumal last year, I fell in love. It's just 20 minutes up from Tulum! The bay was calm, there were so many turtles, the tourism was non-existent and it was easy to access. So, when I saw that Hilton had opened a new property in between Tulum and Akumal, I was sold!
Hotel Conrad Tulum was incredible. I'm sharing some of my favorite details here (and how we strategically made this trip Uber affordable!)
The Hotel:
Larger than most hotels we choose, but it was off on it's own, away from a hotel zone, and it was slow season. We saw the same 30 people the entire trip. The Conrad Tulum Riviera Maya was expansive, I got a lot of steps in! But, there was also free bike rentals and golf carts to pick you up. The concierge was just a text away; it was fabulous!
There were 4 Pools. A private beach. And, seven restaurants! This was our first time staying at a Conrad, and I would definitely book at another.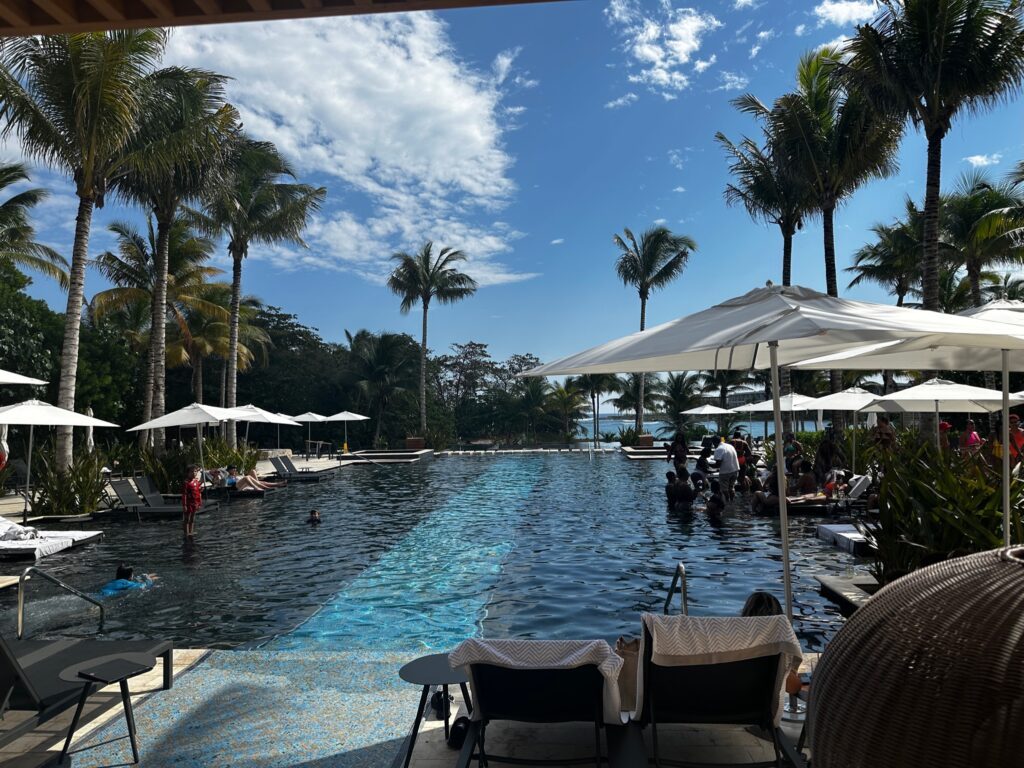 The Beach:
The private beach had great food options and always had cabanas available. Chase loved the mango margaritas. The water was clear and calm and there was little to NO seaweed. If you've been to Tulum before, you know this is a huge issue. And, this is why I refuse to stay farther down in actual Tulum hotel zone; the beach is not great, with a strong tide, and there is so much seaweed. Here, there were fish swimming in the water around our feet every day. Note: Water sports cost more, but we just swam on our own! The wildlife viewing was spectacular; we saw fish, herons, eagles, and Mexican weasels? They're adorable.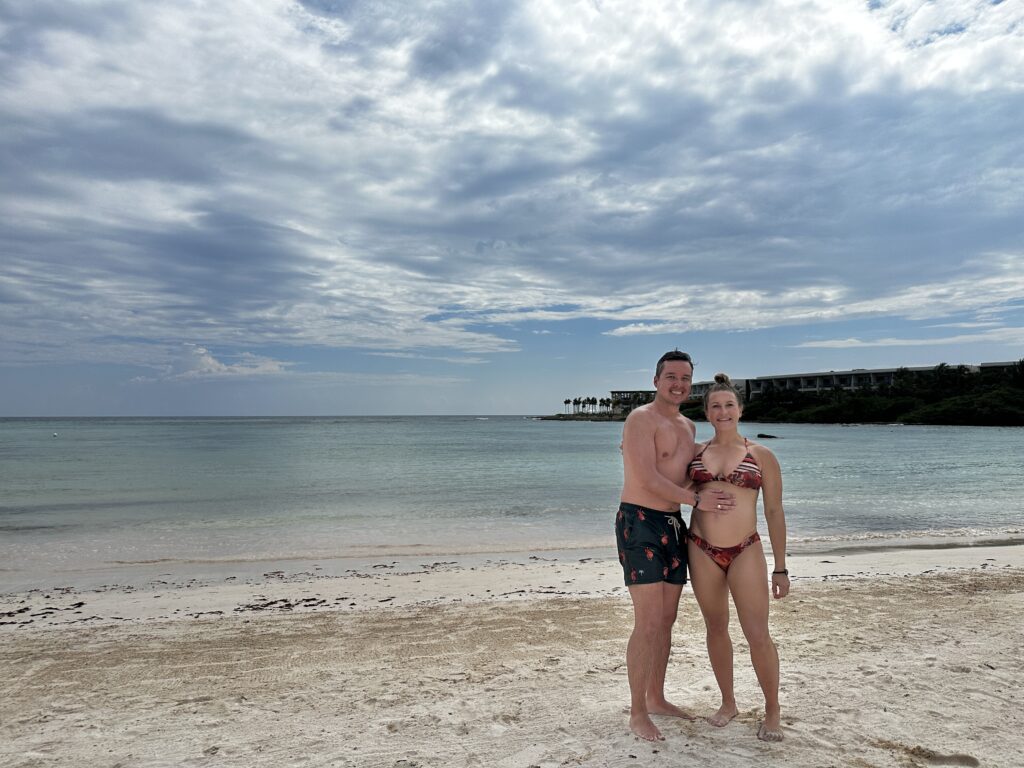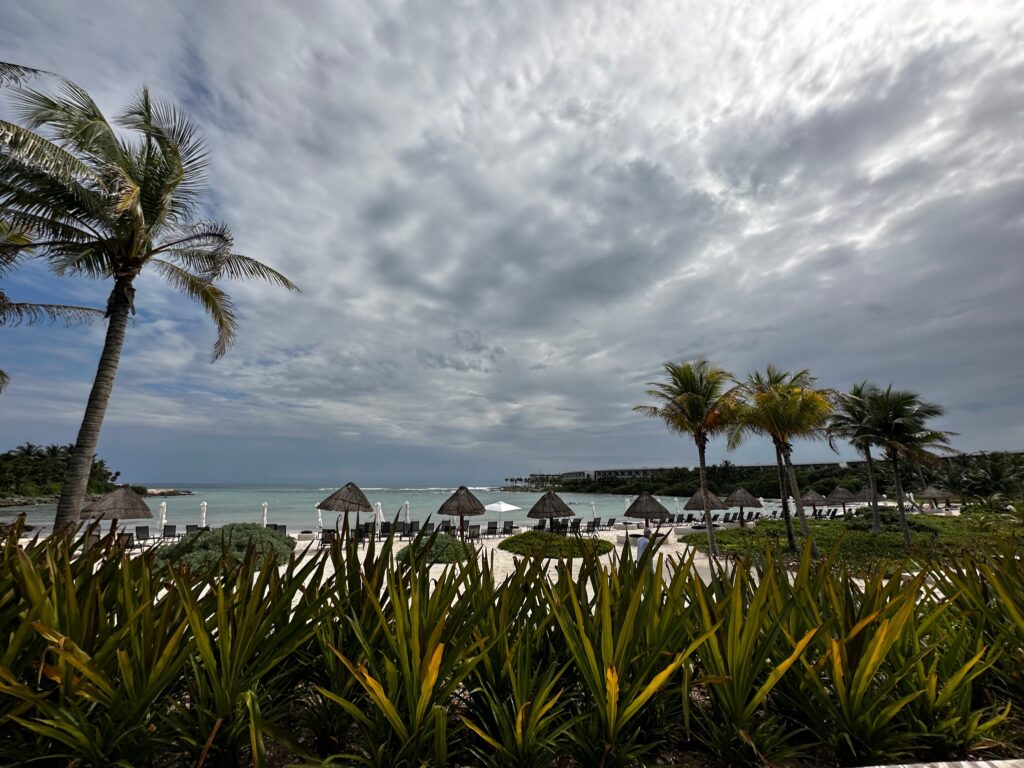 The Gym: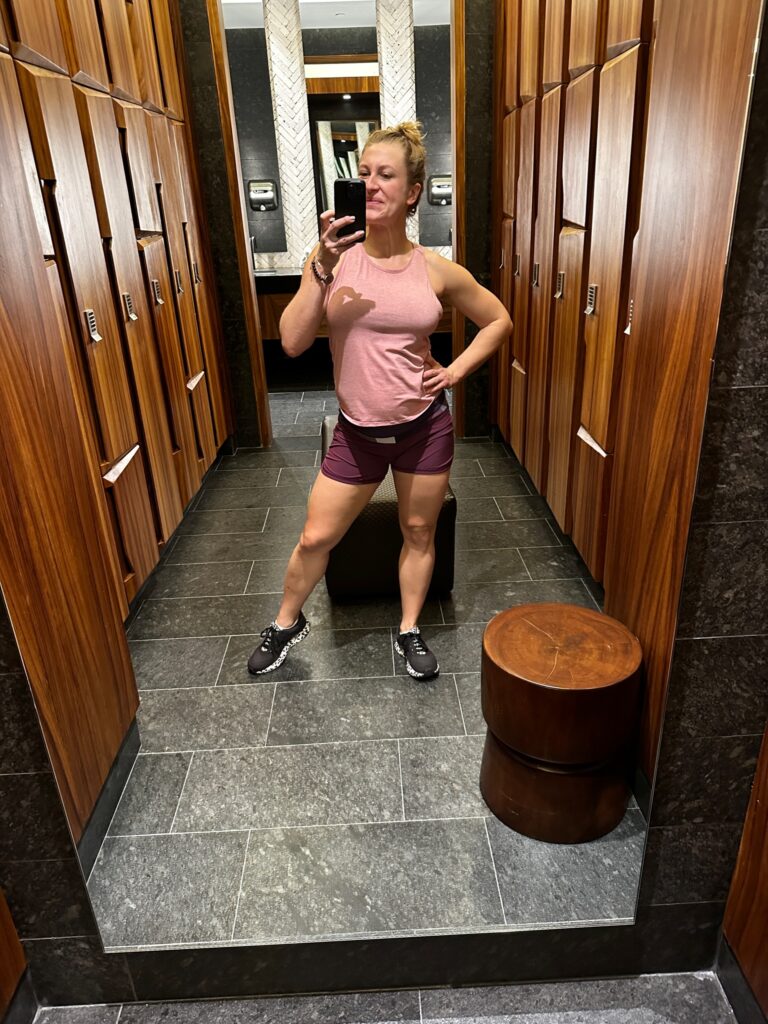 I used the gym Saturday morning after breakfast for a Peloton strength circuit with Julian. I came back Sunday afternoon for a 30 minute HIIT cardio on the Peloton platform and a cool down walk due to the pelvic pain I was having. The space was beautiful and there was never more than two individuals in there. Plus, free bottled water 😉
The Restaurants (& what we ordered):
The Conrad is really accommodating for dietary needs and allergies. I never got sick and the wait staff always confirmed my needs. It was so helpful and really reduced my meal anxiety. Which, is not great for digestion!

Note: All of the male waitstaff we had throughout the hotel was really odd. Either pushy with tipping or had a hard time understanding my menu questions. But, the meals always worked out in the end. Just a few awkward exchanges.
This was my least favorite of the trip, the meal was really salty. But, they did bring me a custom gluten-free bread basket with oil and vinegar which was delicious. I ordered fresh shrimp, which was a little over-cooked, and we split a rice dish that was delicious. The attention to detail was incredible, though. They brought me a lime popsicle for dessert, knowing my allergies. Chase's desserts were always like, next level. Yes, that is gold.   
I had a sashimi style scallop dish here that was out of this world. They also brought me gluten free bread and butter again, which was fabulous. It's the little things, right? And, I had a pork belly dish for my main meal that was so tasty. I tend to lean into unique proteins when we travel; especially ones I wouldn't cook at home, for gut diversity!
This was the fanciest of the restaurants. Here, we were interested in the tasting menu, but the staff confirmed you had to book that in advance. It wasn't stated anywhere, but we ended up just ordering a basic meal. I had the popular Pad Thai, it was good, but nothing to phone home about. The dessert was epic – I would fly back just for that. A coconut-milk rice pudding inside a thin chocolate ball with a white chocolate macadamia pressed coin on the side.
Chiringuitos & UltraMar The pool bar & the cafe
Honestly, the poolside/beachside food was the best. The fish tacos, homemade tortillas and chips were incredible with a fresh thing of ceviche and guacamole. I could eat this meal 10x a day. And, not to mention, the little cafe and their iced almond milk lattes which were just delicious. They frothed my milk and then poured over iced; cold foam in Tulum!
There is a sushi restaurant but we skipped it. I ate a ton of fish on the beach each day and I knew the prices would be insane. The restaurants were all considered fine dining, which was lovely, but I liked the balance of casual beachside lunches, too! 

First, the view. So glorious. And there was live music two mornings.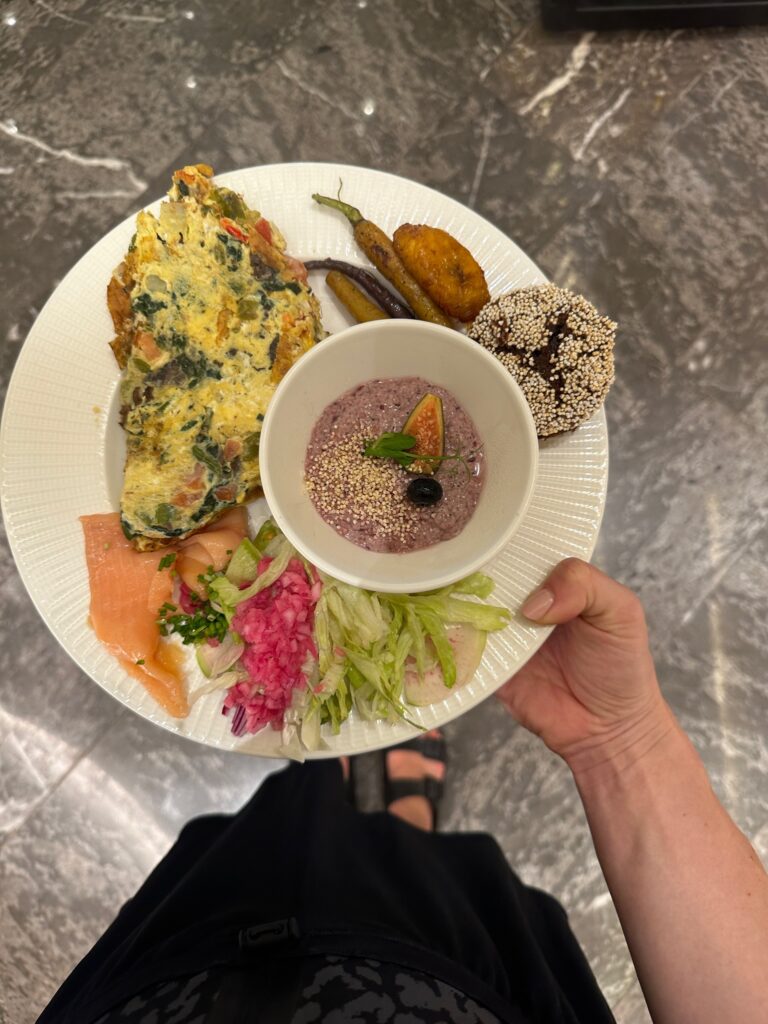 Not only were there a thousand choices for breakfast, but there was a whole gluten-free section, and vegan section. I found chia seed pudding in a different flavor every morning (gut health, win!) and I had a slice of gluten free french toast. I haven't had french toast in 13 years, my friends, and let me tell you; it was magical.
Most mornings, I made a DIY omelet or scramble with all the veggies, and then added sides of fresh guacamole and pickled veggies with a few fun starches. This meal head me 4-5 hours, allowing for a light lunch at the beach before our heavier restaurant dinners!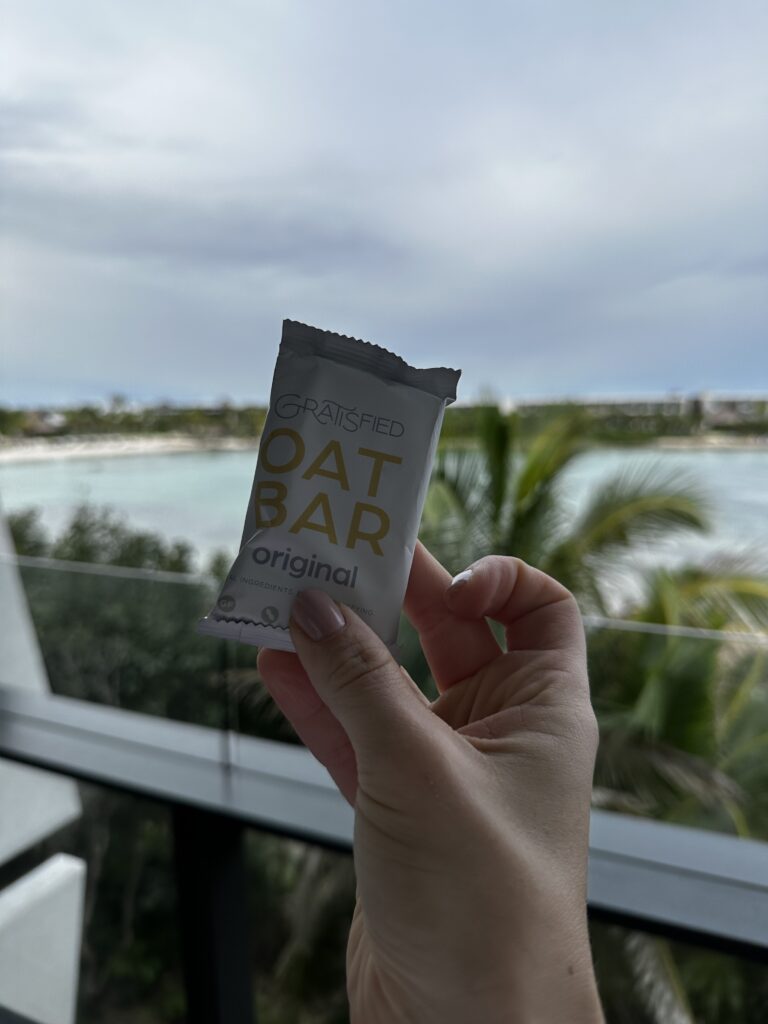 The Vacation Snacks I packed!
Although there were a lot of great options, I always pack low-glycemic and healthy snacks with me. I've had too many delayed airport experiences. 
Bubba's Keto Cracker Mix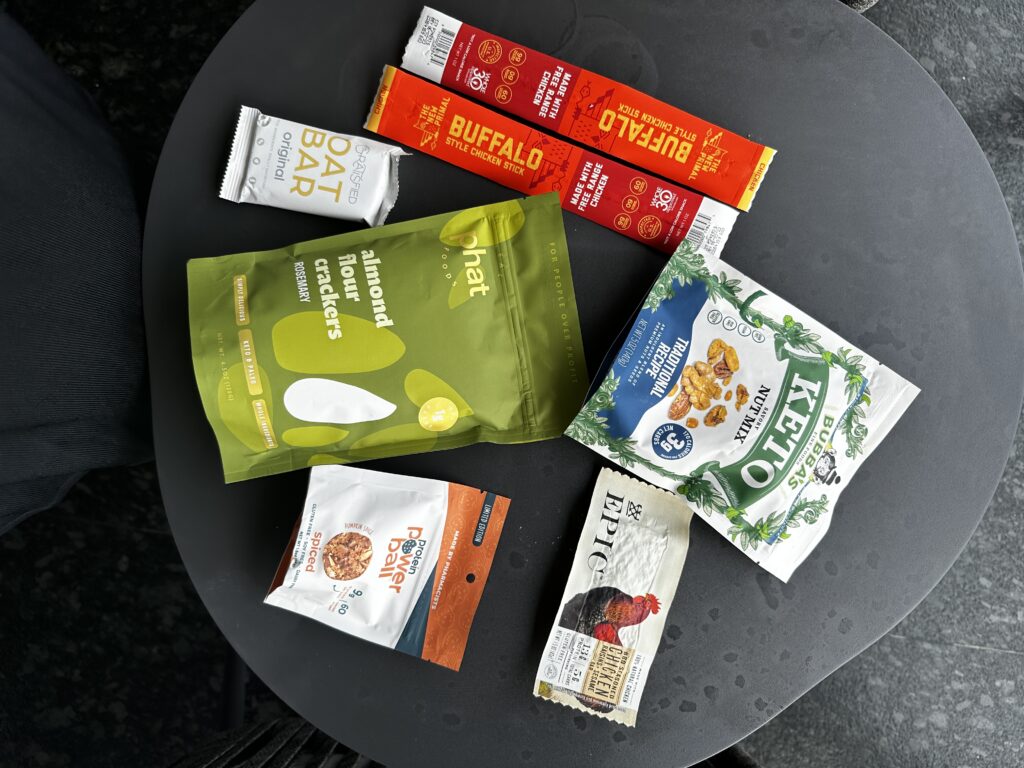 How we afforded a Tulum Babymoon trip:
When we arrived at Hotel Conrad, the concierge provided a list of amenities from the Fine Hotels AMEX program, and it was impressive (We stayed at the Faena last summer on Chase Sapphire points and we had $0 worth of savings). This included a free breakfast buffet each morning (did you see that spread?!), a room upgrade (which we actually deferred because the suite didn't face the beach), a $375 credit for our stay instead of the original $100, and late check-out at 4PM (valuable since we had a 7PM flight). 
You can earn a 30K bonus when you sign up for AMEX platinum, here.
All in all this made a huge difference for the cost of our trip. And, here is my VERY honest pricing breakdown of our trip
I booked our flights using American Airlines Points for $11.20

Hotel Expenses:

Original Stay of 3 nights cost: $2132

Our points took off – $1396

Our fine hotel credit took off an additional -$200

At the hotel we spent $754 which covered:

Dining for 2 with tip (Friday lunch, Friday dinner, Saturday lunch, Saturday dinner, Sunday lunch, Sunday dinner, three trips to the coffee shop for my midday iced latte and snack of meringues for the airport trip) 

All of Chase's drinks, an awesome speak easy night and my iced lattes.

Transport to airport: $150 round trip

I highly recommend reaching out to book separate airport transfer using Mayan Traveler. It is half the cost of what the Conrad quoted us and it's a local respected company. The owner, Avellino, knows everything about the Riviera Maya, the Cenotes, and the Mayan culture! We have used them for excursions in the past, as well.
Our total five star hotel Babymoon trip to Tulum for 3 nights cost $1290 for 2 adults. This is $215 per person, per day. Instead of the projected cost of $4000; we saved 68%
I was a little skeptical of the Platinum AMEX. But this trip really sold me. The bonus deal at sign up plus all the points we earned over the past 6 months in baby and house expenses earned us an incredible trip of luxurious relaxation. I haven't been a big rewards credit card fan in the past and the price tag on this was hefty.
These are the best perks I've benefitted from so far using my card
The best perks from our Amex, so far?
Monthly Uber Stipend (used on our trip)

TSA Pre-Check and global entry reimbursement (used on our trip)

Annual Clear Membership Reimbursement (used on our trip)

Walmart Premium Monthly reimbursement for quick free shipping 

Hotel Specific Perks:

$200 Fine Hotels Credit Reimbursement (used on our trip) 

Upgrades: free buffet breakfast, extra night, late check out, 25% off bookings through their site. 

Dumb, but Sirius XM reimbursement monthly for good beats in the car.

NOTE: The Centurion LOUNGE IS NOT WORTH the card fee, alone. I feel like this was really emphasized and I've never made it in due to the wait times in DFW, Denver and SeaTac. 
How did I earn the bonus offer so quickly? I GOT PREGNANT. Seriously, I charged ALL of my baby expenses on this card and over a 6 month period we qualified for the bonus points that covered MOST of our baby trip. You can earn a 30K bonus when you sign up for AMEX platinum, here.