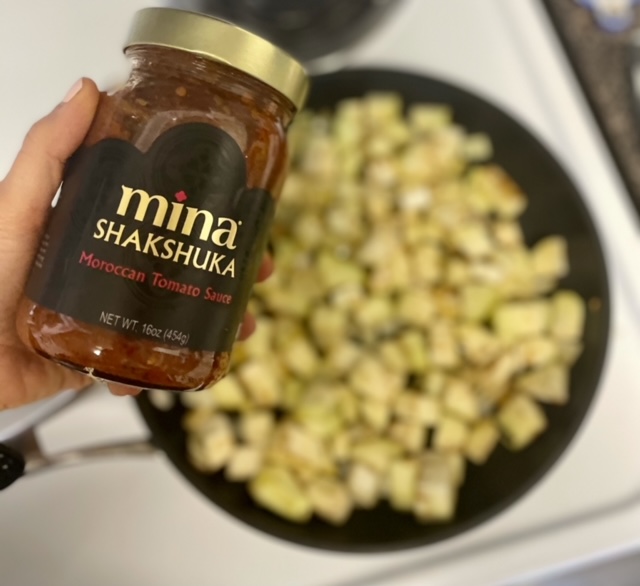 Hold onto your horses! I have one more National Nutrition Month post, because #passionate, and it's going straight for the heart! The heart's function relies on a lot of bodily processes but action you have great control over? The intake of heart healthy fats!
One of the best, and most simple, source of healthy fats is olive oil. Olive oil is made through the pressing and refining of olives. This creates a rich, flavorful and useful byproduct of oil. And, consuming olive oil in healthy amounts can lower the risk of heart disease and cancer. Swapping out canola oil, margarine (does anyone even use that anymore?) and dairy products for extra-virgin olive oil can reduce the risk of heart disease by a minimum of 5%. 
RDN tip: Choose olive oil with the extra-virgin label is best because it has been the least processed and will have retained the most nutrients. Also, choose a dark, glass container as olive oil properties can be destroyed by heat or light.  
If you keep up with the diet trends, you've heard that a Mediterranean diet is continuously rated as one of the most healthy diets you can follow. This lifestyle, really, is rich in healthy fats, fresh vegetables, and little to no sugar or red meat! But it's also filled with days of rest, time with loved ones and daily exercise. One key aspect of the Mediterranean diet is that the primary source of dietary fat comes from extra-virgin olive oil. Think of Italy, Greece and Morocco; all gorgeous countries located in the Mediterranean- they all consume olive oil on a daily basis. They cook with it, bake with it and even use it in beauty regimens! The extra-virgin olive oil used in the Mediterranean cuisine is rich in natural antioxidants and polyphenols, as well as varying flavor profiles and cooking qualities.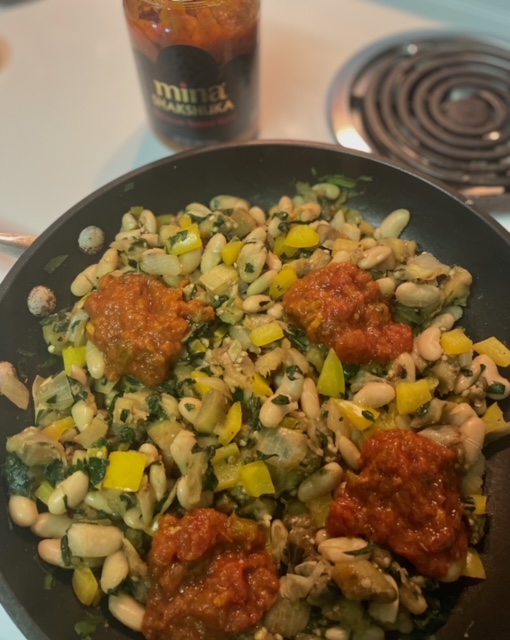 But, how do you know if you are choosing a pure olive oil that would make a Greek proud?
Mina, sets a high bar with a single origin extra-virgin olive oil produced from olives grown at their family farm in Morocco. The oil you purchase can be traced down to the olive tree; amazing! Their oils have less than 0.2% acidity (RDN tip: the lower the acidity, the higher the quality oil) providing even more heart-healthy benefits in each tablespoon. You get the authenticity of a Mediterranean grown olive oil all in a bottle of Mina Oil. 
Whitness Nutrition partnered with Mina to create a traditional Mediterranean dish, Shakshuka, with a plant-based twist!
Shakshuka is traditionally made with tomatoes, onions and poached eggs, then served with hearty bread. But, here's the remix! We combined eggplant, Cannellini beans and spinach to make a plant-based version full of protein and flavor. Plus, we added their tasty Shakshuka sauce for a boost of flavor!
---
Recipe: Eggplant and White Bean Shakshuka –
Vegan, Gluten Free and Dairy Free 
4 Servings 
Ingredients:
2 tbsp Mina Extra Virgin Olive Oil

½ sweet onion, diced 

½ tbsp minced garlic

One large eggplant, cubed  

2 cups spinach, chopped 

1 yellow or orange bell pepper, de-seeded and diced  

1 can Cannellini beans (great northern beans), drained 

½ tsp garlic powder 

½ tsp onion powder 

½ cup Mina Shakshuka Sauce 

2 tbsp fresh parsley, diced 

Salt and pepper to taste 
Cooking Instructions: 
Slice eggplant into ½ inch thick rounds, then cut into cubes. Sprinkle it with salt, let sweat for about 5 minutes and then pat dry with a paper towel. 

Prepare the other vegetables: dice half of a sweet onion, finely chop 2 cups of spinach, and dice your bell pepper.

To a large skillet, add 2-3 tbsp of Mina EVOO. Let the oil warm, then add the minced garlic and onion. Stir until aromatic 

Add the eggplant to the skillet and stir for about 5 minutes, the eggplant will begin to caramelize. 

After about 5 minutes, add in the bell pepper. Stir until peppers soften, then add your spinach and white beans. Season with garlic powder, onion powder and your preferred amount of salt & pepper. Stir for about 5-10 minutes or until the vegetables and beans look well combined. 

Using a spoon, add your Mina Shakshuka sauce to the skillet, dropping across the top. Fold the sauce into the veggies and beans, until well-combined.

Sprinkle with fresh parsley, cracked black pepper and salt. Serve over brown rice or quinoa, with a side of fresh greens like arugula.
---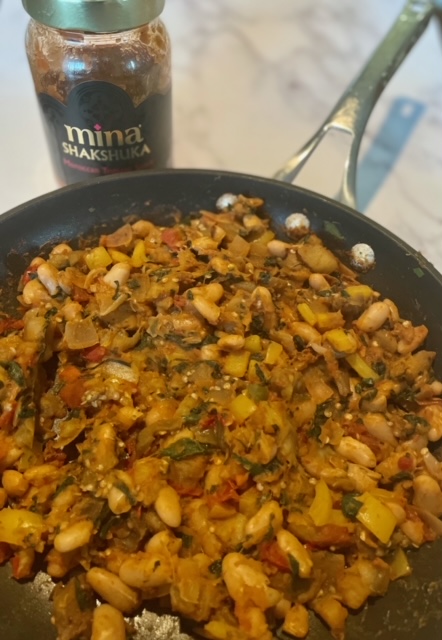 This blog post was sponsored by Mina: Casa Blanca Foods through the creation of a thoughtful partnership with the intention of educating the masses on wholesome health concepts. Whitness Nutrition takes every partnership seriously and Whitney upholds her role of #honestinfluencer to a high standard. Never hesitate to reach out with comments, questions, or concerns.
References: