)Spooky season is upon us! Ghoulish costumes and spooky decorations are decorating yards, but do you know what's even scarier than that? The amount of sugar in Halloween candy! It may sound like no surprise, but the amount of sugar in classic Halloween candies may frighten you. 

Chocolate candies like Butterfingers or Almond Joy contain anywhere from 8-15g of sugar per serving. And, a serving is 2 miniature size candies. Because they are even more concentrated, gummies and hard-candies can have anywhere from 11-16g of sugar. And, a plethora of artificial colors and additives.  The label may not be easy to read, either! Hence the reason every Whitness patient receives label reading 101 and grocery assistance. Sugar can be alternatively listed as high fructose corn syrup or confectioners glaze, not to mention the artificial sweeteners out there now. 
Whether it's for the trick-or-treaters at your door, or your own sweet tooth, looking for lower-sugar, less-inflammatory sweet treats are best. Luckily, there are quite a few  options that are made with healthful ingredients! Make this spooky season a little less scary with five Whitness Nutrition approved treats to enjoy this Halloween season! But please, keep in mind – SUGAR IS SUGAR, and to enjoy the sweeter things in life within moderation.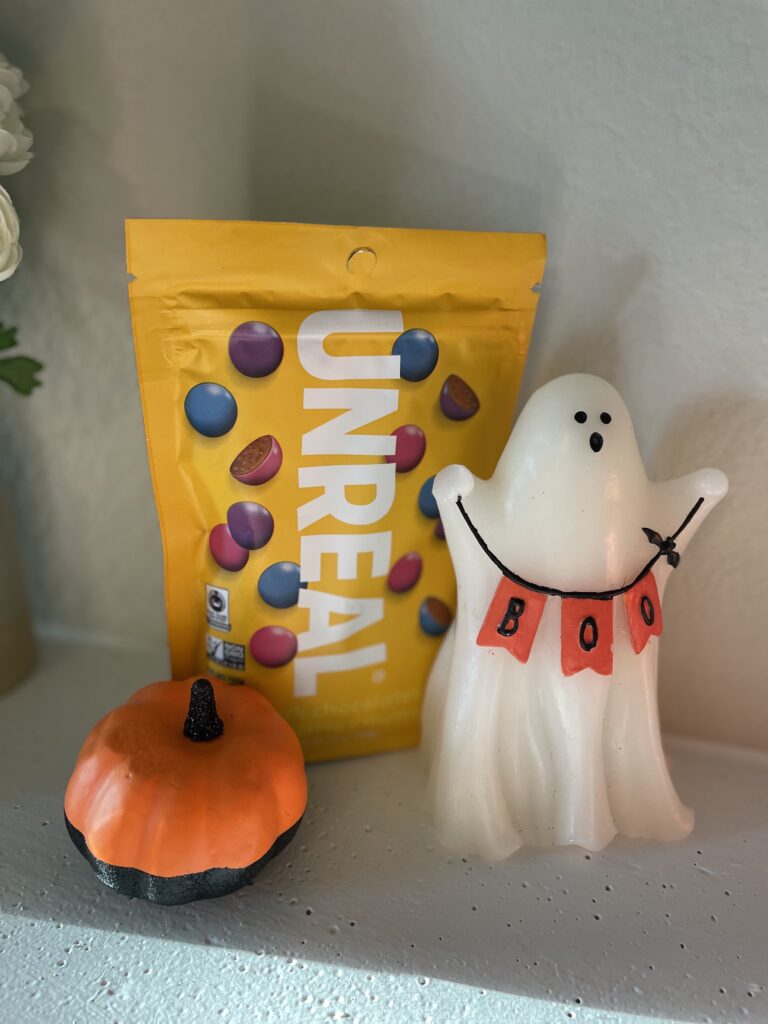 Allergen-friendly chocolate without the added artificial sweeteners (Like, all the stevia in Lily's), UNREAL has created a cleaner version of the classic M&Ms and Peanut Butter Cups. UNREAL chocolates contain on average 51%, less sugar than the leading brands of candies, and have no added corn syrup, sugar alcohols, erythritol, or stevia.
So, what is used for coloring? They've used real food ingredients like beets and spirulina to give their gems a candy color. A single UNREAL Dark Chocolate Peanut Butter Cup has 5g of sugar, 50% of the amount found in a normal peanut butter cup. Not only will you be avoiding less sugar, but you'll also avoid artificial ingredients and preservatives.
Hot tip; put your UNREAL gems in the freezer, they become extra crunchy and delicious. 
Gummies and Sour Patches have been revitalized! Smart Sweets nixed the artificial sweeteners and colorants used in the typical bag of gummy candies, and replaced them with plant-derived ingredients. Bonus, each serving (usually a whole bag!) is packed with plant-based fiber to keep things moving through your digestive tract!  A bag of your typical gummy worms can have up to 14g of sugar per serving (about 14 worms), while a bag of Smart Sweets has only 4g of sugar per bag. Smart Sweets are the smarter, lower-sugar option, but because their fiber content is high watch the serving size for littles!
Keep it simple this Halloween with some dark chocolate!. Dark chocolate is rich in antioxidants and mood boosting nutrients. Note – that doesn't include white or milk chocolate; aim for 70% or higher. Many dark chocolates, such as Hershey's, contain added sweeteners and vegetable oils. Instead, look for ethically sourced and minimal added ingredients chocolate, such as The Good Chocolate. They sweeten their chocolate (minimally!) with plant derivatives, such as erythritol and stevia. A serving of Hershey's Special Dark Chocolate bar has 15g of sugar, while a serving of The Good Chocolate has 0g of net sugar. Their mini bars make for the perfect trick-or-treating handout, as well as a personal sweet treat. Other dark chocolate favorites at Whitness Nutrition HQ include: Hu Kitchen, Pascha and Taza. 
Fun Fact: Candy isn't the only item filled with sneaky and spooky ingredients, keep an eye out for the artificial sugars and preservatives found in common

shelf-stable snacks

. Avoid the tricks the food industry can play on you, focus on the whole food and real food diet!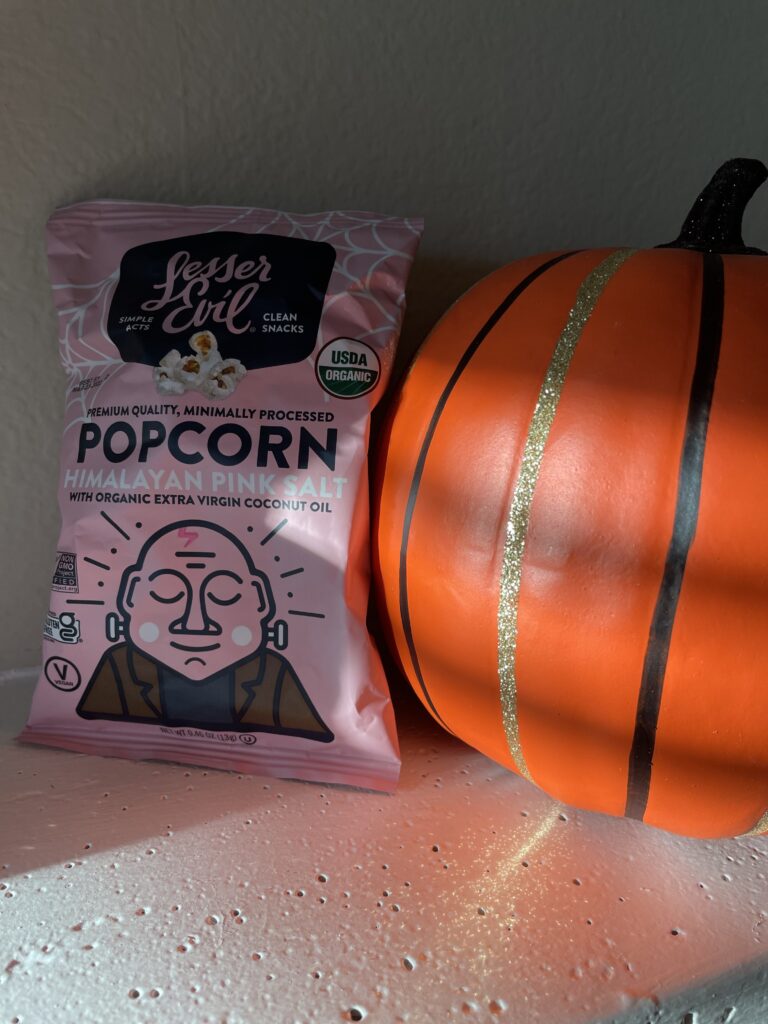 Sticky, crispy and chewy, these marshmallow treats are the cleaner, more sophisticated older brother of the OG Rice Crispy. The ingredient list is short and sweet, in comparison to Rice Krispies' long list that includes high fructose corn syrup and vegetable oil. Smashmallows are made with organic ingredients and each bite size treat has only 5g of sugar; much less than the 8g of artificial sugar found in Rice Krispies. Smashmallows are naturally gluten-free, as well as allergen-friendly for the soy-free and dairy-free kiddos in your life. Find their cute Halloween variety pack with flavors like Churro and Cookie Dough at Whole Foods.
Surprise them with

Savory

! 
Not all goodies have to be sweet! Consider individual bags of popcorn or pretzels which are an easy and tasty alternative to sweets. Keep in mind that the ingredients on a bag of popcorn are much different than a bag of gummies. Instead of focusing on sugar, consider sodium levels and the prevalence of inflammatory oils.One of my favorite savory snacks, Lesser Evil Popcorn, has come out with mini bags for trick-or-treaters made with coconut oil and ghee. You already know those will be at Casa Stuart! 
Hot Tip: Pair your savory snack with a fat or protein like The New Primal's  turkey-sticks (WHITNESSNUTRITION15) and you'll be fueled like a ghoul.